Google (NASDAQ:GOOG) (NASDAQ:GOOGL) followed another hot trend and entered the e-learning market with Google Classroom after it had entered the web services market with Google Domains, the crowd-funding market with YouTube's fans-funding, and the same-day grocery delivery market with Google Shopping Express.
E-learning is a term used to describe the use of technology in education. It includes a number of categories such as computer-based training, web-based training, virtual learning environment, technology-enhanced learning and more. Each category is used in a different stage of education, from pre-school to university, and for different purposes that range between the delivery of lessons and materials to students and online Q&A with the teacher after school hours.
The e-learning market increased rapidly across the world. According to the Decemo E-learning Market Trends & Forecast 2014, the industry growth should reach $51 billion in revenues by 2016. Asia is the fastest growing market in the e-learning industry, with more than 17.3% annual growth rate and more than $7 billion in revenues. In the Asian market, there are many government-funded projects targeted to improve literacy and accelerate the adoption rate of e-learning platforms in these countries. As shown in Chart 1, regions with emerging countries lead the e-learning growth rate around the globe, including Asia, Eastern Europe and Latin America.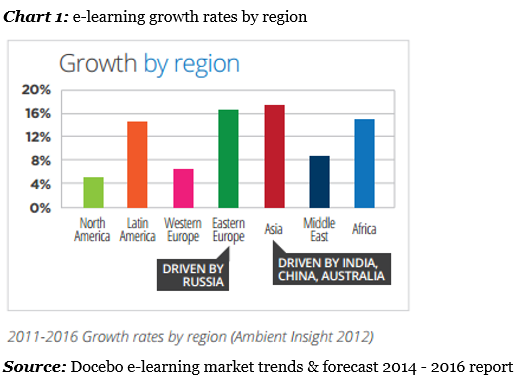 Although the North American market has a low growth rate, it is the largest e-learning market in the world, with more than $23 billion in revenue in 2013, and it is expected to grow to $27 billion in 2017. The number of students participating in e-learning is obviously not correlated with the amount of revenue generated in the e-learning market as fees and charges may vary by region, but growth rates provide good estimates of market trends.
Google Classroom enables Google to offer an entire technology package to teachers, students, and school administrators who juggle between operating systems and office software suites. With Google Classroom, a teacher could interact with the students after hours, hand out class material through Google Docs, save all course materials and student submissions on Google Drive, and add YouTube videos for further explanations. Students could work on the assignments on Google Docs, submit them quickly to Google Classroom, and monitor their grades. In order to receive the best Google Classroom experience and to ease the use of the Classroom features, teachers and students need to work with Google Chromebook, and this is the main issue behind this initiative.
According to Gartner, 85% of the Chromebook sales have been to the education sector, and Google sees that sector as a long-term investment. By offering Chromebook to students, Google wants to develop brand loyalty in people of a young age that could be translated into Chromebook sales in the future. Currently, the education sector is impressed by the low prices of Chromebook that go down to $179, which is much lower than Apple or Windows-based PCs, and Google wants to use its presence in that market in order to develop its ecosystem further around Chrome OS, Google Docs software suite, and Google Chromebook.
Developing the Google ecosystem will enable Google not only to increase Chromebook sales but to integrate its strengths in the mobile market and create one big ecosystem, similarly to the ecosystem Apple is offering. This investment in the ecosystem can be translated into revenue in the future. The increase of the e-learning market could be used to expand Chromebook sales to emerging markets such as Asia and Eastern Europe. If Google succeeds in penetrating these markets, it could expand its ecosystem there and increase its global presence in the PC business.
Conclusions
With Google Classroom, Google's intent is to penetrate the emerging e-learning market. Probably, Google is not looking to make any future profits from this initiative but to drive more traffic to office software suite, expand its ecosystem, and increase Chromebook sales. As Google Chromebooks are sold at fairly low prices compared to its competitors, and the office software suite is free of charge, the saving opportunity on the consumer side is large. Google should use the growth in the e-learning market, especially in Asia and Eastern Europe, to drive revenue there and expand its ecosystem in these markets. Google Classroom is a relatively low investment initiative for Google that could yield brand loyalty in students and teachers and translate into revenue in the future.
Disclosure: The author has no positions in any stocks mentioned, and no plans to initiate any positions within the next 72 hours. The author wrote this article themselves, and it expresses their own opinions. The author is not receiving compensation for it (other than from Seeking Alpha). The author has no business relationship with any company whose stock is mentioned in this article.
Additional disclosure: Information provided in this article is for informational purposes only and should not be regarded as investment advice or a recommendation regarding any particular security or course of action. This information is the writer's personal opinion about the companies mentioned in the article. Investors should conduct their own due diligence and consult with a registered financial adviser before making any investment decision. Lior Ronen and Finro Financial Consulting and Analysis are not registered financial advisers and shall not have any liability for any damages of any kind whatsoever relating to this material. By accepting this material, you acknowledge, understand and accept the foregoing.