Overview
Casey's General Stores (NASDAQ:CASY) operates a large number of convenience stores throughout several Midwestern states selling a wide variety of food, beverage, tobacco, and fuel products.
I believe that Casey's is a great long term buy for the following reasons:
#1 - Expansion
For the company's most recent fiscal year, the company built 44 new stores, acquired 28 additional stores, replaced 20 existing stores, and completed 25 major remodels. The company now operates over 1,800 stores.
For fiscal year 2015, Casey's goal is to Build or acquire 72 to 108 stores and replace 25 existing locations.
#2 - Distribution
Casey's operates its own distribution center, delivering approximately 75% of the gasoline and 90% of in-store products. The company has announced plans on building a second distribution center in Indiana to help facilitate store growth and increase operating efficiencies.
#3 - Revenue
Casey's has seen a fairly steady increase in revenue over the past ten years, with revenue increasing by over 200%.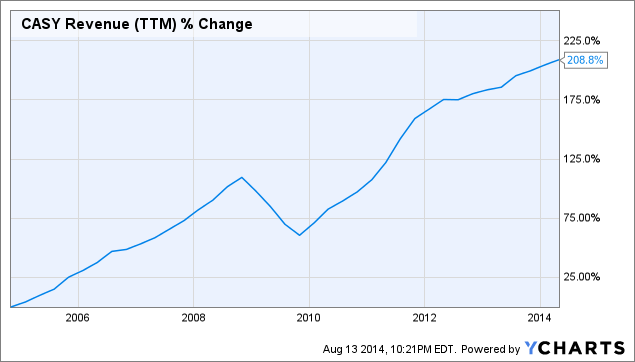 CASY Revenue (NYSE:TTM) data by YCharts
#4 - Dividend
Fairly recently, Casey's increased its quarterly dividend from $0.18 per share to $0.20 per share. The company is a dividend contender that has raised its dividend consecutively for 15 straight years. Over the past ten years, the company's dividend has increased by 400%.
#5 - Earnings
Similar to its revenue, Casey's earnings have seen a fairly steady increase over the past ten years, with earnings increasing by over 400%.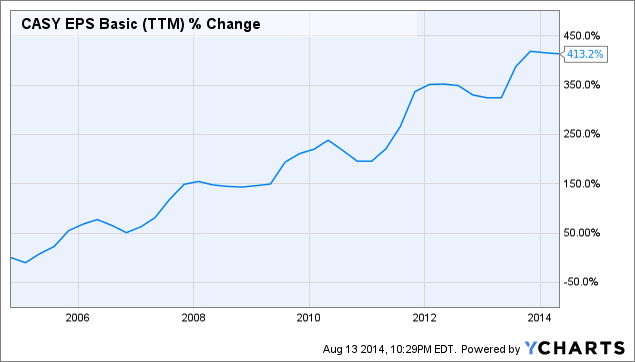 CASY EPS Basic (TTM) data by YCharts
#6 - Stop-n-Go
In May, the company completed its acquisition of the Stop-n-Go chain which included 24 convenience stores (3 of which the company has and/or will close). The acquisition gives Casey's a strong presence in North Dakota and should help facilitate future expansion.
#7 - Strong Returns
Casey's has fairly strong returns on assets, equity, and invested capital.
Return on Assets = 6.18%
Return on Equity = 19.96%
Return on Invested Capital = 9.03%
#8 - Cash
For fiscal 2014, Casey's generated $314.2 million in cash flow from operations. As of April 30th, the company's cash and cash equivalents balance were at $121.6 million. This is a significant increase from a year ago.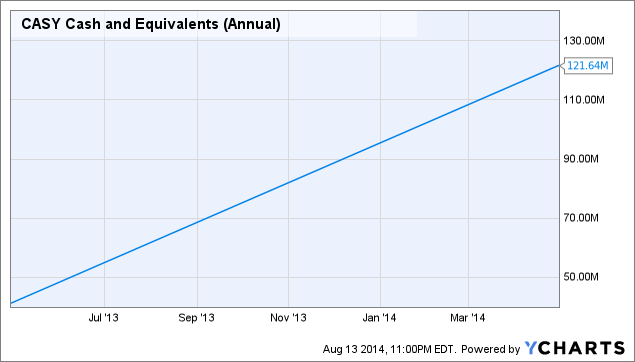 CASY Cash and Equivalents (Annual) data by YCharts
#9 - Shareholder Equity
For the latest fiscal year, Casey's shareholder equity rose by $117.6 million to $719.9 million.
#10 - # of Shares
In addition to growing the business and increasing dividends, the company has also been able to return value to shareholders by reducing the number of shares outstanding. Over the past five years, the number of common shares outstanding have decreased by 25%.
#11 - Future Growth Drivers
While Casey's has a strong history of growing both revenues and earnings, the company continues to execute strategies that will help ensure future growth as well. In addition to the company's acquisitions and building of new stores, Casey's implementation of pizza delivery programs is a growth driver. The company rolled out this program to 80 stores in fiscal 2014 and plans to roll out the program to around the same number of stores in 2015. Conversion of stores into 24 hours stores is another growth driver, with the company converting 130 stores in fiscal 2014. The company plans on converting an additional 100 stores in 2015 to the 24 hour format.
#12 - Overall Performance
Casey's has an excellent track record of meeting its overall goals.
For fiscal year 2014, the company's goal was to increase same-store fuel sold by 1.5% with an average margin of 15 cents per gallon. Actual results were a 3.1% increase in same-store fuel sales with an average margin of 16.8 cents per gallon.
For fiscal year 2014, the company's goal was to increase grocery/other merchandise sales by 5% with an average margin of 32.3%. Actual results were a 7.4 increase in sales with an average margin of 32.1%.
For fiscal year 2014, the company's goal was to increase prepared food and fountain sales by 9% with an average margin of 62%. Actual results were a 11.8% increase in sales with an average margin of 61.1%.
#13 - Price
Over the past two months, Casey's stock price has fallen from around $75 to its current price of $68/$69. It is close to its 52 week low of $64.20 and is now trading at a PE ratio under 20x. Based on the company's historical PE ratio, this appears to be a fair value for the company, considering its growth potential.
Conclusion
Casey's is not just a solid stock but a solid company as well. With a strong history of increasing revenues and earnings and a great distribution/growth strategy in place, I believe that long term investors will be rewarded handsomely by investing in this company. With a fast growing dividend, the stock should also be attractive to dividend growth investors.
I will be looking to add to my portfolio this fall and if Casey's remains near its current price it will be at the top of my consideration list. As always, I suggest individual investors perform their own research before making any investment decisions.
Disclosure: The author has no positions in any stocks mentioned, and no plans to initiate any positions within the next 72 hours. The author wrote this article themselves, and it expresses their own opinions. The author is not receiving compensation for it (other than from Seeking Alpha). The author has no business relationship with any company whose stock is mentioned in this article.