Company History
Millennial Media Inc. (NYSE:MM) provides mobile advertising solutions to advertisers and developers in the United States and internationally. It operates MYDAS, a data platform that accesses and analyzes volumes of data location, social, interest, and contextual data to provide a multi-dimensional view of individual consumer profiles. Millennial Media Inc. was founded in 2006 and is headquartered in Baltimore, Maryland. MM's market share has grown considerably over the businesses lifetime, however executive management has consistently warned investors of net deceleration. Michael Barrett, current CEO of Millennial Media, former Chief Revenue Officer at Yahoo, believes that the top line should ramp up overtime. However competitors like Facebook (NASDAQ:FB) and Google (NASDAQ:GOOG), aligned in social advertisement, have brought on direct headwinds for the business. Since 2010 until 2013, the company realized an revenue expansion of approximately 114% to 73% to 51%. While these figures do look impressive overall, this deceleration cannot be afforded to a micro-cap like this in a highly competitive and fast growing industry.
Recent News
In the past, investors have barked about poor management performance and lack of concern for associated shareholders. Despite the favored replacement CEO, it appears that management's interests appear to be misaligned with shareholders. They have continuously propped their pay scales higher without returning value to shareholders. Return metrics have literally been net negative every year, evoking clear value destruction within the business despite the company's YoY "growth".
Sidenote: Mr. Barrett have to take on the CEO position, but Principal Financial Officer as well. Two other executives recently mentioned that they are stepping down; positions including Chief Financial Officer, Executive Vice President, and the head of Global Sales & Operations.
Fundamental Concerns
The company has sustained declining EBIT figures that have underperformed pessimistic expectations. Over the last year, the company showed three out of four negative quarterly surprises, where in 2013 the bottom line netted its worst performance since the company's inception. In the Q2 report, eps came back at -14 cents versus the consensus of -9, about a ~20% miss. For revenues, figures came back at 67.3mm against the estimation of 74.8mm. Moreover, the business generated soft guidance going forward for revenues specifically (corresponding to the bottom line), which is an adjusted 13.5% markdown.
Free cash flow is another figure that has come back pretty erratic. It is safe to say however that not only is fcf negative, but it remains in continuous decline.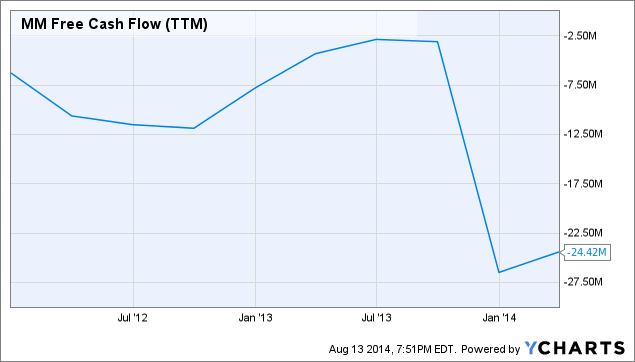 MM Free Cash Flow data by YCharts
I would like to point out that there have been no material increases in capital expenditures, it is simply a function of poor performance.
Investors have touted that the company has no long term debt obligations, however if the trend in the company's bottom line continues, it may face illiquidity. If we look at the balance sheet, we will see that barely half of the company's assets are material.

Tangible book value is valued at only ~142mm which is 46% below current prices (notwithstanding discounting which would bring further drawbacks to value). Lastly, the company has needed to raise cash via secondary stock offerings, diluting shareholder value by more than 20%: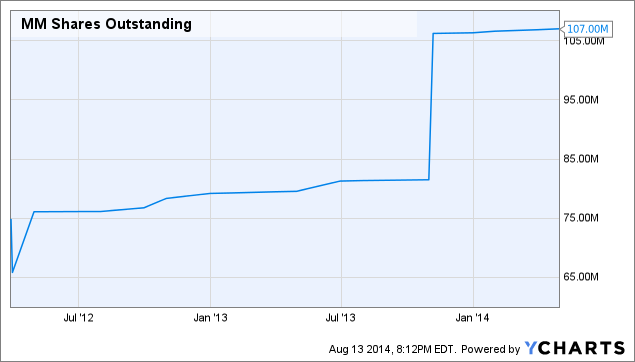 MM Shares Outstanding data by YCharts
Technicals
Short sellers have been on this stock since the day shares were available to borrow. In January 2013 and March 2014, short interest was hanging between 40-45% of the available share float. As of right now, it has cut in half likely to due the fact of profit taking or impending news on a possible turnaround.
Regardless, the chart itself looks terrible. In the last year, we have seen two extremely bearish formations, the first being a descending triangle to the left side, and a rising wedge on the right. As of right now, the stock price broke all support levels and is hanging at $2.50 by itself.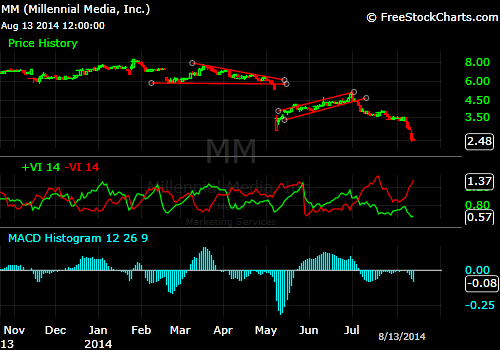 Stock chart provided by FreeStockCharts.com
The vortex indicator suggests this is the time to buy, but I would only due so at your own risk. MACD histogram is indicating accelerated bearish momentum as of the last two months.
Take Away
The bears still have their paws on this company and its stock. Fundamentals continue to show poor performance on both the top and bottom line. Moreover, the technical situation remains unfavorable. Overall I would have to say that Millennial Media is an avoid target given substantial risk and uncertainty.
Disclosure: The author has no positions in any stocks mentioned, and no plans to initiate any positions within the next 72 hours. The author wrote this article themselves, and it expresses their own opinions. The author is not receiving compensation for it (other than from Seeking Alpha). The author has no business relationship with any company whose stock is mentioned in this article.