Although we have not seen the official numbers for the last week or two, the tail end of earnings season has certainly seemed to have more misses on a percentage basis than the rest of earnings season. Retail has been the big loser, especially as some of its marquee names came out of this earnings season with chinks in their armor after having some of their weaknesses exposed. It seems too risky to own individual retailers right now and even owning the entire sector via an ETF such as the SPDR S&P Retail ETF (NYSEARCA:XRT).
In this economy it makes little sense to buy poor performers. Instead, investors need to be focusing on companies performing well or laying the foundation to set-up a future run higher.
Chart of the Day:
As we have previously pointed out, if one must be long the retail sector, it is best to be long the diversified ETFs rather than trying to pick individual stocks. The latest quarter highlights this as many of the market leaders in retail saw weakness appear in their business.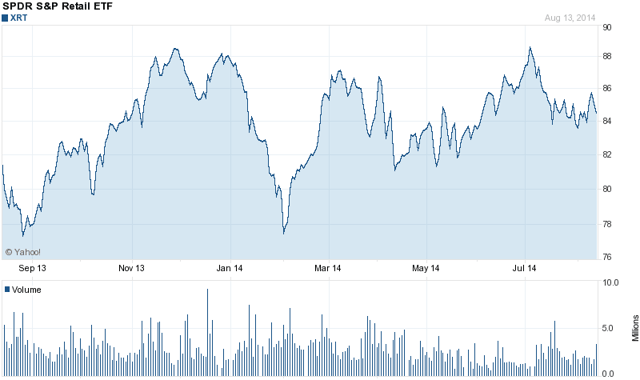 Click to enlarge
Source: Yahoo Finance
We have economic news today, and it is as follows:
Initial Claims (8:30 a.m. EST): Act: 311k
Continuing Claims (8:30 a.m. EST): Act: 2544k
Export Prices - Ex Ag (8:30 a.m. EST): Act: 0.3%
Import Prices - Ex Oil (8:30 a.m. EST): Act: 0.0%
Natural Gas Inventories (10:30 a.m. EST): Act: 78 bcf
The Asian markets are higher today:
All Ordinaries -- up 0.61%
Shanghai Composite -- down 0.74%
Nikkei 225 -- up 0.66%
NZSE 50 -- up 0.15%
Seoul Composite -- up 0.04%
In Europe, the markets are higher this morning:
CAC 40 -- up 0.13%
DAX -- up 0.30%
FTSE 100 -- up 0.44%
OSE -- down 0.62%
Funding Announced
Most of the recent attention surrounding Ebola drugs has focused upon Tekmira Pharmaceuticals (TKMR), a small Canadian biotech outfit which has been working with US defense agencies to develop an effective drug. While Tekmira was obviously in the driver's seat, we like to look for other names which can benefit from investor speculation and our focus was on BioCryst Pharmaceuticals (NASDAQ:BCRX) as a trading vehicle. While BioCryst shares have underperformed those of Tekmira, we could see that gap close moving forward as the company announced the National Institute of Allergy & Infectious Diseases, or NIAID, will fund up to $4.1 million to assist in the advancement of BioCryst's BCX4430 (the treatment which has thus far shown promising results in fighting Hemorrhagic Fever Virus Diseases).
BioCryst shares recently broke through the $13/share resistance level and could be poised to head higher should investors continue to speculate on Ebola treatment plays.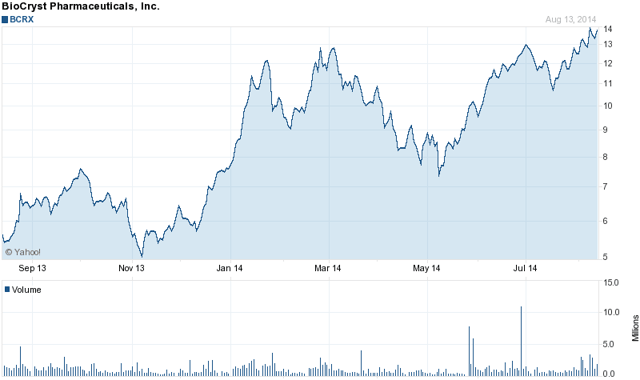 Click to enlarge
Source: Yahoo Finance
All Is Good With Amgen
Investors are taking Amgen's (NASDAQ:AMGN) latest news in stride and actually have the shares higher in early trading after being red in after hours and pre-market sessions. The company announced that its blood cancer drug, Kyprolis, failed to meet an endpoint in the FOCUS trials being conducted. Adding to the bad news, Amgen recalled from overseas distributors prefilled syringes with Aranesp, a treatment for anemia. It appears the recall was due to product quality as there were visible particles in the syringes which should not have been there.
Analysts are discounting the Kyprolis news and instead focusing on the rest of the portfolio moving forward. For smaller companies in the biotech sector this would have been awful news, but with Amgen's diversified portfolio and the overall size of its operations, the projected revenue from Kyprolis is but a drop in the bucket.
Update On 3-D Printing
We are seeing investors flee from ExOne (NASDAQ:XONE) and Voxeljet (NYSE:VJET), two of the smaller names in the 3-D printing industry after reporting disappointing results. Both companies announced losses, but ExOne missed badly, reporting a loss of $0.32/share which exceeded the $0.14/share that analysts had expected. Add in the fact that ExOne also missed on their top line number and it becomes apparent just how bad the quarter was.
Voxeljet had the same situation in regards to missing estimates, but unlike its counterpart the company was at least in the neighborhood with the consensus estimates. Voxeljet still sees revenue growth for the year coming in over 50%, with analysts still believing that the firm will do better than that.
Disclosure: The author has no positions in any stocks mentioned, and no plans to initiate any positions within the next 72 hours. The author wrote this article themselves, and it expresses their own opinions. The author is not receiving compensation for it (other than from Seeking Alpha). The author has no business relationship with any company whose stock is mentioned in this article.