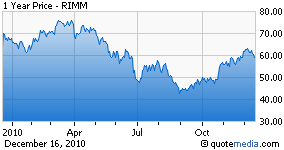 By Jim Giaquinto
Research In Motion Ltd. (RIMM) recently reported fiscal third-quarter earnings per share of $1.74, which was a dime, or 6%, better than the Zacks Consensus Estimate. This mobile communications giant also announced revenue of $5.49 billion, topping Zacks' expectation of $5.38 billion while gaining 40% year over year and 19% sequentially.
While this was all good news, none of it was unexpected. When you're talking about RIMM today, you're really comparing this company to Google (NASDAQ:GOOG) and Apple (NASDAQ:AAPL). The competition in RIMM's industry is intense, and will likely get even more so when Apple's blockbuster iPhone becomes available on Verizon (NYSE:VZ).
RIMM sells most of its Blackberrys through Verizon. Will it be able to keep up with Apple? RIMM shipped about 14.2 million devices in the quarter, which was in-line with expectations. There were about 5.1 million net new BlackBerry subscriber accounts added in the quarter, which was at the lower end of the expected range, between 5 million and 5.4 million.
As for the fiscal fourth quarter, Research In Motion forecasted earnings per share between $1.74 and $1.80, which is above the Zacks Consensus Estimate of $1.61. It also expects revenue of $5.5 billion to $5.7 billion.
The company is currently a Zacks #3 Rank ('hold'). Earnings estimates of late have been inching a bit higher, but the agreement among analysts and magnitude of the revisions leave some to be desired – especially for a company that is as well-represented as RIMM.
All 13 of the earnings estimate revisions in the past 30 days for this fiscal year have been to the upside, which is certainly good news. However, there are 47 total estimates for the period ending February 2011; so nearly three-fourths of the analysts have been on the sidelines for a while now. Therefore, the Zacks Consensus Estimate of $6.08 per share is up only 3 cents in 30 days, or less than 1%.
But the outlook is up 8.6% over the past 3 months.
It's a similar story for next fiscal year, ending February 2012. Out of 45 total estimates, there have been 13 revisions to the upside in the past 30 days and two revisions to the downside. In this case though, that's enough to advance by nearly 1.3% to the current Zacks Consensus Estimate of $6.41 per share. There have also been six upward revisions in the past seven days.
Over the past three months, the guidance is up 8.8%.
In our Earnings Preview for Research In Motion, we mentioned that the company had to deliver in its third quarter on all operating fronts (1) revenue (2) EPS (3) margins (4) number high-end BlackBerry phone shipment, or else face the possibility of hurting the stock price. We'll have a more in-depth look at this quarter coming up to see if this performance was enough to keep the company's momentum.
After hours, shares of the company are up more than 2%.