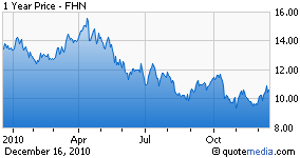 Memphis-based First Horizon National Corp. (NYSE:FHN) is progressing well with its capital raise initiatives to repay the bailout money it received under the U.S. Government's Troubled Asset Relief Program (TARP).
On Wednesday, First Horizon sold $500 million in senior holding company notes, according to IFR, a Thomson Reuters service. The deal size exceeded the originally planned $400 million. The notes carry a rating of "Baa1" from Moody's Investor Service, a unit of Moody's Corp. (NYSE:MCO), with the maturity date being December 15, 2015.
On Tuesday, First Horizon also priced a common stock offering of around 23.8 million shares at $10.50 per share, the gross proceeds coming in at $250 million. The company also granted the underwriters a 30-day option to purchase up to an additional 3,571,428 shares of common stock at the offering price.
First Horizon would use the net proceeds from the notes sale and the equity offering to repurchase 866,540 preferred shares issued to the Treasury under TARP and redeem $103 million of other debt. The TARP repayment is, however, subject to consultation with its banking regulators and the approval of the U.S. Treasury.
Our Take
Following the TARP loan repayment, the company would be free of significant government interventions. The company would enjoy flexibility in dividend payments, executives' pay packages and capital management. But the capital raise through common stock offering would result in future earnings dilution.
First Horizon currently retains its Zacks #3 Rank, which translates to a short-term Hold rating. Considering the company's fundamentals, we also have a Neutral recommendation on the stock.
Disclosure: No position