By Sridharan Raman
Madison Square Garden (NASDAQ:MSG) got a significant boost in value from the $2 billion sale of the L.A. Clippers, which bolsters the Knicks valuation. However, it does nothing to improve MSG's earnings potential. Amid falling margins, the large negative Predicted Surprise of 32% leads us to believe that the company will miss quarterly earnings estimates.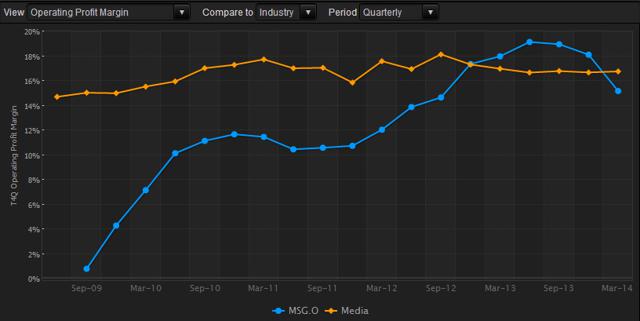 Source : Thomson Reuters Eikon/StarMine
Spotlight on operating margins
After a strong run of improving margins over the last three years, trailing Q4 operating margins peaked in June 2013 at 19.1% and have fallen for the last three quarters. After finally being higher than the industry median, MSG operating profit margin is now once again below the industry median (15.1% vs. 16.7%). Operating profit margins is a key component in return on net operating assets, a measure of how efficiently management is generating returns on its assets. As a result, RNOA has also been falling for the last few quarters and has fallen by more than five percentage points. That could be a worrying sign if the trend continues.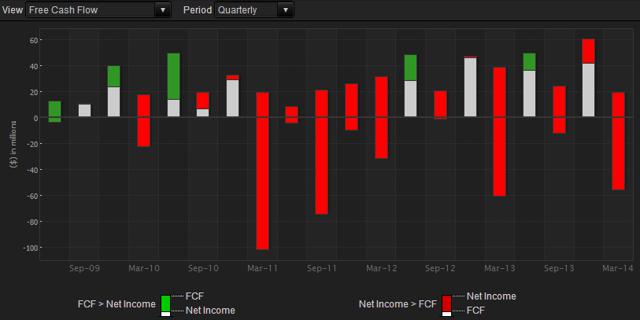 Source:Thomson Reuters Eikon/StarMine
Slow tempo
Another sign of sustainable earnings is strong cash flows. In the chart above, we see that free cash flow has been negative in three of the last five quarters as MSG looks to invest in new media ventures. That is not sustainable in the long term and one may need to keep an eye on that. One concern is the delays in opening the "Heart and Lights" show at Radio City Music Hall, featuring the Rockettes. While the show may be a success in the future, it is impacting current quarter earnings, especially if the delays continue.
Further, MSG will probably face increased competition from the NBA N.Y. Nets, which play in the nearby Barclays Center. That may provide some headwinds for earnings in the near term and could be one reason why margins are falling.

Source:Thomson Reuters Eikon/StarMine
Dancing on the edge
Analysts have been lowering estimates for MSG over the past 30 days -- down by 9 cents to 24 cents per share. The SmartEstimate is even lower at 16 cents per share, which leads us to believe that the consensus will drop further. There is even a Bold Estimate of just 9 cents per share, which means that an analyst with a strong track history believes that earnings will come in far below the consensus. One of the factors that analysts point to for this quarter is the write-off for the Rangers' Brad Richards to the tune of approximately $28 million.
While MSG does own some attractive assets, it has seen a sharp share price appreciation, mainly because of the high selling price for the L.A. Clippers. Based on the StarMine Intrinsic Valuation model, the growth rate required to justify the current market price is 15% over the next 10 years. That may seem overly optimistic, and StarMine has a more realistic forecast of a 10 year CAGR of 9%, after systematically adjusting for known analyst biases. It looks like MSG will start out with an earnings miss this quarter, which could bring down market expectations for growth. As they say, the show must go on.
Disclosure: The author has no positions in any stocks mentioned, and no plans to initiate any positions within the next 72 hours.
Business relationship disclosure: Alpha Now at Thomson Reuters is a team of expert analysts that are constantly looking at the financial landscape in order to keep you up to date on the latest movements. This article was written by Sridharan Raman, independent commentator and analyst. We did not receive compensation for this article, and we have no business relationship with any company whose stock is mentioned in this article.