Ladder Capital Corp. (NYSE:LADR) - Sell Recommendation - Price Target $17.10.
The 180-day lockup period on LADR will conclude on August 21, allowing LADR's major pre-IPO shareholders to sell their outstanding shares numbering over 35 million. LADR is a commercial real estate finance firm, with the largest pre-IPO shareholders currently private equity firms GI Partners and Towerbrook. Evidence suggests that LADR's stock price could decline ~2% surrounding the lockup expiration event. While LADR's market performance has been inconsistent, it has still seen growth, along with its business; we note a temporary short opportunity.
Summary
The 180-day lockup period initiated with the February 5, 2014 IPO of Ladder Capital Corp. will conclude on August 21 (adjusted for earnings report), allowing the commercial real estate finance firm's major pre-IPO shareholders to sell their outstanding shares.
These shareholders include private equity firms, as well as entities controlled by a Canadian pension fund and a Canadian institutional investment fund manager. LADR's directors and executives will also be permitted to sell their outstanding shares in the company with the expiration of the lockup period.
The sudden rise in LADR shares available for sale on the market at the expiration of the lockup period will likely cause at least a temporary decrease in LADR share prices, potentially creating a short opportunity for aggressive investors.
See our previous articles on LADR here and here.
Early Market Performance
LADR's IPO priced at the midpoint of its expected range at $17 per share, and suffered a minute loss of 0.1% in its first day of trading. The stock made steady gains through early April, closing at $19.47 per share on April 9, but lost ground over the course of the next month to close at $16.64 per share on May 20. The price bounced back to over $19 per share in early June; LADR closed at $17.34 on August 12.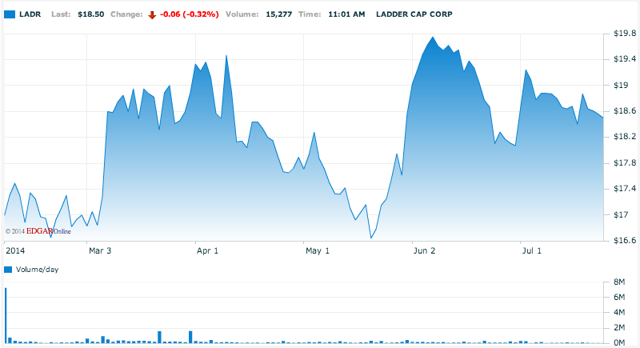 (Nasdaq.com)
Share Unlocking: 35.3 Million Potential Sales
The August 5 lockup period expiration will free some 35.3 million shares of LADR to be sold, nearly three times the 13.3 million shares offered in LADR's IPO.
The largest shareholders in the company are a pair of private equity firms: GI Partners, with 16.9 million shares, and Towerbrook, with 16.0 million shares. GP09 Ladder Holdings, which is owned by various entities advised by institutional investment fund manager Alberta Investment Management Company, owns 11.1 million shares of LADR. OCP LCF, a wholly-owned subsidiary of the Ontario government employee pension fund OMERS Administration Corporation, owns 5.5 million shares of LADR.
These firms may choose to sell at least some of their shares in LADR in the interest of raising capital and pursuing more consistent and more lucrative investments.
LADR's executives and directors may also elect to sell some their shares, as the expiration of the lockup period will represent their first opportunity to do so since the firm's IPO.
Evidence That Lockup Expirations Offer Short Opportunities
Published empirical studies from Professors at the University of Kentucky, University of South Florida, and other institutions (Bradley, Jordan, Roten, and Ha-Chin Yi) have concluded that lockup period expirations are, on average, associated with significant, negative abnormal returns, as the boom in available public shares (a potential tripling, per a 2001 NYU study) usually leads to a decline in share prices.
A joint study by Duke's Fuqua School of Business and Harvard Business School finds that this price drop is 2%. Data generated in the course of our past three years of research aligns with these conclusions.
Thus, the lockup expiration often leads to a short opportunity for aggressive investors.
Researchers have found that the greatest losses occur in firms with the largest post-IPO share price increases and in "high-tech" firms, as well as in firms with the best-reputed underwriters and the largest relative trading volume near the time of the lockup expiration.
Business Summary
LADR is a commercial real estate finance company that originates loans through its proprietary platform.
The firm's three major lines of business include commercial mortgage lending, investments in net leased and other commercial real estate assets, and investments in securities backed by first mortgage loans. LADR makes a wide range of products available to its borrowers, giving the firm the flexibility to adjust to specific borrowers. LADR aims to originate what it calls "conduit loans," first mortgage loans on stabilized, income-generating commercial real estate properties available for sale in securitizations.
LADR then creates profits by securitizing conduit loans. From the company's October 2008 inception through September 30, 2013, LADR originated $5.4 billion in conduit loans, as well as $1.1 billion of balance sheet loans held for investment. The firm also acquired $654.2 million in selected net leased and other commercial real estate assets, and $5.2 billion in investment grade-rated securities backed by first mortgage loans on commercial real estate.
Management Highlights: Industry Experience
Co-founder Brian Harris has served as the CEO of LADR since the company's formation in 2008, and has more than 29 years' experience in the real estate and financial markets.
Mr. Harris previously served as managing director, Head of Global Commercial Real Estate, and as a senior partner at Dillon Read Capital Management. He also served as head of Global Commercial Real Estate and managing director at UBS Securities LLC. He previously worked as head of Commercial Mortgage Trading at Credit Suisse Securities LLC.
He received a B.S. in Biology and an M.B.A. from SUNY Albany.
Competition From Many Angles
LADR competes with numerous other firms engaged in commercial real estate financing, such as REITs, institutional lenders, hedge funds, commercial banks and investment banks.
Significant competitors include GE Real Estate (NYSE:GE), HSBC, and Apollo Commercial Real Estate Finance.
Conclusion: Temporary Short Opportunity For Investors
LADR has performed somewhat inconsistently since its IPO, but has managed an overall gain in the neighborhood of eight percent.
The firm does have a national footprint, and has posted huge and growing income figures since its inception.
We believe that the decade-plus history of collaboration among LADR's core management team is critical to the firm's future success, and rising demand for financing outside of banks should provide that team with every opportunity to continue to grow its rising firm.
Thus, we foresee a temporary decline in price at LADR's lockup expiration - a short opportunity for quick, aggressive investors.
We invite readers wishing to join the discussion on IPO lockup expirations to click the +FOLLOW button above the title of this article, and those looking for the latest updates to click +Get real-time alerts.
Disclosure: The author is long LADR. The author wrote this article themselves, and it expresses their own opinions. The author is not receiving compensation for it (other than from Seeking Alpha). The author has no business relationship with any company whose stock is mentioned in this article.