I reiterate my bullish stance on American Tower Corporation (NYSE:AMT). The company recently reported strong results for 2Q14, primarily benefiting from the aggressive deployment of 4G services by U.S. carriers and by the sizeable investments of international carriers in network deployment. Moreover, AMT's strong revenue growth, coupled with efficiently lowered SG&A expenses, is driving its EBITDA margin growth. Furthermore, the company has been making efforts to reduce its debt and make its balance sheet stronger.
Strong Results
In the recent past, as competition among leading wireless service providers increased in the U.S., the carriers shifted their focus on strengthening subscriber base by investing in network quality improvement and expansion. Benefiting from these aggressive network investments by wireless carriers, AMT is constantly growing its core organic rental and management revenues. Moreover, with the increase in wireless services demand around the globe, AMT's international customers like Airtel, Vodafone (NASDAQ:VOD) and Telefonica (TFE) also made significant investments in wireless networks. Owing to these large investments by carriers, AMT's domestic rental and management revenue grew 26.6% and international rental and management revenue grew by 29% year-on-year in 2Q14.
In the future, as U.S. wireless carriers will compete by delivering best network quality through VoLTE rollout, I believe AMT's rental and management revenues will keep improving. On the other hand, over the past few years, increased smartphone penetration in international markets has enhanced the demand of broadband data around the globe. The increase in broadband data demand has created opportunity for carries to expand their services and tap available growth opportunities in international markets, especially in Latin American markets. I believe AMT will benefit from the growth potentials of Latin American markets, which will portend well in terms of expanding its international segment operations; through the BR Towers acquisition, AMT will have more than 25,000 towers in Latin America, which will help it address the available growth opportunities in the region.
Based on the strong growth potential of international markets and active network deployment investments of wireless service providers in the U.S., AMT expects total rental and management revenue for 2014 to be in a range of $3,945 - $4,015 million.
Healthy rental and management revenue growth in 2Q14 fueled the company's net income growth, as net income for the quarter came out to be $230 million for the quarter, as compared to $99.8 million in the same quarter previous year. Also, the company reported an EPS of $0.58 for 2Q14, beating consensus estimates by 7.40%. Given the attractive growth potentials for AMT, analysts have anticipated a robust next 5-year growth rate of 20.82% per annum.
Along with attractive top-line growth, the company has been able to lower its costs and expand its margins. In 2Q14, the company lowered its SG&A expenses by 1% year-on-year. AMT reported an EBITDA margin of 66% for 2Q14, better than an EBITDA margin of 58% of its peer, Crown Castle (NYSE:CCI). AMT expects its full year 2014 EBITDA margin to be 65%.
Safer Balance Sheet = Value will be Delivered Consistently
AMT has been investing in growth generating initiatives to address the growth potential. Also, along with growth investment, the company has been sharing its success with investors through dividend payments. Year to date, AMT has declared $261 million in common stock dividends for its investors. Currently, the company offers a dividend yield of 1.5%. Tom Bartlett, the CFO and EVP of AMT, said in the 2Q14 earnings conference call:
"We continue to expect our primary method of returning capital to stockholders for the rest of this year will be through our REIT distributions as well as dividend payments to holders of our mandatory convertible preferred stock. The amounts and timing of our dividend payments are to discretion of our Board but our goal continues to be to deliver base annual common stock dividend growth of over 20%."
Along with growth investments and a modest dividend yield of 1.5%, the company has been making efforts to repay its debt, which will help it lower its balance sheet risk. The company has been making efforts to keep its net leverage in a range of 3x-5x. Despite the company's efforts to repay debt, the company does not have any significant debt maturity in the next five years, which mitigates its balance sheet risk. I believe AMT's efforts to de-lever its balance sheet will improve its risk profile. The following chart shows the net leverage trend of AMT.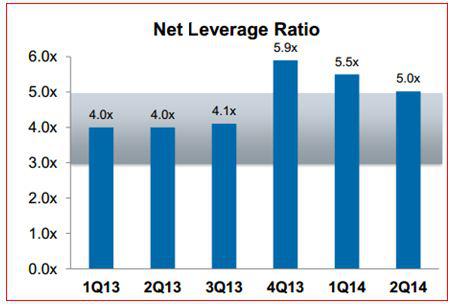 Source: Company's Quarterly Earnings Presentation
Conclusion
As wireless carriers in the U.S. are investing in network quality improvements and expansion, it will portend well for AMT's top and bottom-line growth. Also, the company is well positioned to cater to the growth potential of rapidly growing demand in international markets. Moreover, the company has been making strategic acquisitions to expand its operations. Furthermore, the company has been making efforts to de-lever its balance sheet, which will improve its risk profile. Due to the abovementioned factors, I am bullish on AMT.
Disclosure: The author has no positions in any stocks mentioned, and no plans to initiate any positions within the next 72 hours. The author wrote this article themselves, and it expresses their own opinions. The author is not receiving compensation for it (other than from Seeking Alpha). The author has no business relationship with any company whose stock is mentioned in this article.