El Pollo Loco Holdings, Inc. (NASDAQ:LOCO) - Buy Recommendation - PT $40.95
Thesis:The 25 day quiet period on underwriter research on LOCO that began with the firm's July 24 IPO will conclude on August 18th. The publication of the underwriter reports will likely lead to at least a brief rise in the price of LOCO shares on August 19th. Though LOCO may not be the next Chipotle, and certainly isn't likely to sustain its meteoric rise in value, fast-casual restaurants in general have performed well in recent years. We see LOCO's upcoming quiet period expiration as another chance to buy into a successful company.
The SEC-enforced 25 day quiet period on underwriter research on El Pollo Loco Holdings, Inc. (LOCO) that began with the firm's July 24 IPO will conclude on August 18, allowing the IPO underwriters to release analyses of the Mexican-inspired fast-casual chicken restaurant on August 19th.
The publication of the underwriter reports will likely lead to at least a brief rise in the price of LOCO shares.
Explosive Start To Trading
LOCO's IPO priced at the high end of its expected price range at $15.00 per share and proceeded to an explosively successful first day of trading, closing with a whopping first-day return of 60.2%. The stock continued to spike upwards for the following week, closing at $41.20 per share on August 1. LOCO has since cooled slightly to close at $36.95 per share on August 6.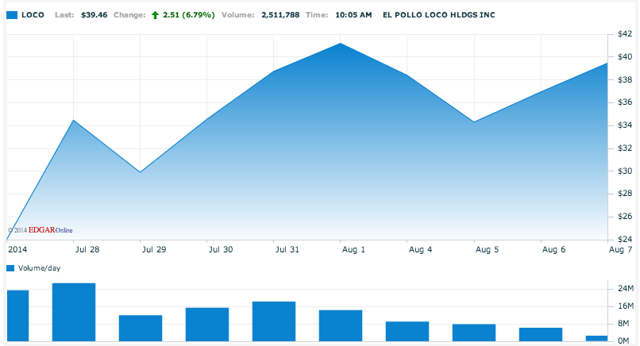 (NASDAQ.COM)
LOCO's roster of IPO underwriters, including Jefferies LLC; Robert W. Baird & Co. Incorporated; Morgan Stanley & Co. LLC; Stifel Nicolaus & Company, Incorporated; and William Blair and Co., LLC, will seek to build even further on LOCO's hot start on the market with the release of positive analyses beginning on the 18th.
Underwriters, Quiet Period Expirations, and Buying Opportunities: Academic Studies
As The Journal of Finance (VOL. LVIII, NO. 1; 2003) explains, share prices generally start to rise ahead of the quiet period expiration as investors buy shares early in order to take advantage of upcoming underwriter reports, which they assume will be positive.
Lead author Dan Bradley, PhD, CFA, affiliated with the University of South Florida, and his colleagues state that analysts initiate coverage immediately for 76% of firms at the conclusion of the quiet period, almost always with a rating of 'Buy' or 'Strong Buy.' Firms with coverage initiated receive abnormal positive returns of 4.1% for the two days before and the two days following initiation. Returns have been found to rise further when multiple analysts initiate coverage-to 6.4%.
The findings of Carter, Piwowar, and Strader (2001) support Dr. Bradley's conclusions; they state that the mean analyst rating at the conclusion of the quiet period is a "Buy," and that higher ratings correlate to higher returns. Lach and Highfield (2009) note that analyst initiations have not been as positively biased since the NASD and NYSE rules and the Global Settlement; however, Highfield, Lach and White (2008) still found that the five-day cumulative adjusted returns are statistically significant at approximately 2%.
Bradley et al also find a significant correlation between the quantity and visibility of IPO underwriters and increased share prices near the expiration of the quiet period.
Our own research, performed on a sample of 2014 IPOs, shows above-market returns of 2.3% within an 8 day (-5, +2) window (day 0 being expiration). These data are statistically significant at the 90% level. With the exclusion of IPOs for REITs and banks, returns increase further and remain within the 90% significance level. We also found that a greater quantity of underwriters could lead to a reduction in the volatility of returns in the quiet period. No significant linear relationship was observed between market capitalization and returns or volatility of returns in the same period. We also observed no significant linear relationship between the percentage of the company floated at the time of IPO and returns or volatility of returns.
In all cases, investors' early buys often create the perception of increased demand, causing an increase in share prices before the quiet period ends and producing a short-term buying opportunity.
LOCO's Popular Mexican-Style Cuisine
LOCO is a restaurant concept best known for its Mexican-inspired cuisine and its signature fire-grilled, citrus-marinated chicken. LOCO operates somewhere between the quick-service restaurant segment and the fast-casual restaurant segment, attempting to provide the food-quality of a fast-casual restaurant at the speed of a quick-service restaurant. LOCO denotes this approach as QSR+. LOCO's restaurants feature an open design, allowing customers to see into the kitchens and observe their meals as they are prepared.
LOCO's menu includes various Mexican-inspired dishes, including the Ultimate Pollo Bowl, Poblana Burrito, Grand Baja Shrimp Tacos, and Under 500 Calorie Mango Grilled Tostada, among many others. The firm boasts that many of it menu options have far fewer calories than food available at other fast food restaurants. LOCO offers its chicken dishes throughout the year, while other proteins like pork, beef, and shrimp are available on a seasonal basis.
As of March 26, 2014, LOCO operated 168 restaurants and had franchised an additional 233 locations spread across California, Utah, Texas, and Arizona. The majority of the firm's restaurants are free-standing buildings with seating for approximately 70 and drive-thru service.
See our previous article, anticipating LOCO's IPO, here.
Major Competitors
LOCO competes with numerous other fast food and fast-casual options, some of which have access to significantly greater marketing and financial resources than LOCO.
Major competitors include Chipotle (NYSE:CMG), Popeyes Louisiana Kitchen (NASDAQ:PLKI), Taco Cabana, Qdoba, Chick-fil-A, KFC (NYSE:YUM), and Taco Bell.
Management With Tasty Resumes
Stephen J. Sather has served as the president, CEO, and a director of LOCO since 2010; he previously served as the firm's senior vice president of Operations. He has also served as senior vice president of Retail Operations for Great Circle Family Foods, a franchisee of Krispy Kreme Doughnuts stores.
Mr. Sather holds a bachelor's degree in business administration from Miami University in Oxford, Ohio.
Mr. Sather is joined by Treasurer and CFO Laurance Roberts, who joined LOCO in July 2013. Mr. Roberts previously served as the COO of KFC and the general manager of KFC Restaurant Operating Company. He also served as the CFO of KFC and the CFO of Yum Brands' Pizza Hut joint venture in the United Kingdom. Mr. Roberts holds an MBA from the University of Michigan and a bachelor's degree in economics from Bucknell University.
Conclusion: Another Tasty Opportunity In Sight
LOCO's spectacular debut on the market surprised many, perhaps due to the stiff competition from similar restaurants-especially Chipotle, to which this stock has drawn many comparisons since the IPO.
Though LOCO may not be the next Chipotle, and certainly isn't likely to sustain its meteoric rise in value, fast-casual restaurants in general have performed well in recent years, and recent fast-casual IPOs have had strong showings as well; Noodles & Company (NASDAQ:NDLS) and Potbelly Sandwich Works (NASDAQ:PBPB) also both got off to hot starts last year.
The firm plans to continue to expand its locations to establish a national presence.
For those interested in getting a piece of LOCO, the upcoming quiet period expiration will likely provide an excellent buying opportunity.
We invite readers wishing to join the discussion on IPO quiet period expirations to click the +Follow button above the title of this article and those wishing for the latest updates to click +Get real time alerts.
Disclosure: The author has no positions in any stocks mentioned, and no plans to initiate any positions within the next 72 hours. The author wrote this article themselves, and it expresses their own opinions. The author is not receiving compensation for it (other than from Seeking Alpha). The author has no business relationship with any company whose stock is mentioned in this article.