I take a lot of pride in being a 'value investor'. I don't chase the latest irrationally valued fad or momentum play hoping to ride the coat tails of the latest market disrupting innovation into financial paradise. While I admit that scenario is possible, I think it's more likely that the wheels will fall off the wagon and I'll find myself high and dry. Being a do-it-yourself investor with no formal background in portfolio management I've made it one of my highest priorities to minimize potential downside when putting my money to work in the market. I'm a competitor; I think that I hate losing more than I love winning. As a young investor I've come to realize that this game isn't a sprint, but a marathon, and so long as I remain disciplined and patient I will eventually reach my ultimate goal: financial freedom.
That being said, it's not often that I'm willing to buy shares of a company trading near their all-time highs. I usually wait for a pullback, whether that entails an isolated company specific event or a marketwide decline due to macro factors. When I buy a stock on a dip, especially when I deem the dip to be of an irrational nature, I receive a nice margin of safety compliments of an inefficient market. This is how I like to operate, whether it's buying socks or stocks, I like to get them on sale. But, there are certain companies out there that like to play hard to get, Disney (NYSE:DIS) being one of them. No stock is perfect and immune to declines; as you can see below, over the past 5 years Disney has given investors a few chances to buy at a significant discount, the summers of 2011 and 2013 come to mind, but long lasting buying opportunities have come few and far between.
Source: F.A.S.T. Graphs
I didn't begin actively managing my portfolio until the fall of last year and wasn't able to take advantage of those two hiccups. Ever since taking control of my finances I've had my eye on Disney, being impressed with their brand, their past performance, and by the fact that SportsCenter is essentially running on repeat at my house 24/7. The problem is, Disney trades at a premium to the market because of its stellar brand recognition and doesn't often fall into the recessionary price range that I like to make my purchases in. Because of this I've had to bite the bullet with shades of Warren Buffett running through my mind chanting, "It's far better to buy a wonderful company at a fair price than a fair company at a wonderful price." This phrase has humbled me, coming from the Oracle himself. When I first began investing right out of college I was stubborn and would have responded to this notion with a smart aleck remark along the lines of, "well, it's even better to buy a wonderful company at a wonderful price." Obviously, those words hold true, but I've learned that such wonderful opportunities don't come around often. In the meantime I decided to purchase an entry position into DIS in February of this year ahead of the first Frozen earnings call at $71.24/share. Thus far this move has turned out to be a pretty good idea for me, but even so, it wasn't enough to satisfy my thirst for Disney shares. Since February I've been buying shares on a monthly basis through my flexible re-investment program and I enjoy sleeping well at night knowing that I have exposure to a very high quality company with arguably the brightest long-term future in the market.
I'm writing this article because I bought a second lot of shares on Friday at $86.14 a share. I'm averaging up partly because of the quality of DIS's latest quarter and the lack of positive reaction by the market and partly due to what I deem to be potentially explosive catalysts for the stock on the near horizon (more on those later). When DIS announced its earnings on August 5th I was very impressed. The company beat analyst estimates on both the top and bottom lines posting an EPS of $1.28 (an $0.11 beat) and revenues of $12.46B, up 7.6% Y/Y (a $290M beat). Disney posted revenue growth across all major segments: Media Networks +3%, Parks and Resorts +8%, Studio Entertainment +14%, Consumer Products +16%, and Interactive + 45%. A major highlight of the quarter was profits from the Studio Entertainment segment more than doubling (up 105%). The one major surprise for me was ESPN's slump, posting an operating income loss of 7%. I thought that with the World Cup games airing on the ESPN networks, the Cable Networks segment would have been a bright spot for the quarter. The company acknowledged that there were higher advertising rates due to the popularity of the World Cup; however, higher than expected programming and production costs, the loss of revenues from ESPN UK which was sold late last year, the fact that there were two fewer NBA Finals games than possible with the Spurs finishing off the Heat in 5 games instead of a possible 7, and the lack of an X games event airing during the quarter were all driving forces of the loss of operating income.
Even after a solid earnings beat, Disney's stock is not cheap. The stock is up 14.15% YTD as opposed to the S&P 500 (NYSEARCA:SPY) which is up only 4.79%. DIS's ttm P/E ratio is 20.8x. Its forward P/E is 19.6. While these don't exactly put the stock into the value bucket, the company's PEG is a respectable 1.3. The company's valuation premium becomes even more clear when looking at its P/Sales, P/Tangible Book, and P/Cash Flow numbers.

It's not all bleak when looking at Disney's fundamental metrics. The company has posted tremendous EPS growth as of late: 26.56% (TTM over TTM). Disney's 5 year sales growth average of 3.54% nearly doubles its peer average. DIS has a low Debt/Cap ratio: 19%, and Debt/Equity (MRQ): 0.3. And as someone who is focused on a reliably increasing income stream, DIS's dividend growth statistics (19.70% 5 year DGR) and its low payout ratio (20.3%) are bright spots in my eyes. The company's yield is low, at 0.98%, paying investors $0.86/share annually to own it. I know that this 1% yield is much lower than the threshold that many income investors use for their portfolios but I caution others not to simply overlook the stock because of the low yield. Disney is not found on any of the dividend champions lists because its management has been willing to end annual increase streaks during tough financial times (the company froze its dividend for several years during the 2000 tech bubble burst and in 2008-2009 in response to the 'great recession'), but as an investor I can't help but respect this conservative approach. The company has increased its annual dividend 14 out of the last 20 years with all but one of these increases being in the double digits. Disney seems to like to maintain a payout ratio below the 30% mark. Because of this I expect the company to increase its dividend to $1/share (give or take a few cents in either direction), which would roughly represent a 16% annual increase while maintaining a payout ratio below the 25% mark using the consensus EPS estimate of $4.27.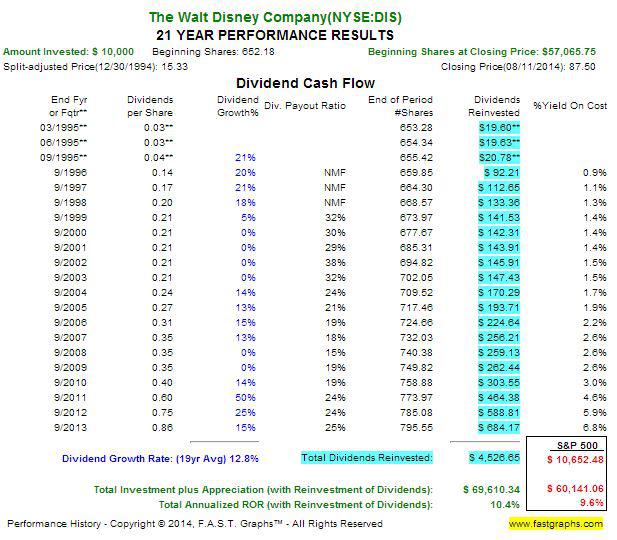 Source: F.A.S.T. Graphs
So, with several signals pointing towards overvaluation and the stock trading just off all-time highs, why did I buy? Like I said before, a combination of short and medium term catalysts. The catalyst that will affect the company's current quarter is the release of its latest Marvel universe film: The Guardians of the Galaxy. I'm going to be honest, as a shareholder, when I saw the commercials for this flick I was disappointed. I've grown so accustomed to Disney movies hailing from the Marvel universe doing exceedingly well at the box offices and I know that moviegoers have high expectations for these films. I've never read the comic books associated with this group of characters but I couldn't help but wonder how such a motley crew (a small, talking raccoon who carries a futuristic bazooka, an Ent-like tree creature, a muscular purple man covered in red tattoos, a young woman with bright green skin, and an apparently normal male human being) seemingly fueled by sarcastic one liners and wry humor was going to work out in a superhero film. I've loved each and every Marvel Studios film that has come out since Disney took over and worried that this film might taint the brand.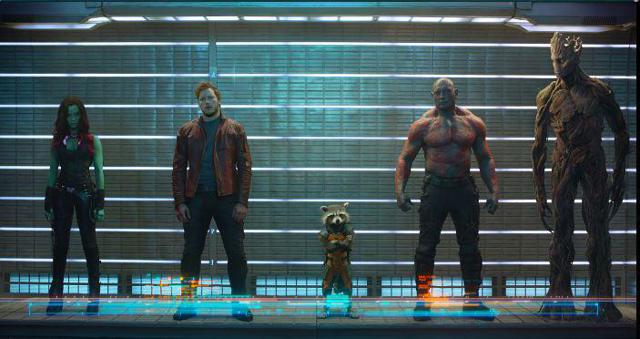 Click to enlarge
Source: Marvel.com
Well, it seems as though my concern was misplaced. The film has been a fantastic hit since its release on August 1st. Rotten Tomatoes has given the film a 92% rating. IMDb gives the film an 8.7/10. IGN has ranked Guardians the 4th best sci-fi comedy of all time, behind legendary hits: #3 Galaxy Quest never give up, never surrender,#2 Back to the Future, Roads? Where we're going we don't need...roads, and #1 who you gonna call? Ghostbusters. Guardians has grossed nearly $314M worldwide and has still yet to be released in both China and Japan (Marvel films have historically done well in the Asian markets). The film is still exceedingly popular in the US, having recently been bumped off of the top spot at the box offices by the new Ninja Turtles movie, though I'm not sure if that film has the staying power that Guardians does. Not to mention, I'm sure that I wasn't the only one thrown off a bit by the appearance of Guardians and the comedic aspect abnormally thrown into the superhero genre. I didn't see the movie on its opening weekend like I have other superhero movies in the past, but that's not to say that the wife and I won't be taking in Guardians on our next date night now that I've seen such positive reviews. I wouldn't be surprised to see Guardians re-take the top spot domestically due to the reviews of Ninja Turtles that I've read (20% on Rotten Tomatoes and a 6.4/10 by IMDb) and continue its high level of performance throughout the rest of the summer and into the fall with little other competition. The film had a $170M production budget, so it seems that Disney and Marvel Studios have once again struck gold and I expect that these results will give an unexpected bump to Disney's FQ4 earnings. I also expect there to be further installations of the Guardian movie series due to the success of this film, and possibly even a blended flick, where several Marvel universe characters team up in a movie, combining forces (and fan bases) which has worked well in the past for Disney with the Avengers (which earned $1.5B worldwide) and seems to be the new trend in the superhero movie world with Warner Bros and Marvel rival, DC comics working on a Superman v Batman movie slated for release in 2016. This is one of my favorite things about comic book movies from an investor's standpoint; whereas sequels are oftentimes looked down upon as forced and unoriginal at the box offices, they seem to thrive in this genre, serving as long-term cash generating machines.
Another big time catalyst for DIS that hasn't made much of a splash in the news in the newly created SEC network, owned by ESPN Inc. The SEC network has reached deals with basically every major content provider with the exception of Verizon Fios and will reach a market of over 90M when it launches this Thursday, August 14th.

Source: Good Bull Hunting
I am very bullish on this move by ESPN and Disney for several reasons. First, I expect this channel to be a hit throughout the college football season because of SEC fans across the country's incorrigible appetite for their best of breed football. I went to the University of Virginia and having lived in central Virginia all of my life I've grown up an ACC fan. However, I won't deny the elite level of competition that the SEC currently offers and I will go out of my way (even missing my beloved Cavaliers play from time to time) to watch a rivalry game in the South Eastern Conference. I recently drove through much of the south listening to the Paul Finebaum Show (which will be featured on the SEC network as a televised radio show similar to the Dan Patrick Show or Mike and Mike in the Morning) and the passion for athletics in this area of the country is borderline absurd. This network has the fan base to make it work in the short term, but the speculative long-term prospects of this network for Disney is what really excites me.
I say speculative, because I believe that it is very possible that there are drastic changes looming on the horizon for major college athletics as we currently know them. Right now there are several court cases being fought between the athletes themselves, the universities they represent, and their governing organization, the NCAA, regarding revenue sharing and the fact that many consider the NCAA to be a cartel of sorts. There is a major philosophical disagreement going on right now about whether or not, in this day and age, a division one athlete at a top tier university is indeed a "student-athlete", or an "athlete-student", and should be considered an employee of the university. Right now there are many proponents of paying college athletes because of a widely held belief that they are currently being exploited by the NCAA. Now, at first this may seem crazy. As a former division one athlete myself, I can see both sides of the fence of this issue. The amount of time dedicates towards one's sport within a division one program is astounding. Practice and training amounts to 20 hours a week but on top of that there are oftentimes mandatory sport specific academic obligations as well as team oriented off-season activities that don't allow athletes to live the lives of normal students. On top of this, the universities that these athletes represent during their competitions can profit greatly from their on field performance and their likeness through marketing and merchandise. But, the counterpoint usually made to this argument is one that I believe holds a lot of weight as well: these student-athletes are attending school on scholarship and therefore, they are getting paid with a free education from the school of their choice. Certain individuals value a college education more than others so it is difficult to quantify the value given versus the value received here; but as for me, I was very happy to have the opportunity to attend a university that I would have otherwise had a difficult time gaining admission to if it weren't for the fact that I could run a quarter mile faster than most. To make this situation even more difficult is the fact that within the NCAA, not all sports, nor athletic programs and the brand name associated, are created equal. For instance, the track and field program at the University of Virginia, in all likelihood, does not come close to generating as much cash at the football or basketball programs who play games on national television and attract many more fans to their events. Also, the football program at U.Va does not compare to one of the long standing national powerhouses, the University of Alabama or University of Michigan for example. There are hierarchies within the NCAA and the athletes and the programs themselves are starting to wonder why they aren't allowed to profit from their successes like any other business in a capitalistic society. And make no mistake, for a school within one of the power five conferences (ACC, Big Ten, Big twelve, Pac 12, and the SEC) and probably many universities that aren't members of these major conferences as well, the athletic department is a business.
With the general background of the situation out of the way, I will get back to the investing aspect of these NCAA court cases. Although I'm no lawyer and admit that I don't have a proper understanding of exactly what's going on from a legalistic standpoint, I believe that there is a great chance of the college athletics landscape changing, and even a chance that major college sports, namely football and basketball, could be privatized by the aforementioned big five conferences, and the ensuing television and media contracts associated with these leagues and their competitions would be enormous. The SEC isn't the only conference with a network, the PAC 12 owns their own network, and even individual teams, like the University of Texas, have their own television channels as well. These universities are beginning to understand the true value of the content they provide and have been figuring out ways within the current NCAA guidelines to profit from it. If there was to be a privatization movement, these revenues could go unhindered by the NCAA governing body and I think that Disney's ESPN, oftentimes referred to as the "mother ship" of the sporting media outlets, having this partnership in the SEC, which is undoubtedly the granddaddy of all college football conferences, winning 6 out of the last 7 national championships (the streak was 6 in a row before Florida State University of the ACC won the championship game over SEC opponent Auburn University last season), has put itself into the premier position to profit from any potential changes made regarding the NCAA. Now, like I said before, this is pure speculation on my part and if there were to be major changes in college athletics I'm sure that other media outlets would profit as well. That being said, I think ESPN offers investors the widest moat as far as resources, talent, and brand recognition goes, and when making a bet, this is why I've decided to put my money in.
And last, but certainly not least, the last major catalyst that I see coming for Disney is the release of the newest Star Wars movie slated to debut over a year from now, in December 2015. It came as a surprise to many when George Lucas sold his company, Lucasfilm, to Disney. After the initial shock wore off the move began to make sense to me. Disney has maintained a history of big time media acquisitions: ABC in 1996, Pixar in 2005, Marvel Studios in 2009, and Lucasfilm in 2012, and most recently, YouTube phenomenon, Maker Studios in March of this year. It was actually the success and management of Pixar and Marvel that eventually persuaded Lucas to sell his baby; he was impressed with the fact that Disney took Steve Jobs' advice and essentially left Pixar alone out in San Francisco after the takeover, respecting the company's culture and creative environment, and he knew that Disney's handling of Marvel Studios had built up quite a bit of clout with the science fiction fan base. Since the Lucasfilm takeover I've been impressed with DIS's handling of that company as well, by blending the best of the old and the new, getting back to the original Star Wars trilogy's roots, hiring Lawrence Kasdan, who co-wrote popular flicks The Empire Strikes Back, Return on the Jedi, and Raiders of the Lost Ark to help J.J. Abrams (famous partially due to his recent successful renewal of Star Trek) write the Episode VII script. Disney has also returned John Williams as composer. Harrison Ford and Carrie Fisher will play roles in the film. I really like what Disney is doing adding in so much flavor from the original trilogy's recipe because although the second trilogy of Star Wars films have generated more than $2.5B, they were a disappointment in the eyes of many fans and left the series feeling a bit tainted. If Disney is able to remove this stain and begin a new trilogy successfully I believe these films can dwarf the success of The Avengers ($1.5B) and Frozen ($1.2B), Disney's latest triumphs at the box office and merchandising counters. I think the Star Wars franchise can be a revenue generating machine for DIS for a decade to come, not just with the final trilogy of movies, but potential TV series similar to Agents of S.H.I.E.L.D, theme park rides and attractions, toys and electronics, and general merchandise.
When it comes to Disney, and entertainment in general, content is king. I think the argument between content versus providers is a chicken or egg situation where there is no clear answer. I love what this company has coming up the pipeline in regard to Marvel Studio and Lucasfilm. I'm interested in DIS's ability to further monetize their Maker Studios acquisition; I'm certain that management has a place for this piece in the grand scheme of things, even if it remains unclear to me (I'm assuming as an advertising platform, but you know what they say about assumptions). But, if you disagree with me about the whole chicken or egg situation, the best thing about owning Disney, is that you get the best of both worlds. I love the ESPN aspect on this company and although naysayers like to say that other networks are slowly taking market share, I don't see this happening in any major way. Sticking with the sci-fi theme, I will say that there are light years between the production levels of a sporting event on an ESPN affiliated network and those smaller, upstart sports channels. ABC, ABC Family, and the Disney Channel continue to be successful and I don't see any major competition for these channels on the horizon. In closing, I will say that Disney is one of my favorite companies to own as a long-term investor. I like to invest in what I believe to be long-term major trends; the insatiable cravings that human beings have for entertainment is one of them. Whether this is watching a camp fire flame flicker at night, witnessing two gladiators go toe to toe, mounted knights jousting, card games, checkers, chess, or television, humans have always sought after forms of leisurely entertainment. Disney has positioned itself perfectly to fill this void in the human condition. This company makes up a core position in my portfolio and I will continue to add shares via dividend re-investment and will strongly consider making another purchase on any unforeseen weakness.
Disclosure: The author is long DIS. The author wrote this article themselves, and it expresses their own opinions. The author is not receiving compensation for it (other than from Seeking Alpha). The author has no business relationship with any company whose stock is mentioned in this article.