One of my favorite investment themes has the following characteristics:
Investment screens
1) Operates in an expanding market.
2) Proven success gaining market share.
3) Small or micro cap size.
4) Solid balance sheet.
5) Minimum top line growth of 20%
6) Trending to breakeven or just turned profitable.
These filters make finding targets a little like prospecting. And like prospecting, you find a fair amount of "fool's gold". However, when you pan through these faux nuggets and find the real thing, you can turn your investment into significant alpha for your entire portfolio.
I remember Compellent Technologies (NYSE:CML) in 2008-2009 fondly. CML was attractive as a data storage company that had grown revenues enough to finally cover operating costs. Scale was just beginning and for investors that noticed the trends, the stock was reasonably priced. While I can't say my investment in CML didn't turn into a trade a couple of times (earnings misses), it was a very profitable investment over this two year period. Eventually, the Cloud hype gave them a boost, leading to the recently announced acquisition by Dell (NASDAQ:DELL).
Before addressing ICLK in more detail, let me explain why I'm using the above screens.
1. Markets that are growing provide a greater margin for error. Tail winds are always preferred over headwinds.
2. Gaining market share equals a competitive advantage. Marketing hype can claim anything while growth at the expense of competition is worth a premium...and an investor's attention.
3. Small or micro cap companies are perfect for this type of investment. They are typically unknown to the majority of the market due to minimal float and trading volume. Big institutions typically aren't significant investors. The market cap doesn't allow them to put enough money to work to justify their due diligence. Having fewer analysts is like dry powder. When new analysts eventually start following it drives incremental awareness.
4. Balance sheets matter for many reasons. One is the need to have access to capital rather than debt to fund growth. Debt sourcing is a challenge for small companies with no proven track record. Also, companies that don't have much of a cash "war chest" are prone to raise capital when things start improving.
5. When targeting this type of investment it's critical that there is enough revenue growth to gain scale bringing disproportionate profit growth.
6. The ideal time to find these companies is when they are still reporting losses or shortly after turning the corner to profit. Think about valuation techniques. Secular growth rates assigned by analysts are typically based on top line, but ultimately the profit growth drives price appreciation. Being early lets you model out profit potential while many investors are looking at the red ink and considering P/E multiples and PEG rates as not meaningful.
Here's how ICLK looks: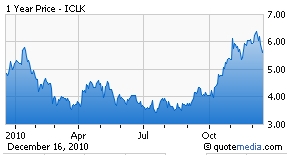 Market: interClick is a digital advertising platform. After a dip in 2009, total advertising spending is growing again. More importantly spending allocated to the internet hasn't stopped growing as placements have been redirected from more traditional print and television. Market research indicates the internet share in 2009 was around 10% with 2010 projected at 11.5%. Reports indicate this could grow to 14% by 2012.
Share: interClick has been gaining market share for the past couple years with no signals of change. The easiest way to support that claim is to look at revenues. ICLK grew revenues by over 150% in CY-09. This year looks to be up about 80% versus the estimated market growth rate of 13-15%. Competitors that seem most closely aligned to interClick are not seeing similar results. ValueClick (VCLK) saw revenue declines in 2009 and was flat Y/Y for the Sep-10 quarter. Tribal Fusion's revenues are rumored to be in decline. interClick is expected to surpass Collective Media for the first time this year.
Market Cap: ICLK currently has 5 analysts following them and a market cap of only $140m. With only 24m shares outstanding and insider ownership of around 25% the daily trading volume is quite low.
Balance sheet: interClick had $12m in cash as of Q3-10 and is generating positive operating cash flow. Investors should watch the receivables trends though. At Q3-10 receivables grew to $30.1m representing about 104 days sales outstanding. This doesn't concern me as is it consistent with advertising industry trends. However, it is a metric that I'll be watching as a potential warning sign going forward.
Growth: Revenue growth has been exceptional for the past 2 years. On the last conference call, ICLK stated they would grow faster than the segment market for the foreseeable future. Analysts currently are projecting 30% revenue growth next year while waiting for company guidance anticipated on the next call. My forecast for the company is 35% which feels conservative based upon recent trends. I'm being cautious for now until I've completed looking at mobile advertising and geomarketing trends (see instablog). ICLK isn't currently focused on mobile advertising and while early, this growth area will likely cause some advertisers to redirect placements.
Turning corner to profits: ICLK recorded a minimal $.01 per share profit in Mar-10 followed by a minimal loss in Jun-10. Corner turned. Sep-10 at $.05 per share was their first real operating profit of note ignoring the unusual tax benefit in C09. As expected ICLK is starting to project margin expansion looking forward. That has led the consensus street to be raised to $.10 per share in Q4-10 for a total C-10 eps of $0.14. The early forecasts for C-11 are showing consensus eps growth to $0.24. Based upon my analysis this is understated and should be closer to 28-30 cents.
Potential investors should note the following:
- Microcap companies are not for everyone.
- Limited float can lead to high volatility.
- It's also common to have less seasoned management teams. Not always bad, but buyer beware.
- CEO Michael Mathews announced his resignation last month to pursue other opportunities. He will remain associated with the company by joining the Board of Directors. Founder Michael Katz has been appointed the new CEO.
The intent of this article is to explore the screens that I use to find speculative investments and how a particular nugget, interClick, fits the bill. In Part 2 I'll look more closely at what interClick does and why I decided to put some investment dollars to work in their stock.
Disclosure: I am long ICLK.