Q2 Holdings (NYSE:QTWO) announced its second-quarter earnings on Thursday, August 7th, beating analyst estimates on both top and bottom lines. During the quarter, QTWO saw a significant increase new customer wins, including two of the top 100 financial institutions in the U.S. based on asset size. QTWO also announced the availability of a new version of its software-as-a-service ("SaaS") virtual banking platform, which supports an enhanced user experience and helps financial institutions attract, retain, and grow their business and commercial accounts.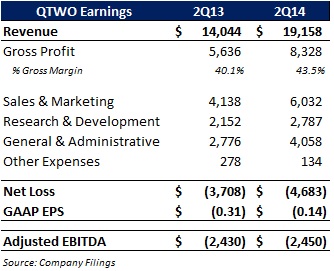 QTWO posted second-quarter revenue of $19.2 million, up 36% annually and 14% sequentially. While the company continues to operate at a loss, they're taking significant steps toward scaling their e-banking platform to address the massive U.S. market for regional and community financial institutions ("RCFIs"). Remember that there are over 13,500 federally-insured financial institutions in the country that can be characterized as RCFIs. In fact, over 90% of financial institutions in the U.S. have less than $1 billion in assets. For reference, QTWO currently has just over 300 of these financial institutions as customers.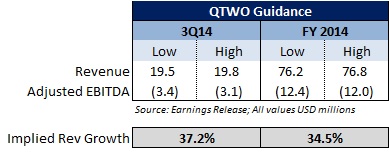 QTWO management provided forward guidance that implies annual revenue growth in the mid-30% range, consistent with the growth seen in FY2013 as well as the first two quarters of 2014. Adjusted EBITDA guidance remains in-line with 2013's Adjusted EBITDA loss of $12.3 million.
As written in my previous coverage, QTWO offers a service that's becoming increasingly vital to RCFIs in order to remain competitive in today's "always connected" world. While QTWO is not yet profitable and still FCF-negative, the company is investing heavily in itself ahead of an anticipated explosion in growth. Despite the 20% jump last week, shares are still attractive at their current levels given the massive size of QTWO's addressable market and the scalability of their SaaS platform.
Disclosure: The author is long QTWO. The author wrote this article themselves, and it expresses their own opinions. The author is not receiving compensation for it (other than from Seeking Alpha). The author has no business relationship with any company whose stock is mentioned in this article.