Kroger's (NYSE:KR) stock is currently undervalued based on the perception, which I believe is mistaken, that the company's future profitability is in jeopardy because of the highly competitive nature of food retailing. The focus of this concern is the declining trend in the company's gross margin over the last 10 years. However, Kroger's historical performance demonstrates that it can steadily increase sales from year to year in part because of the company's willingness to reduce gross margin and at the same time generate higher EPS.
Kroger may not be able to beat Wal-Mart (NYSE:WMT) or Costco (NASDAQ:COST) competitively, but it does not need to in order to generate good profitability. All it has to do is beat most of the other smaller food retailers.
Kroger can beat these other companies because of economies of scale from its larger size and its willingness to compete for customers on price. Because of Kroger's size advantage, it can reduce selling prices and still generate good financial returns. This has been proven in the past, and it will likely be a source of competitive advantage in the future.
The valuation model at the end of this text shows how sales have steadily risen from $50.1 billion in 2001 to an estimated $81.4 billion in 2010. In part, this sales increase has been driven by a decline in gross margin from 27.3% in 2001 to an estimated 22.4% in 2010, which is reflective of the company's willingness to reduce selling prices in order to beat most of the smaller food retailers on price. At the same time, however, EPS increased from $1.37 in 2001 to an estimated $1.75 in 2010.
The average EPS estimate of 19 analysts for Kroger for 2011 is $1.93. Based on historical P/E ratios for Kroger, I estimate that the P/E ratio in 2011 could range from 11.5 to 15.5. If the EPS estimate proves to be accurate, these P/E ratios would result in the stock trading in a range from about $22.00 to $30.00 per share during the year. Based on this analysis my price target for the stock in 2011 is $30.00 per share.
click to enlarge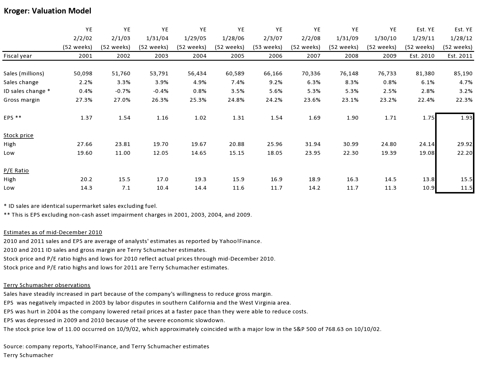 Disclosure: I am long KR.