McDonald's (NYSE:MCD) has been having quite a bit of trouble lately. Recent issues with a Chinese supplier forced the company to pull certain items from the menu in that country, and comparable store sales in the Asia Pacific, Middle East, and Africa segment plummeted by 7.3% in July as a result. Things aren't going great in the United States either, with comparable store sales dropping by 3.2% during July as competition eroded McDonald's market share.
Shares of McDonald's have been largely stagnant since the beginning of 2012, and recently the stock has fallen significantly as pessimism has started to build. This decline has pushed the dividend yield up to nearly 3.5%, and despite all of McDonald's apparent problems, this is an opportunity to pick up a solid dividend stock at a reasonable price.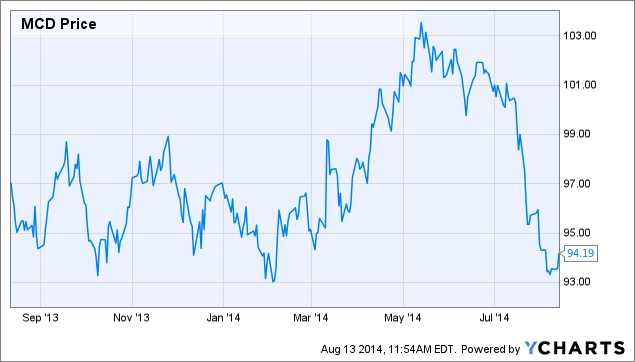 Temporary problems
The issues that McDonald's is having in China are most likely temporary, although how long it will take for sales to recover is up in the air. Yum Brands (NYSE:YUM), which operates the KFC brand, had problems with a food safety and avian flu scare last year, and the negative effects lasted for months. These issues will pass, but it may take quite a long time.
Thankfully for McDonald's investors, the company is far less dependent on China than competitor Yum. In 2013, the APEMA region accounted for 16.9% of McDonald's operating profit. For Yum, China alone accounted for 43% of operating profit in 2013.
The U.S. is also performing poorly for McDonald's, partly due to competition and partly due to issues like an overly complicated menu. The Big Mac, Egg McMuffin, and fries alone account for 40% of sales, but all of the extra items on the menu slow down service and make life difficult for franchisees. McDonald's is working on simplifying its menu, as well as rebranding itself, in an effort to compete with fast casual chains.
McDonald's is having problems, but they all seem fixable, and while being pessimistic about McDonald's seems to be trendy these days, I don't see too much to worry about in the long-term.
The dividend story
McDonald's has been growing its dividend at a breakneck pace over the past decade, with a CAGR of over 20%. This was accomplished by both growing earnings substantially, thanks to both revenue growth and margin expansion, and by boosting the payout ratio. In fiscal 2014, McDonald's operating margin sat at 18.6%, and it paid out 30.7% of its net income as dividends. By fiscal 2013, operating margin had risen to 31.2%, and 56.2% of net income was slated for dividends.
The kind of dividend growth that investors have enjoyed over the past decade is unlikely to continue, since both margins and the payout ratio can't go much higher. However, that doesn't mean that McDonald's is no longer a great dividend stock, and the recent decline in the share price has made it more attractive for that purpose.
The current dividend yield sits at about 3.45%, the highest value since late 2009: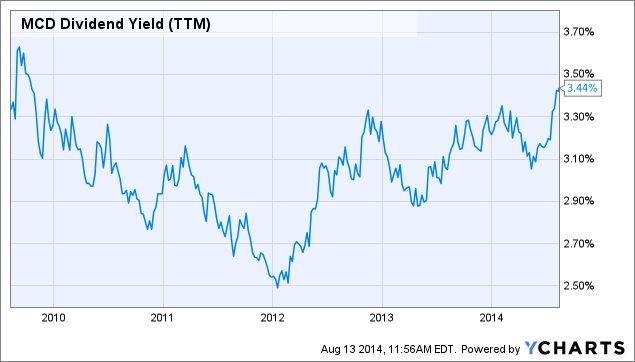 MCD Dividend Yield (NYSE:TTM) data by YCharts
Of course, the yield is only part of the equation. The other part is dividend growth. Given that margins and the payout ratio are unlikely to rise significantly going forward, dividend growth will have to be driven strictly by earnings growth. Earnings growth, in turn, will be driven by revenue growth, and with weak comparable store sales recently, revenue growth will likely be slow or even negative in the near-term. However, McDonald's is still opening around 1,500 restaurants per year, and with a base of roughly 35,000 restaurants worldwide, that leads to store growth of around 4% annually.
Assuming that McDonald's fixes its current issues in Asia and the U.S., it's not unreasonably to believe that earnings can grow in the mid-single digits annually going forward. Share repurchases, which McDonald's has spent $13.2 billion on between the beginning of 2009 and the end of 2013, can add another couple of percentage points to per-share earnings growth as well. A long-term earnings growth rate of between 6%-8%, then, seems like a reasonable estimate.
Is the stock a buy around $94 per share? I'll use a simple valuation method called the dividend discount model to find out. The dividend discount model assumes that the value of a stock is based solely on the value of the future dividend stream, discounted using an appropriate discount rate. It's a rough model, and the results shouldn't be taken as gospel, but it will give us a good idea of whether McDonald's is attractively priced for dividend investors.
The discount rate is your required rate of return, and given the current low interest rate environment, a 6% discount rate seems like a reasonable choice. I'll assume that the dividend will grow by between 6%-8% annually over the next decade, and then by 2% after that. This 2% perpetual growth assumption doesn't seem unreasonable given that buybacks alone can likely drive this level of growth.
Using these parameters, I arrive at a fair value for a share of McDonald's of between $115 and $135. The exact values aren't that important - a small tweak in the parameters can change the result dramatically - but the fact that McDonald's stock currently sits about $20 below the low-end of this estimate means that there is a substantial margin of safety built in. At the current price, McDonald's is a wonderful dividend stock, assuming that its current problems are truly temporary.
Conclusion
In the short-term, McDonald's has some serious problems to contend with. Negative comparable store sales trends in the United States, coupled with the Chinese supplier scandal, leads to the conclusion that near-term profit growth is going to be difficult to achieve. But these problems are fixable, and with McDonald's still having plenty of room to expand in emerging markets, I see no good reason to doubt the company's ability to continue to grow its dividend in the mid-single digits annually going forward. If this turns out to be the case, then the stock is very attractive at today's depressed prices for dividend investors.
Disclosure: The author has no positions in any stocks mentioned, and no plans to initiate any positions within the next 72 hours. The author wrote this article themselves, and it expresses their own opinions. The author is not receiving compensation for it (other than from Seeking Alpha). The author has no business relationship with any company whose stock is mentioned in this article.