In a highly volatile day of trading on Wednesday, shares of MannKind Corp. (NASDAQ:MNKD) hit a high of $9.23 and a low of $7.31 before closing the day at $8.20, down twenty-six cents from the previous days close. The move was accompanied by volume over double the daily norm.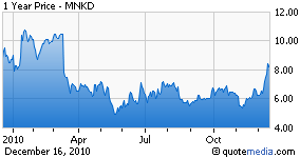 The volatility is undoubtedly based on the upcoming FDA decision for Afrezza, an inhaled insulin product up for approval review, but profit taking should also be considered a large factor in the price swing as MNKD is up by over three bucks in a short period of time.
I always love the drama in the headlines after price action such as this, "Shares Plunge" and the such, but the truth is that a move like that could actually be considered relatively stable for the biotech sector before big news is due; but of course, it's drama in the headlines that sells.
I wouldn't be opposed to anyone picking up a few "just in case" shares at this point, but I wouldn't go crazy here unless there is a significant dip in price before the decision. With the way the sector has been trending lately, MNKD is likely to dip either immediately or shortly after a decision is announced, whether that decision is positive or negative, so a better entry point may materialize before it's all said and done with this one.
Over the long run, there are still big gains to be had if Afrezza is approved.
Disclosure: No position