The earnings results from Cisco Systems (NASDAQ:CSCO) yesterday were confirmation of the STRIDE engine view of the company. The current round of layoffs and share buybacks are no surprise to us, as we don't see any other way for the business to provide incremental shareholder value going into the future. It's an interesting read when you look at it on a non-GAAP basis. The business supposedly grew 2% year on year. While we don't quite agree with this, it doesn't make any material difference. Inflation has been pegged at 2.1% in the U.S., so even this non-GAAP number represents a small amount of shrinkage.
Our STRIDE ratings show the business is:
very strong
currently priced quite high (technically)
generating mediocre returns
sitting on a moderate (but shrinking) cash/asset base
managing its three-year-old dividend policy very well
earnings predictability is a bit shaky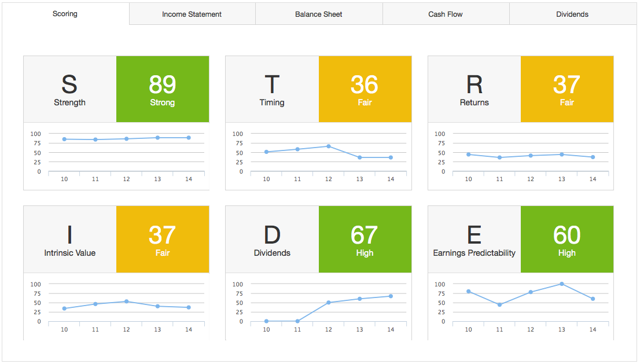 So, where to next for the Internet behemoth?
Shareholder "Value Creation"
Cisco, like so many of its cash-rich peers, has turned to a "value creation" program in the absence of any clear, bright ideas to drive greater returns through the business model. Dividends of $974m and share buybacks of $1.5b represent a $2.5b return to shareholders in the quarter. In the short term, this appears to be working. With cash from operations at $3.6b for the quarter, less their run rate of $1.2b in the quarter for investing financing and capex requirements, this program is basically funded out of cash generated in the quarter.
This program seems to be going down well with the market in general as the share price moved 12.8% up in the quarter, despite weak growth and flagging sales. I have no real opinion on whether these programs are right or wrong in general; I just like to see if they're working or not. It seems the mix that Cisco has put together is currently working and is the only effective use of the huge cash pile that they are generating.
Acquisitions
Cisco has always been very acquisitive. While this hasn't really stopped, the acquisitions seem to have changed somewhat to be more secretive and more strategic.
The acquisitions made in the current quarter had no clear amounts attached, with the exception of the Tail-f acquisition, which has a headline figure of $175m. But even this isn't clearly explained and contains loose terms like "in cash and retention-based incentives," so there is clearly some element of this that is structured in an "earn out" model.
One thing seems certain about this revised acquisition model. Cisco has learnt the lessons from shelling out huge amounts of money for "potential" and is now shelling out reasonable amounts of money for "strategic fits," which appears to be a far more sensible approach as far as we're concerned.
The STRIDE Picture Ahead

We are still happily holding Cisco after our purchase in the summer of 2012. The market seems to have it bumping along our fair value quite nicely, and it is now generating us a nice dividend yield. Our view is:
1. Fundamentals are still fair to good.
2. Timing is average to strong. More timed for exit than entry.
3. Valuation is currently fair/slightly below our fair value. No reason to buy or sell at present.
4. Moat is narrow and shallow and still decreasing.
5. Forecast slight shrinkage, which is offset by their value creation program.
In Conclusion
Cisco is still a powerhouse in its industry and is making the right moves to return value to shareholders while trying to work a services, security and Internet of things strategy to spark the next wave of growth. The business is fairly valued and returning good money to shareholders. We recommend holding if you're in it like we are.
Disclosure: The author is long CSCO. The author wrote this article themselves, and it expresses their own opinions. The author is not receiving compensation for it. The author has no business relationship with any company whose stock is mentioned in this article.