For years, solar power companies have been the exclusive domain of the growth investor, with an emphasis on massive demand increases and tax subsidies sending the stock prices of anyone that could produce solar modules in quantity to the moon.
Yet the eras of manic growth always come to an end, and a drop in module sale prices meant a particularly harsh end to the solar bubble. Now, it's up to the sober value investors among us to start looking at companies like Trina Solar Ltd. (NYSE:TSL), to see if there's any value to be had here.
Trina Solar: An overview
China-based solar manufacturer Trina Solar is among the largest and lowest-cost producers in the world. In FY2013, they shipped 2,584 MW worth of modules, the largest amount by far in company history.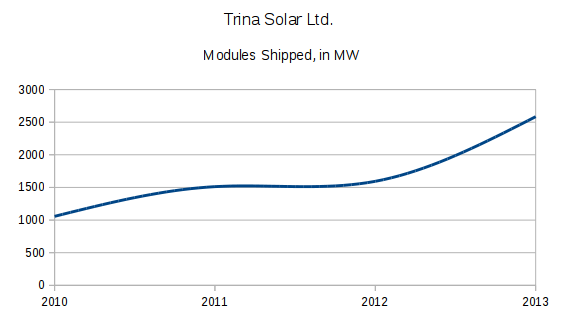 That's quite a lot of extra shipments, and even better, the production capacity of Trina's factories keep growing, with an anticipated capacity of 3,800 MW by the end of 2014.
Trina produces solar modules primarily for major power generation projects, and in some cases creates the power plants outright either under contract or for future sale. On Tuesday, they announced acquisition of another 49.9 MW plant project in Britain.
Where it all went wrong
There's a reason that the stock of a company that almost quadrupled its manufacturing capacity in under 5 years isn't soaring ever higher. 2010 was the last profitable year they've had, and net tangible assets have been slowly on the decline ever since.
The problem is two-fold. Polysilicon, the primary raw material for photovoltaic modules, has seen its price fluctuate wildly over the past several years, as soaring demand for modules outstripped capacity and then massive new polysilicon producers came online and sent the price down.
That lag between rising demand and supply is because of how long it takes these behemoth producers to increase capacity. There's a local polysilicon producer here that, at the peak of the price surge, was announcing enormous expansions, promising major job increases and all the overtime workers could want. By the time those reactors started being completed, years later, the price had gone back down, and they started shedding workers.
In FY2013, Trina paid $19 per kg for polysilicon, quite a bargain, and in Q1 of 2014, it was still only paying $21-$22 on average. That's compared to prices that only a few years ago were at several hundred dollars per kg. Today, the spot price is $20.78.
The polysilicon shortage and soaring demand sent the prices of modules soaring in years past, but what goes up must come down. That's problem two for Trina, that the price per watt of modules went from $2.10 in FY2010 to only $0.64 in FY2013.
It was these two shifting prices that fueled the losses in recent years. In 2013, both started to stabilize, and the losses began to shrink. Going forward, expect per-watt module costs to continue to drop, at a fairly reliable rate. The polysilicon rate will continue to be a bit more volatile, since there is such a large lead time between breaking ground on new polysilicon plants and bringing them on line. The maturing of the industry, however, means that demand will be more predictable, and big supply shortfalls should no longer occur.
Around the world
During the height of the solar boom, subsidies meant that Europe was the overwhelming source of revenue for most solar manufacturers. That was true of Trina, as well, but in this new era, they are spreading their sales out across many more markets.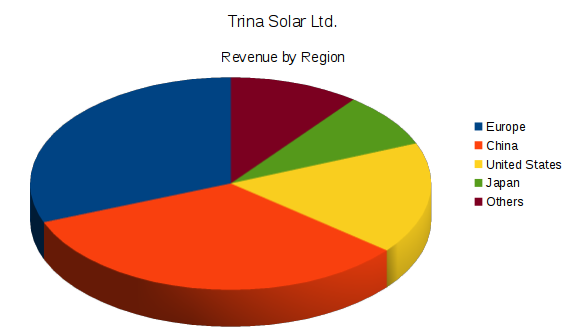 As of FY2013, China actually passed Europe as the primary source of revenue for Trina. That's an important step, because it limits its exposure to problems in any single export market.
That's a big part of why the threat of U.S. tariffs, which drove down the stock price in recent weeks, is overblown. Trina's exposure to the U.S. market just isn't that big, and the tariff war isn't a deal breaker for earnings going forward.
Let's talk about earnings
Speaking of earnings, Trina is profitable again, as of Q1 of 2014. It made $0.37 per share, which beat consensus estimates of $0.03 by an enormous margin. That was the latest in a string of earnings that beat the street by Trina, and has estimated EPS for FY2014 up to $1.14 and for FY2015 up to $1.40.
That means the P/E for this year is almost exactly 10, and for 2015, is just a hair over 8. That's a stunning value, given the company's sales are continuing to grow at such a high rate.
This, coupled with the fact that the current market capitalization of $902 million is about the same as the company's current total assets minus liabilities, is a recipe for a major value play with good growth potential.
Trina Solar was hit as hard as anyone by the popping of the solar bubble, but has come out the other side as a market leader with some of the lowest production costs in the segment, and has become a compelling play.
Disclosure: The author has no positions in any stocks mentioned, and no plans to initiate any positions within the next 72 hours. The author wrote this article themselves, and it expresses their own opinions. The author is not receiving compensation for it (other than from Seeking Alpha). The author has no business relationship with any company whose stock is mentioned in this article.