"More to come very soon." - ImageWare's CEO Jim Miller
Gee, I've never heard that one before!
Ever since biometric firm Imageware Systems (OTCQB:IWSY) pivoted two years ago to focus on more predictable, shorter lead time, non-government business, Miller's been banging the same drum. It's all on the come.
For many investors, the wait's been profitable (shares are up about 200% over the last two years).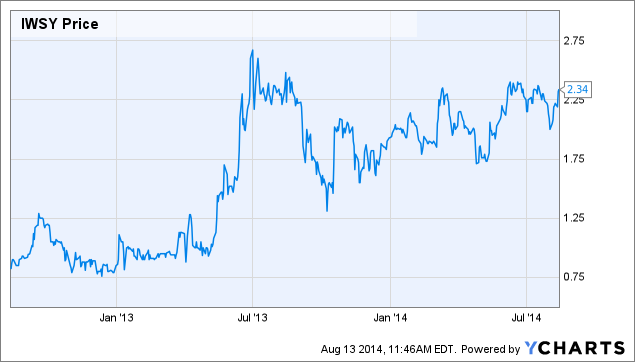 IWSY data by YCharts
But it has become tiresome waiting for the actual business to officially ramp up, which is a necessary precursor to any further share price appreciation.
Thankfully, the wait appears over...
Fujitsu Delivers
During this week's quarterly report, Imageware revealed it reached a three-year agreement "in principle" with one of the world's largest retailers.
I won't speculate about the identity of the customer without doing some more research. Needless to say, it's going to be a household name.
Per Miller, a definitive agreement will be signed "very quickly," with work (i.e. - revenue generating activity) beginning in about four to five weeks.
Credit Fujitsu, one of Imageware's three blue-chip partners for the introduction. (In case you're wondering, IBM (NYSE:IBM) and T-Systems are the two other partners.)
This is a significant development because many investors questioned whether Fujitsu was ever really serious about the partnership with Imageware. They assumed Miller was simply blowing smoke about the closeness of the collaboration in order to buy more time.
That's clearly not the case. In fact, hard evidence exists to substantiate Miller's words.
Consider:
Long story short, the Fujitsu partnership is legit. Most importantly, it delivered.
Barring any last minute hiccups, the deal Fujitsu helped land with one of the world's largest retailers promises to be transformative for Imageware.
How so? It's simple...
Imageware's business model consists of an upfront enrollment fee per user, plus an ongoing monthly service fee per user. The specific fees vary based on the size of the customer. However, initial guidance is for fees of $0.50 to $1.00 per user for both enrollment and ongoing service.
What's more, based on previous comments (see here), Imageware gets 100% of the enrollment fee and 70% of the recurring monthly fees.
Go ahead and do some quick back of the napkin calculations using average headcounts for the largest retailers in the world and you'll quickly see how "transformative" I'm talking about.
In all fairness, the deal still needs to be finalized before we can officially declare the inflection point has arrived. But all signs point to it being within reach. Especially when we consider additional deals are close to being finalized, too.
As Miller said, "We expect new recurring revenue streams to come online in the third quarter and the fourth quarter from our partnerships with Fujitsu and T-Systems."
He provided color on several, including a secure mobile payment system Imageware is working on for the German national railway (Deutsche Bahn). It's another multi-year contract and is expected to start in the fourth quarter.
Imageware's also engaged in multiple pilots, which points to a strengthening pipeline. Not long ago, management was quick to brag about a single pilot. So we've come a long way.
Dilution Ahead
"Based upon both current and projected cash levels, our anticipated new contracts as well as the line of credit, we do not expect to require any incremental equity capital to fund our current operations at this time."
Quarter after quarter, Miller says the company doesn't need any more cash. But let's be real.
While that's technically true, an extra $5 to $10 million in cash on the balance sheet would go a long way to improve the company's perception and negotiating position with potential customers.
As investors, we should expect some dilution to come on the heels of a definitive deal announcement and ensuing share price rally. Especially since a capital raise would make it possible for Imageware to up-list to the Nasdaq.
The only thing that might stave off dilution is an unsolicited takeover offer, which is a distinct possibility.
The Next Biometric Takeover Target?
As I shared earlier this week, in the wake of Apple's acquisition of Authentec in July 2012, Imageware represents one of the only pure-play biometrics stocks left in the market today.
Aware (NASDAQ:AWRE) is another player in the space. But in recent years, it has monetized most of its valuable patents and distributed excess cash via special dividends, which is never a good sign for future growth if the best use of cash is to return it to shareholders.
Not to mention, Aware's management keeps touting "new product development initiatives." Yet details remain extremely scarce since management doesn't hold quarterly conference calls or attend investor conferences.
Regardless, I'm convinced Imageware offers a superior solution thanks to its multi-modal approach. And with a market cap of only $212 million and foundational intellectual property, I don't believe Imageware will remain independent much longer if the customer wins start piling up.
Just like Apple did with Authentec, it makes most sense for a larger company to acquire Imageware and own the technology outright, instead of licensing it and allowing competitors to do the same.
Here are three of Imageware's patents of particular note for those interested:
Multi-Modal: The Eventual Biometric Standard
Fujitsu is the most logical acquirer, given the extent and duration of its relationship with Imageware. Other suitors shouldn't be ruled out, though. Not with interest in biometrics heating up.
In the wake of Apple (NASDAQ:AAPL) unveiling an iPhone with a fingerprint sensor baked in, HTC and Samsung followed suit with similar offerings within months. And now, Samsung plans to incorporate biometric sensors into the majority of its mobile devices, including low-cost smartphones.
More importantly, Samsung plans to offer more than one type of biometric sensor in each phone.
"As a market leader, we are following the market trend," said Samsung's Senior Vice President Rhee In-jong. "We're looking at various types of biometrics and one of the things that everybody is looking at is iris detection."
In other words, forget single biometric authentication with a fingerprint. Multi-modal authentication capabilities promise to be the standard, which bodes well for Imageware's future.
Bottom line: From an investment standpoint, nothing beats a high margin, scalable, recurring revenue disruptive technology businesses that's officially ramping up. And that's exactly what Imageware (finally) represents. The potential for a Nasdaq up-listing and a takeover offer only sweetens the pot.
Disclosure: The author has no positions in any stocks mentioned, and no plans to initiate any positions within the next 72 hours. The author wrote this article themselves, and it expresses their own opinions. The author is not receiving compensation for it. The author has no business relationship with any company whose stock is mentioned in this article.
Editor's Note: This article discusses one or more securities that do not trade on a major U.S. exchange. Please be aware of the risks associated with these stocks.