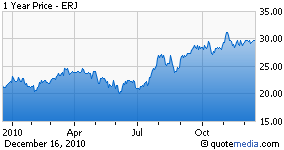 The gradual economic recovery is encouraging almost all the industries to open up. The airline industry, which took a big hit from the recession, is also looking for opportunities as fuel costs have more or less halved from $150 per barrel in 2008.
Empresa Brasileira de Aeronautica S.A., or Embraer (NYSE:ERJ), the largest Brazilian aircraft manufacturer, signed an agreement with Deutsche Lufthansa AG for eight new EMBRAER 195 jets for a total value of $338 million.
Embraer also recently delivered the first ultra large Lineage 1000 executive jet to VIP charter company Falcon Aviation Services of Abu Dhabi, UAE.
Embraer's product portfolio supports stronger customer orders and deliveries. Embraer is experiencing strong orders for its 170/195 jet. The company is planning to deliver the mid-sized Embraer MSJ or Legacy 450 and the mid-light Embraer MLJ or the Legacy 500 by the second half of fiscal 2012 and 2013, respectively.
During the third quarter of fiscal 2010, Embraer delivered 44 aircraft, including 20 commercial jets and 24 executive jets, a decrease from 69 deliveries in the second quarter of 2010. However, the order backlog remained flat at $15.3 billion.
Embraer received five contracts for KC-390 defense aircraft in the first quarter of fiscal 2010. Hence, it is expected to sell at least 54 KC-390 defense aircraft beginning fiscal 2015. The Defense segment contributes a significant part of Embraer's revenues. During the nine months ended September 30, 2010, the segment contributed 13.0%.
The defense aircraft contract as well as changes in the U.S. Defense budget would influence the segment. However, the 4% and 2.8% year-over-year increases in the U.S. defense budget for fiscal 2010 and fiscal 2011, respectively, would drive results in the coming quarters.
For the longer term, we reiterate our Neutral recommendation. The ADS currently retains its short-term Hold rating with the Zacks #3 Rank.