Groupon (NASDAQ:GRPN) was once a high-flying stock that was the apple of momentum investors' eye. With the limitless potential of the Internet to drive growth and the initial hit with customers in search of daily deals, the stock was one of the most hyped IPOs in history. When Groupon went public in 2011 the stock traded around $26 per share. After missing on revenue on its Q2 2014 earnings, the stock burned liked kindling, falling 16% after-hours. As of Wednesday's closing price of $5.86 per share, the stock is down 17% (1.21) off its pre-earnings price of $7.07. Based on the company's deteriorating operating leverage, the stock has further room to fall. Below are the company's historical operating results: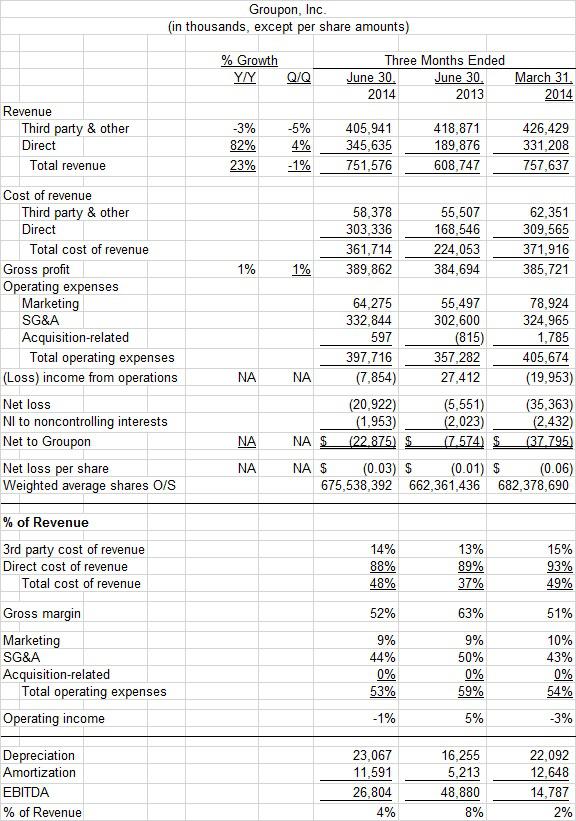 Earnings
Revenue increased 23% to $752 million, but was flat sequentially.
46% of revenue was sourced directly, and 54% from third parties. In Q1 2014 and Q2 2013 direct revenue as a percentage of the total was 43% and 31%, respectively.
Gross margin declined to 52% versus 63% in the same period last year. It was a slight improvement above the 51% margin in Q1 2014.
Cost of sales for third party revenue was 14% versus 88% for direct. As more business has been sourced directly versus a year ago, it has exacerbated gross margin and operating income.
Operating income as a percentage of revenue was a negative 1% versus a positive 5% in Q2 2013. At a 52% gross margin, Groupon cannot cover its operating expenses which came in at 53% of revenue.
Lacks Scale of ebay and Amazon
Groupon's original strategy was to reach customers via daily email blasts. That appeared to be more of a shotgun approach - reaching out to the universe in hopes of yielding enough customers to make the marketing plan cost effective. The company is now employing more of a "demand pull" strategy where it tries to attract customers to its website in search for deals. That said, Groupon is selling more goods "directly" and has set up its own distribution center in Kentucky. It plans to compete in the ecommerce space with eBay, Inc. (NASDAQ:EBAY) and Amazon, Inc. (NASDAQ:AMZN).
Generating leads via direct sales may be more cost effective than email blasts, but can the company make money doing it? According to the company, its costs are about 2x that of competing ecommerce competitors:
Our second priority is to improve our goods margins, particularly in North America. Our costs have historically been almost 2x that of other comparable ecommerce companies. To address this, we've made some significant changes, including shifting more of our business to drop ship, moving more fulfillment to our own distribution center in Kentucky, and increasing units per order.

We're pleased with the progress we've made to date, with gross margins in North America increasing over 400 basis points quarter over quarter, from 5% in Q1 to 9% in Q2, and we believe we're well on track to achieve our goal of double digit gross margins in North America by year-end.
One way of bringing margins in line with other ecommerce companies is by cutting costs. The other way is by growing revenues. For instance, trailing 12 months revenue for eBay and Amazon were $17 billion and $82 billion, respectively. That morphs Groupon's run-rate revenue of about $3B. That said, the company must grow revenue to attain the necessary scale to make direct sales and making its own distribution center a profitable proposition.
Conclusion
Groupon is trying to morph into an ecommerce company on par with eBay and Amazon. In doing so, its gross margins and profitability have declined. The company lacks the necessary scale to compete in the ecommerce space. I advise investors to sell the stock until Groupon attains that scale, if at all.
Disclosure: The author is short GRPN. The author wrote this article themselves, and it expresses their own opinions. The author is not receiving compensation for it (other than from Seeking Alpha). The author has no business relationship with any company whose stock is mentioned in this article.