By Patrick Crutcher
With trading activity in Corcept Therapeutics Inc. (NASDAQ:CORT) picking up, we wanted to revisit their potential. Investors here are hoping that analyst sentiment will bode well for their yet to be released Phase 3 results for CORLUX in the treatment of Cushing's Syndrome.
With positive results from this Phase 3 study, Corcept hopes to submit an NDA for CORLUX in Cushing's Syndrome some time in the first quarter of 2011. If approved, Corcept will have seven years of marketing exclusivity from the date of drug approval and they fully own the licensing rights to CORLUX. There are no FDA approved treatments for Cushing's syndrome, which is a hormonal disorder caused by prolonged exposure to high levels of cortisol. Corcept has no debt and roughly $36 million in cash. Corcept research and clinical development activity is focused on antagonizing or blocking the GR-II receptor for cortisol, a hormone implicated in a broad range of psychiatric and metabolic diseases.
As the company has noted, there's never actually been a formal clinical trial conducted prior to their Phase 3 trial, only published results of the treatment of Cushing's Syndrome patients with mifepristone. To investigate these claims, we looked over some of the literature and found that CORLUX has shown significant clinical activity in Cushing's Syndrome patients with much fewer side effects. As the investigators in [1] say,
"... long-term treatment with mifepristone was, on the whole, well tolerated, improvement of clinical features was impressive. Mifepristone, therefore, remains an interesting treatment option for Cushing's syndrome caused by ectopic ACTH production or adrenocortical carcinoma that cannot be controlled by surgery alone. It may be particularly useful in conditions in which a rapid onset of antiglucocorticoid effects is required, e.g. in acute cortisol-induced psychosis."
Additionally another recent paper [2] found that, "Mifepristone is a rapidly effective treatment of hypercortisolism, but requires close monitoring of potentially severe hypokalemia, hypertension, and clinical signs of adrenal insufficiency. Mifepristone provides a valuable treatment option in patients with severe CS when surgery is unsuccessful or impossible." Also, note that in [3] investigators found "improvement of clinical signs was observed in 11/15 patients with malignant CS (73%), and 4/5 patients with benign CS (80%)" and they go on to say, "Mifepristone has significant potential to improve clinical signs and symptoms related to CS."
These sources also noted that use of mifepristone had significantly fewer side effects than available options[2]. Investors should also consider that these documented cases are not from robust clinical trials, but are certainly positive examples for the potential. Novartis (NYSE:
NVS
) recently completed a trial in Cushing's with
"ok" efficacy, but had a significant number of side effects, most of which CORLUX has not been shown to have[4].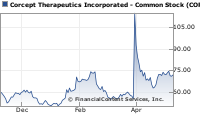 Quotes delayed at least 20 mins.
(Click to enlarge)
Of all the analyst activity on Corcept, what Global Hunter Securities had to say about it was the most informative,
"CORLUX – a potentially effective treatment option with a clean mechanism of action. We believe Corlux has therapeutic value in lowering cortisol levels in Cushing's patients. Its MOA is well understood as an antagonist of the GR-II receptor, one of two receptors to which cortisol binds to initiate the cascade of events needed in response to stressful stimuli. Compared to other therapeutic agents like ketoconazole, CORLUX may be better tolerated, which may yield greater efficacy."
Recently they reiterated their buy rating for the stock ahead of results and maintain a $5 price target, which a bit more conservative than Piper Jaffray's $7 target.

Investors should also take notice the company has significant institutional and insider holdings. Smart money seems to be leaning towards positive results. For those looking longer term, keep in mind that Corcept has a $100 million shelf laying around. Corcept has said they have funding through a potential NDA for CORLUX, but sometimes you strike when the iron is hot. With all that said, we also wanted to provide investors some additional clarity on CORLUX, so we contacted Chief Financial Officer of Corcept, Caroline M. Loewy, for some questions we had. Below is a transcript of that interview.

BioMedReports: Since there has never been a clinical trial of this type done, what kind of efficacy did you see in the literature that led you to believe it could be a successful treatment for Cushing's syndrome?

CFO Caroline Loewy: There have been approximately 50 patient cases in the published literature. Patients with Cushing's Syndrome exhibit numerous symptoms of disease. In virtually every published case, the patients' health improved in some way. We are measuring these broad types of improvements as our key secondary endpoint (global clinical improvement), however our primary endpoints are improvement in glucose tolerance or blood pressure. In the literature you will see that patients in many cases improved on these specific criteria as well and we believe that these should be representative of the broader improvement, although similar measurements were not taken or reported in all of the cases. I have included a list of references.

BioMedReports: We know that 6-month glucose tolerance and blood pressure are agreed to endpoints with the FDA. How are you determining significance of the efficacy?

Loewy: Details of the trial design and statistical analysis plan are as follows: We are conducting a single 50-patient open-label study in endogenous Cushing's Syndrome patients who are not eligible, have failed or have relapsed from surgery. Patients are eligible for the trial if they are either glucose intolerant or are diagnosed with hypertension at entry. Patients in the Phase 3 study are placed in one of two groups: those with glucose intolerance and those who are diagnosed with hypertension but not glucose intolerant. In the trial the patients' dose is titrated to clinical benefit.

The FDA has indicated that this trial may provide a reasonable basis for the submission of an NDA for this indication.The primary endpoint in the trial is either:

1. Improvement in glucose tolerance (as measured by the area under the curve of an oral glucose tolerance test) at 24 weeks relative to baseline for those patients in the glucose tolerance group; or

2. If a patient is not glucose intolerant at baseline, improvement in diastolic blood pressure at 24 weeks relative to baseline for those patients in the hypertension group.

A patient in the glucose tolerance group is considered a responder if there is a 25% or greater improvement in the area under the curve on a standard oral glucose tolerance test from baseline to the 24-week conclusion of the study. A patient in the hypertension group is considered a responder if there is a 5 millimeter or greater drop in their diastolic blood pressure at 24 weeks relative to baseline.

If a sufficient number of patients in either group are responders (the lower limit of the exact 1-sided 95% binomial confidence interval for the responder rate is greater than 20%, or approximately 35% of the patients are responders, depending on the number of patients in each group) then the trial will have met its primary endpoint. The keysecondary endpoint in the trial, global clinical improvement, is designed to capture the broader clinical benefit CORLUX may confer in this patient population.

BioMedReports: If and when the time comes, how does Corcept plan to commercialize CORLUX?

Loewy: We plan to commercialize independently in the US and have begun planning for that process and recently hired Steven Lo, VP Commercial Operations, from Genentech (Private:DNA) to lead that effort. We are seeking a partner(s) for regions outside of the US.

BioMedReports: How is enrollment going for the CORLUX trial in psychotic depression? When do you project enrollment to be complete?

Loewy: We have not been providing specific numbers of patients enrolled in the psychotic depression study. However, we have indicated that we reduced the number of sites enrolling patients to eight sites in early 2009 in order to conserve capital in the difficult financial environment at that time, and based on the small number of sites involved in the enrollment of 450 patients planned for the trial, we would not anticipate being able to announce any data from the trial prior to some time in 2012.

BioMedReports: Reviewing CORLUX's development, I noticed this has shown mixed results in 3 Phase III trials for psychotic depression. Can you talk about what's unique about Cushing's Syndrome for CORLUX to be so effective?

Loewy: With regard to our earlier Phase 3 results in psychotic depression, there are unique aspects related to those earlier trials, their design, the dose given, and the indication of psychotic depression itself which make it more difficult than Cushing's. Those earlier PMD studies were done at a fixed 600mg/day dose, which was found to be too low and thus our ongoing PMD Phase 3 study is at 1200mg/day (in our Cushing's study patients' doses are titrated up to a level where the investigator sees evidence of clinical benefit). The earlier PMD studies were done in and outside of the US, and at numerous sites, and some of them may not have accurately diagnosed or measured improvement in the patients (PMD is assessed using a psychiatric rating scale which is dependent on the qualifications of the reviewer). We are conducting our current Phase 3 PMD trial using a third-party independent rating group, Medavante to confirm diagnosis and ratings done at the individual sites.

In Cushing's Syndrome there are physical symptoms to measure which are easy to objectively measure (such as blood pressure and glucose tolerance) and we are conducting the study only in the US and at major institutions due to the small patient numbers required. Finally, the cause of Cushing's Syndrome is more straight forward and more directly linked to excess cortisol (or its precursor ACTH). Patients have a tumor which produces excess cortisol. CORLUX blocks the cortisol receptor so cortisol cannot bind to it. It is fairly straightforward to see why this might work.

References can be found here.

Clinical Trials.gov site for CORLUX.

[1] Johanssen S & Allolio B. Mifepristone (RU486) in Cushing's syndrome. European Journal of Endocrinology 2007; 157: 561–569.

[2] Castinetti F, Fassnacht M, Johanssen S, Terzolo M, Bouchard P, Chanson P, Do Cao C, Morange I, Ouzounian S, Young J, Hahner S, Brue T, Allolio B, Conte-Devolx B. Merits and pitfalls of mifepristone in Cushing's syndrome. Eur J Endocrinol 16o:1003-1010, 2009.

[3] Castinetti F, Conte-Devolx B, Brue T. Medical treatment of Cushing's Syndrome: Glucocorticoid receptor antagonists and mifepristone. Neuroendocrinology 92 (suppl 1): 125-130, 2010.

[4] Novartis drug SOM230 Phase III results.

Disclosure: No position