We all know HBO (a subsidiary of Time Warner (NYSE:TWX)) and Showtime (a subsidiary of CBS (NYSE:CBS)) are forces when it comes to premium cable entertainment, but many times viewers and investors forget about Starz (NASDAQ:STRZA) (NASDAQ:STRZB) and that would be a mistake.
The pay-TV network is one you may want to seriously look at investing in as while it may not attract the same big name actors as its rivals, it does pull in the same top tier behind the scenes talent which as proven this weekend can make a big difference.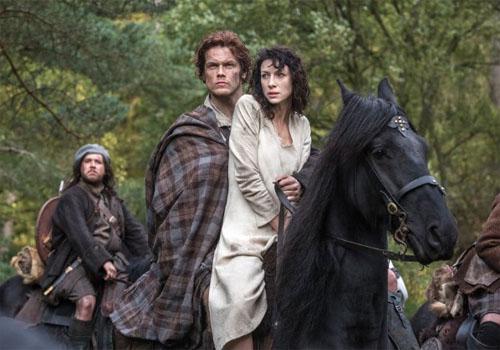 (Credit: Starz)
'Out'side The Box
On Saturday, Starz debuted Outlander, its latest original series which was based on the best-selling books by Diana Gabaldon. The fantasy drama about a married combat nurse from 1945 transported back in time to 1743 had been one of the season's most anticipated summer premieres and the numbers back the hype.
During its Saturday night premiere it drew 720,000 viewers and over the weekend that number grew to 2.3 million when all replays were added in…but it doesn't stop there as Starz had made the pilot available for free in the days leading up to its premiere. Add in those 1.4 million views and the first episode was watched by 3.7 million people; a new multi-platform record for Starz. The thing you have to keep in mind here is the term "multi-platform," as that is proving to be the next big thing in ratings and Starz is getting really good at using it to their advantage.
Normally, 720,000 viewers for a premiere isn't that impressive, but given how widely available the episode had been prior it becomes impressive and given that it jumped to 2.3 million over the full weekend it becomes a remarkable feat. Honestly netting 1.4 million online/On Demand views is pretty substantial in its own right, so you can see why Starz is so happy today.
The network used this approach earlier in the year with its two other 2014 premieres; Black Sails and Power. It worked better for the Michael Bay pirate drama Sails which had 3.5 million combined viewers than the Curtis "50 Cent" Jackson backed Power which had around 2.7 million combined viewers, but both were solid premieres and both series earned early second season renewals (a staple of Starz).
It's also worth noting that despite Outlander being a more female-centric series, 45% of viewers were male and incidentally with the male-skewing Power, 45% of viewers were female which gives Starz another edge as it continues to gain traction with programming that draws both genders.
Investor's Analysis
Unlike the major networks and standard cable channels, Starz doesn't rely on commercial/advertising revenue to survive. Instead, the network's success is tied to subscriber rates and those in turn tide to the ability for the network to pull in top talent.
The problem is compared to HBO and Showtime, Starz doesn't get the same level of respect as it hasn't been able to find the same foothold as its rivals. It's blue chip series Spartacus, Boss and Magic City didn't quite do to what executives hoped they would do and Outlander is being seen as the show that could turn everything around.
Check out the network's stock price since January 2013 onward and you'll see it's consistently risen from $14 a share to a high around $34 a share. While it's maintained a level around $27-$31 over the last three months, it's still managed to hold onto its initial growth. The more top projects that come in and the better they perform, the more solid the potential becomes for future increases.
Forget the numbers and the demographics for a second though as that last part about top projects is vital to the company's success. Look back at those names next to Starz's latest projects…Michael Bay and 50 Cent.
After this weekend's success with the Teenage Mutant Ninja Turtle reboot and the summer's runaway re-launch of the Transformers brand, Bay is one of the most successful and in demand producers in the industry. Meanwhile Curtis "50 Cent" Jackson is quickly becoming one of the more influential forces in business overall with successful ventures in music, TV, tech, apparel and beyond. Those are not bad names to have on your roster.
Outlander brings another big name to the table in Ronald Moore who made his bones in the sci-fi world most notably with Battlestar Galactica. One of the most in demand producers in the genre, Moore had made Outlander a top priority and his fans showed up in droves to support him and the series.
Combined this trio is part of Starz's growing television revolution and what's important to call out is that unlike HBO and Showtime, Starz is its own parent company. It doesn't have the benefit of a Time Warner or a CBS Corporation to help cross-promote its programming and pump up subscriptions. Originally part of Liberty Media, Starz split off on its own in 2013 and as of June 30, 2014 the network along with sibling Encore have a combined 55.4 million subscribers making them a formidable pair. The company also has distribution and animation wings that produces and acquires entertainment content globally.
Meanwhile following the deal Liberty Media has consolidated subsidiaries including Atlanta National League Baseball Club, Inc. and TruePosition, Inc., equity affiliates Sirius XM Radio Inc. and Live Nation Entertainment, Inc. and minority investments in public companies such as Barnes & Noble, Inc., Time Warner Inc., Time Warner Cable Inc. and Viacom Inc.. All of a sudden in recent years, Starz went from being a part of that larger portfolio to having its own portfolio.
Overseen by former HBO topper Christopher Albrecht, the network is one to keep an eye on as it is trying to make a name for itself by doing things different. Albrecht helped turn HBO into what it is and while speaking at this summer's annual Television Critics Association convention he discussed a few of the techniques he'd been employing since taking over, most notably (as previously mentioned) giving his series early pickups to help give viewers confidence in tuning in from the beginning without the fear of the show being quickly cancelled.
He also discussed some unique out of the box type ideas such as offering to give a potential 50 Shades of Grey TV series a three-year commitment. Albrecht knew it would be passed on, but he took a low-risk, high-reward gamble that showed creativity. The network is also bucking the common trend of airing original programming on Sunday nights and now premieres new episodes on Saturday nights…and previously they had also aired them on Fridays.
Altogether, you can see Starz making the moves it needs to make to become a serious threat to its rivals and with more programs like Outlander, which could turn into the network's Game of Thrones, and the upcoming American Gods adaptation with Hannibal's Bryan Fuller shepherding, that could happen soon than later.
HBO already has a solid foothold in the cable market and is fast becoming a dominant player in the tech space thanks to its "HBO Go" mobile app, but Starz is showing some teeth here with its multiplatform approach and is already looking to be paying off dividends.
Until now, it really has never been the "sexiest" choice of the three. As an investor, you may automatically look towards Time Warner or CBS when making a decision about where to put your money, but in this sector Starz presents a genuine dark horse option that looks to only be getting stronger. Don't under-estimate the company as it could quietly sneak up on its rivals in the not too distant future.
Disclosure: The author has no positions in any stocks mentioned, and no plans to initiate any positions within the next 72 hours. The author wrote this article themselves, and it expresses their own opinions. The author is not receiving compensation for it (other than from Seeking Alpha). The author has no business relationship with any company whose stock is mentioned in this article.