Midterm Trade of the Day: Hovnanian Enterprises (NYSE:HOV)
Analysis: Homebuilders are tough, and they have limited upside. In a short-term arena, however, these stocks can present effective and profitable gains. Going into next week, the entire housing market will be ready to make moves on news of existing and new home sales that are due out on Wednesday and Thursday. In addition to those reports, Hovnanian (HOV) reports its earnings on Tuesday after the close. Moving out of this week and into next should be positive for HOV.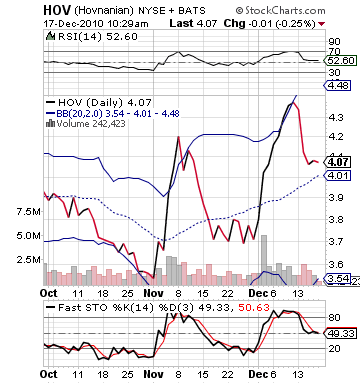 The company is expected to improve drastically on its earnings from one year ago in its latest quarter as they narrow their losses per share from -3.21 to -0.66. While losses are still abound, the company is showing dramatic improvements, and the housing market is showing some bullish numbers for the first time in awhile. Already this week, housing starts came out well above expectations. These reports tend to move in cycles together, so as housing starts do well so do existing home sales, pending home sales, and new home sales.
We like to get into HOV today because the company should get some nice pre-earnings movement into next week rather than picking it up Monday morning for a higher price. On Monday, we will look at another housing stock that could be profitable as a "Play of the Week" to play into those reports and out of HOV earnings, since we will look to exit at least part of this stock before Tuesday.
Can this stock really rise in this housing environment?
Well, is the stock going to go any further down? Trading near the bottom of $4, HOV is 50% below its 52-week high. The stock's MA is right at 4, so it is feeling a lot of resistance at that level and just came off a rise to near 4.40. The stock rose to that level after Toll Brothers started out December hot for homebuilders by moving into profitability in its latest quarter. The company was profitable despite analysts expectations of a loss. The company highlighted that they were able to write-off less and reduce costs considerably to become profitable.
Among other reporting companies, most reported beating earnings and some did pull into the black as well. These companies are doing their best to make money in tough times by cutting costs dramatically and reducing home prices. HOV is expected to announce that they are seeing improving amounts of communities they are doing construction for currently again. This number was in the 400s in 2006, and it dropped to close to 150 at some points. It should be near 200 in Q4.
The post-tax credit housing market has been even more anemic, but there are data points and reasons to remain hopeful. Companies are actually better off than we expect, and HOV should surprise us all with earnings and its movement next week.
Entry: We are looking to get involved at 4.08 – 4.15.
Exit: We are looking to exit for a 3-5% gain.
Stop Loss: 4% on bottom.
Timeline: Midterm – Looking to sell next week.
Confidence: 8 out of 10 (10 being the highest).
Disclosure: I am long HOV.