RetailMeNot, Inc. (NASDAQ:SALE) entered Q2 earnings as one of Goldman Sachs' (NYSE:GS) Top 25 Small Cap Stocks; Goldman also had a $44 price target on the shares. The company announced Q2 revenue of $60 million and net income of $4.3 million, 16% off the $5.1 million net income from the same period a year ago. The shares became a firesale, falling $5.30 (21%) to $20 per share in pre-market trading the next day. The stock closed at $17.88 yesterday. Below are the historical operating results of the company: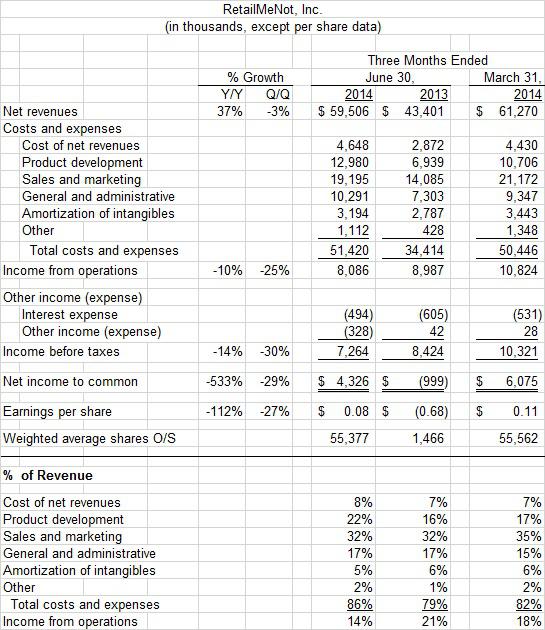 Google Search Debacle
RetailMeNot has developed a core competency in generating leads through "organic search," i.e. drawing customers to its website via high page rankings within Google's (GOOG, GOOGL) search engine. My previous article highlighted how Google's change to its search algorithm hurt RetailMeNot's page rankings and ultimately, customer traffic to its website:
Such "organic search" generated 64% of traffic on the company's websites during the quarter, which management represented was consistent with prior results. With the launch of Panda 4.0, Google tweaked its search algorithm in order to generate leads to higher-quality sites, and reduce spam and lower-quality pages from search results. According an article by Sramana Mitra earlier this year, RetailMeNot saw declines in web traffic from 10%-30%.
Diversification To Mobile, Direct and Email
Given the havoc that Panda 4.0 caused with web traffic in Q2, RetailMeNot is attempting to diversify how it sources customers. According to management, non-organic traffic sources such as direct, email and social media have lessened the blow from a decline in organic search. The company also plans to promote such non-organic sources as it attempts to wean itself off of Google search. Of the company's 154 million visits in Q2 2014, 35% came via mobile devices; mobile also represented about 19% of Q2 revenue. Jefferies analyst Brian Pitz of is caustiously optimist that the company can continue to diversity its revenue sources into mobile, email and direct.
Margins More Like Groupon's?
Though RetailMeNot's Q2 revenue of $60 million was close to Wall Street's expectations, it had to work harder and spend more in order to generate leads. The company's operating income as a percentage of revenue was 14%, paling in comparison to Q2 2013's of 21%. It was also less than Q1 2014's of 18%. The decline was mainly driven by increases in the cost of revenue and product development costs.
Cost of revenue as a percentage of revenue for Q1 2014 ticked up to 8% from 7% in Q2 2013 and Q1 2014.
Product development as a percentage of revenue ticked up to 22% from 16% and 17% in Q2 2013 and Q1 2014, respectively.
Combined, they were 30% of revenue, up from 23% and 24% in Q2 2013 and Q1 2014, respectively.
These two line items would probably be more akin to "cost of goods sold" in a traditional business, or "cost of revenue" for competitor Groupon, Inc. (NASDAQ:GRPN). Groupon has been one step ahead of RetailMeNot in how it sources customers.
Groupon started out sourcing leads through email blasts; now Groupon finds it more cost effective to source business by enticing customers to visit its website directly - more of a "demand pull" strategy.
According to Groupon management, mobile is over half its business worldwide.
As RetailMeNot looks to diversify into mobile, direct and email, its gross margins should look more akin to Groupon's. While RetailMeNot's cost of revenue increased to 30% for Q2 2014, such margin compression is expected to continue. That said, Groupon's cost of revenue for Q2 2014 was 48%. Below are Groupon's historical operating results: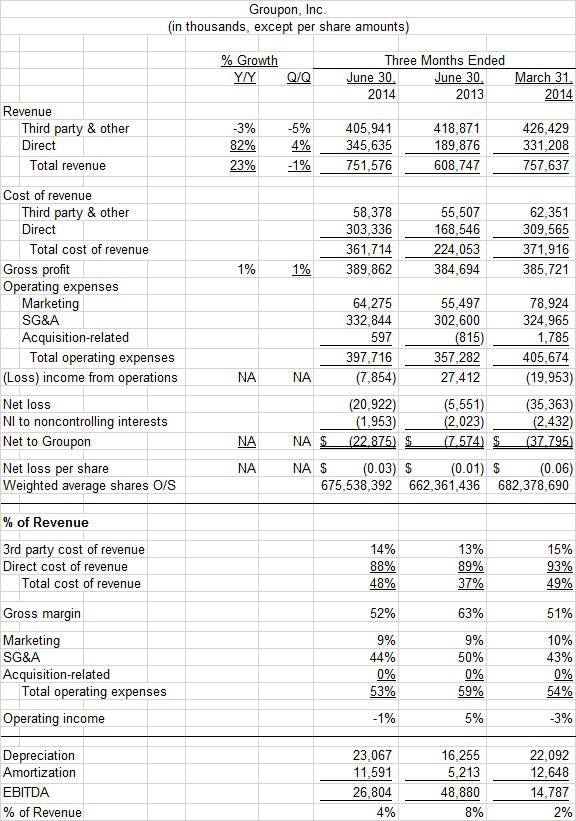 Groupon's cost of revenue for business sourced via third parties was 14% in Q2 2014. Cost of revenue for business sourced directly was 88%.
The company's direct revenue as a parentage of total revenue increased to from 31% in Q2 2013 to 46% in Q2 2014. Given that direct sales have lower margins, the company's blended cost of revenue increased to 48% from 37% a year earlier. That's another way of saying its gross margin compressed to 52% from 63% due to its emphasis on direct sales.
Recently Analyst Stephen Ju of Credit Suisse Group AG (NYSE:CS) acknowledged that RetailMeNot faced margin compression with its revenue diversification. However, he did not quantify such compression. A potential decline from RetailMeNot's current 70% margin to Groupon's 52% margin - a decline of about 25% - should give investors an indication.
Conclusion
RetailMeNot is attempting to diversify its revenue and customer leads from organic search and into direct, email and mobile. As its revenue sources begin to mirror that of Groupon, in the near term its gross margins could be compressed by up to 25%. I rate the company a sell.
Disclosure: The author is short SALE, GRPN. The author wrote this article themselves, and it expresses their own opinions. The author is not receiving compensation for it (other than from Seeking Alpha). The author has no business relationship with any company whose stock is mentioned in this article.