We talked about the lumber futures pointing to a rally ahead in a post on October 14. Since that time, March 2011 CME Random Lengths futures corrected to $265/tbft with the stock market, but have come roaring back to break $300, the best level since the April peak.
Today, all three first-half 2011 futures contracts (January, March and May) are up substantially. March is up $7 to $310, and getting close to a $10 limit up move.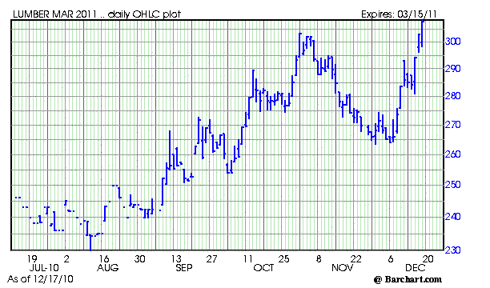 Statistics for U.S. November housing starts released yesterday were slightly better than expected but still lackluster, at 555,000 saar, up 3.9% from October 2010 but still down 7% from November 2009's rate of 589,000. Building permits were worse, down 4% at 530,000, and below analyst estimates for a rate of 560-570,000. Single-family dwelling starts and permits were stagnant, at 465,000 and 416,000, respectively.
So why are lumber futures so hot? Is it commodity speculators? The latest CFTC Commitments of Traders report, dated December 7, shows no appreciable change in the balance of lumber open positions between the trade and managed money or speculators from the October 14 report.
Here's what I wrote in response to some of the skeptical reaction to my October 14 bullish call on lumber equities:
In the article I clearly state the most likely reasons for the recent rally in lumber futures are that it is part of a general hedge fund move into USD based commodities, or the result of a recent U.S. trade action, or both. Therefore, the rally could be reversed just as easily on dollar strength or more aggressive moves to sanction B.C.

In my view, poor U.S. housing numbers next week will have no further effect (on the futures price).
It has been my observation that a distinct positive change in market sentiment by analysts and media towards U.S. economic growth prospects has occurred over the past month, primarily due to enthusiasm over QE2 and the tax "relief" package expected to be approved by Congress. In fact, bullish pundits have taken the sharp rise in U.S. Treasury bond yields as proof of an investor move into equities, as opposed to a potential growth limiting development.
Thirty-year U.S. residential mortgage rates have hit 4.84% as reported yesterday, up 18 basis points (BP), and 15-year mortgages were offered at 4.21%, up 23 BP (per the Mortgage Bankers Association). Although we see bond yields taking a breather from their steep climb upwards, we don't see the move in higher U.S. and Canadian bond yields stopping at 3.40% and 3.23%, respectively.
Consumer employment and income are the main drivers for housing demand in the U.S. We don't see this rising significantly in the spring, because we believe slow growth in the EU and tightening in China will put a damper on U.S. export growth, will strengthen the USD, and put a damper on the "Risk Trade" into stocks and commodities, as it is called in the securities industry.
For Western Canadian log, lumber, engineered product and paper pulp producers, Asia has become big business. British Columbia (B.C.) Minister Patrick Bell commented that, for the first time in September, over 40% of the value of B.C. forest products went to China and Japan, almost equaling the 42% that went to the U.S. (per RISI). Off-shore sales to Asia cause a positive ripple effect, as B.C. and Alberta export supply to Eastern Canada and the Northeastern U.S. is reduced, buoying the lumber price in those markets.
Chinese economic growth has not slowed, in spite of three bank reserve tightening moves and one interest rate hike. It would appear organic growth for commodities will not slow unless monetary policy is tightened further.
We have recommended the stocks of Canfor (
OTCPK:CFPZF
), Interfor, Tembec (
OTCPK:TMBCF
) and West Fraser Timber (
OTCPK:WFTBF
) in Canada, and Potlach Corp. (NASDAQ:
PCH
) and Plum Creek Timber (NYSE:
PCL
) to capitalize on the trend in lumber prices.
The Random Lengths Framing Lumber Composite Index was at $277 on Wednesday. If it rises above $315, B.C. export taxes will start coming down again, as they did in May. Offsetting this possible market carrot would be news of a formal U.S. trade action against the alleged illegally-low stumpage fees charged by provinces on the discounted Mountain Pine Beetle lumber cut.
It is quite likely that the $14 trillion U.S. economy is a gorilla in the global room that is just now starting to awaken, and cyclical stocks dependent on domestic U.S. demand have further to move upwards. But by my reckoning, forest product stocks can do little until early spring.
We expect increased volatility in cyclical stocks generally and therefore expect to hold our average-weight long positions and reduce positions of lumber stocks on any substantial rally. Therefore, we have a hold on all the aforementioned stocks and are long most of them.
Disclosure: I am long PCL, PCH, TMBCF.PK.

Additional disclosure: The BCMI Report is disseminated to subscribers and clients approximately 12-24 hours in advance of appearing in Seeking Alpha.