Intel (NASDAQ:INTC) has had its fair share of headwinds over the last few years - from a stagnant share price to "missing mobile" to "Moore's Law is ending" to a down PC cycle, not to mention a top leadership change and stagnating dividend. It seems that part of being an Intel shareholder meant receiving a daily beating of negative press about all the aforementioned items and how the company was a lousy no growth investment. As an Intel long, I'm happy to report the ship has turned and the company is catching some sweet tailwinds and now is a great time to be an Intel investor.
Intel LTE - A Modem In Latest Samsung Galaxy
Samsung (OTC:SSNLF) launched its next generation Galaxy Alpha smartphone and the real news was not the launch of the phone itself but the fact that it chose Intel's XMM 7260 LTE-A Cat 6 modem and according to AnandTech, the first device to ship with this Intel modem. Considering the fact that Intel reported nearly $1B in losses in its mobile division against $51M in revenue last quarter, the Samsung news was welcome. Is this as good as winning a SoC in a topline "hero" phone? No but it is a start and there will surely be more wins to come in 2015 as Intel slowly eats into Qualcomm's (NASDAQ:QCOM) market share with bleeding edge 14nm SoC technology such as Broxton for higher end tablets and "hero" smartphones.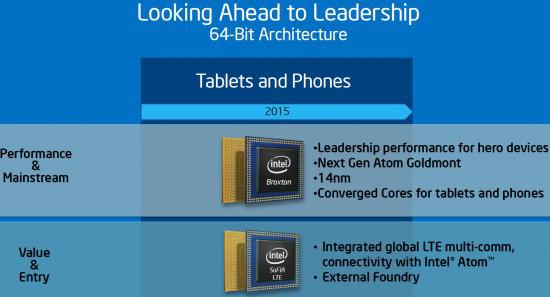 Bleeding Edge 14nm Chips On The Loose
On Monday 8/11/14, Intel released details on its first bleeding edge 14nm chips that are now in volume production, shipping to OEMs, and will be in some fantastic new form factors in Q4. This would be the Broadwell Y SoC marketed as Core M - a power saving mobile-oriented chip. The Broadwell family is a "tick" in Intel's "tick-tock" process. The "tick" is a node shrink and the "tock" is an updated architecture. Basically, Broadwell is last year's Haswell architecture shrunk from 22nm to 14nm. The Broadwell chip family will see a reduction in leakage, power usage and cost per transistor, while both performance and performance per watt is increased.
The Core M will be targeted for notebooks, 2&1s and tablets with super thin and fanless form factors that are power misers with long battery life. Many of these new products will be shown by OEMs at Intel's Developer Forum in San Francisco, September 9-11. I believe Intel will see robust sales of its Core M chips as these nifty products fly off the shelves in Q4.
Intel's $20B Share Repurchase Program
During Intel's Q2 conference call, it announced the board had approved a $20B share repurchase program. CFO Stacy Smith said the following in response to an analyst question about the timeline for the $20B share repurchase program:
And then to do that we'll do 4 billion of buyback in Q3 on top of the 2 billion that we executed too in Q2. We'll do another sizable buyback in Q4 TBD exactly the size of that, and that will get us pretty close to that goal. And then you can do the math of cash generation next year and kind of figure out how in your model we'll go through the 20 billion, but I think we'll go through a chunk of it just over the next six months.
The point here is in Q3 (current quarter) and Q4 Intel has been and will be applying buying pressure on the stock for these massive repurchases. Consider that $4B worth of stock at $34 is nearly 118M shares - Intel could buy 5M shares a day nearly 24 times just in Q3 alone. Intel will be on track to have purchased $10B worth of shares in 2014 - I believe this should strongly lead one to believe where Intel sees the share price heading in 2015 and 2016 as its bleeding edge chips roll out and they capture additional mobile market share.
Conclusion
The tailwinds mentioned portend a great 2015 for Intel. A $50 share price is definitely attainable in 2015 - especially when mobile turns. Analysts have been revising EPS estimates upward over the last month. The high EPS estimate is $2.84 and the forward P/E stands at 14.89. As of January 2014 the average forward P/E for the semiconductor industry was 23.11. I believe Intel will start to command a higher P/E as the market understands its growth potential with its mobile and IoT segments. Let's run three simple share price scenarios:
1. Low - P/E = 17, EPS = $2.40 (17x$2.40=$40.8/share)
2. Medium - P/E = 20, EPS = $2.50 (20x$2.50=$50/share)
3. High - P/E = 20, EPS = $3.00 (20x$3.00=$60/share)
I am long LEAPS - Jan 2016 $40 calls.
Disclosure: The author is long INTC. The author wrote this article themselves, and it expresses their own opinions. The author is not receiving compensation for it (other than from Seeking Alpha). The author has no business relationship with any company whose stock is mentioned in this article.
Additional disclosure: This article is informational and intended to spur thought and discussion. This article is not a substitute for your own extensive due diligence and does not qualify as investment advice. Do not buy or sell stocks based on this article.
Editor's Note: This article discusses one or more securities that do not trade on a major U.S. exchange. Please be aware of the risks associated with these stocks.