Advanced Micro Devices (NYSE:AMD) seems to be doing well as the market is giving it praise. Despite a recent fall and the volatile nature of the price movements over the last six months, the stock is up about 11%. In the middle of July, AMD experienced a steep fall, which ate away a substantial chunk of its year-to-date gains. Nonetheless, the overall performance of the stock has been impressive over the last six months. We have looked at different aspects of the business and discussed its APU and GPU segments in detail in our previous articles. In a previous article, we talked about the sales of gaming consoles and how this event will be key for AMD. In this article, we will talk about the recent development of the events that we anticipated. Furthermore, we also will talk about the new steps taken by the company to strengthen its PC segment.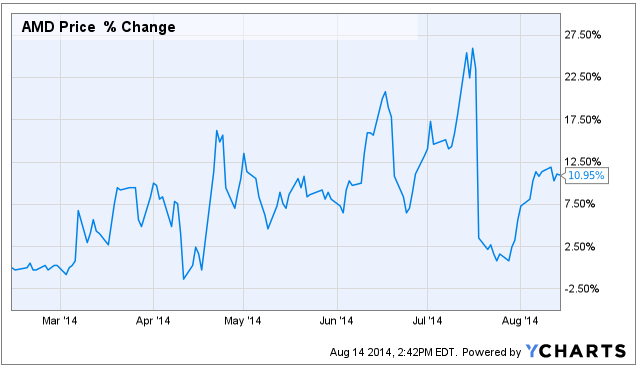 Growth in Gaming Console Sales
At the start of July, Edge magazine reported that Sony PlayStation 4 had crossed 9 million units in sales. However, the official numbers last reported by Sony were 7 million units in April. On Tuesday, the Japanese giant reported that its sales have now crossed 10 million units. This represents enormous growth for the company and it is certainly a good thing for AMD. The recent boost in sales is mainly powered by the new launch of PlayStation 4 Share Play function, which allows the players to play online games like they were in the same room. In almost all of the upcoming games, the application of this feature has been incorporated. For example, GTA franchise, which always went with single player gaming, now has up to three players in GTA 5. On the other hand, Microsoft (NASDAQ:MSFT) has not released any figures relating to Xbox's number of units shipped or sold, the last reported figure stood at 5 million units. The rising sales of these consoles will bring in larger royalty revenues for AMD as both these consoles are powered by AMD's chips.
Even after almost a year, these consoles are getting a very good response and we expect it to grow further in the fourth quarter due to the holiday season. The sales of these consoles go up considerably in the fourth quarter as the customers buy consoles as gift items. Grand Theft Auto 5, Far Cry 4, Call of Duty and Assassin's Creed Unity are yet to be launched - a healthy portfolio of games will also play a vital role in maintaining healthy sales of these consoles. Most of the big titles will be launched in the fourth quarter, which should further support the growth in sales for the console manufacturers.
In the fourth quarter of 2013, just a couple of months after launch of these consoles and with only a few million units sold, AMD made a considerable difference by posting a profit. As the sales figures have grown significantly compared to the last year, we expect better results in the third and the fourth quarter.
Something New for Server Segment
AMD recently announced that it is working to make custom ARM server chips for 64-bit servers, similar to what it did with PlayStation 4 and Xbox One. With this idea, the company launched its first 64 bit ARM server chip named Opteron A1100 Seattle. It is an Octacore ARM CPU with a 64 bit ARMv8 Cortex A57 core. The design is based on System on a Chip (SoC) which has only been used in mobile devices. The company also is considering changing this technology for x86 servers both of which will be ready between 2015 and 2016. AMD has seen rough years due to a declining PC market. However, using the smartphone technology in servers could prove to be a game changer - this can change the space as it will have better performance and it will need less space due to its size.
Conclusion
AMD has been taking aggressive steps in both its GPU and PC segments. At the same time, the company has been focusing on high-growth high-margin areas, which has allowed it to gather some momentum. Increasing sales for gaming consoles will grow the revenues for AMD and we are expecting a strong second half of the year as the sales of consoles start to rise again. We believe AMD has potential to grow further and it can give considerable gains to patient investors.
Disclosure: The author has no positions in any stocks mentioned, and no plans to initiate any positions within the next 72 hours. The author wrote this article themselves, and it expresses their own opinions. The author is not receiving compensation for it (other than from Seeking Alpha). The author has no business relationship with any company whose stock is mentioned in this article.
Additional Disclosure: This article is for educational purposes only and it should not be taken as an investment recommendation. Investing in stock markets involves a number of risks and readers/investors are encouraged to do their own due diligence and familiarize themselves with the risks involved.