BlackBerry's Passport (NASDAQ: BBRY) is scheduled for launch this year, but the Canadian smartphone giant isn't stopping there. BlackBerry Classic is another key launch slated for this year's release. Granted, it does not have an intriguing or an unusual design like the Passport. But how will it fare in the market? Let's take a look at the device's SWOT for a deeper understanding.
Strengths
Firstly, BlackBerry Classic (Q20) is a BB10-powered device. It is unequivocally the safest mobile platform currently in mass production. Enterprise clients, who prioritize safety and security, will now have another BB10 device to choose from - something that can drive BlackBerry's hardware and enterprise revenue higher going forward.
BlackBerry Classic is a significant upgrade from Q10 in terms of screen size, screen resolution and computing performance. In fact, recently leaked benchmarks reveal that the Classic is substantially faster than Q10 and Z10. This essentially means that the Classic is better equipped to run the eagerly awaited BB10.3 update.
The Classic reportedly sports a 3.5-inch 1440x1440 display, making it a smaller sibling of BlackBerry Passport (Q30). The latter offers to solve several real-world problems, but readers intrigued by its newfangled dimensions have repeatedly bashed its design. The Classic offers to perform similar tasks and solve similar problems - like viewing and editing forms, presentations, excel sheets on remote locations - but in a small form factor.
Regarding smartphone display, Q10 sports a 3.1-inch 720x720 screen. In comparison, Classic's 3.5-inch 1440x1440 display is far superior -- accommodating 400% content with a 27.4% greater viewable area. This improves upon the workability factor and makes editing and viewing documents more comfortable - another plus point to buy Classic.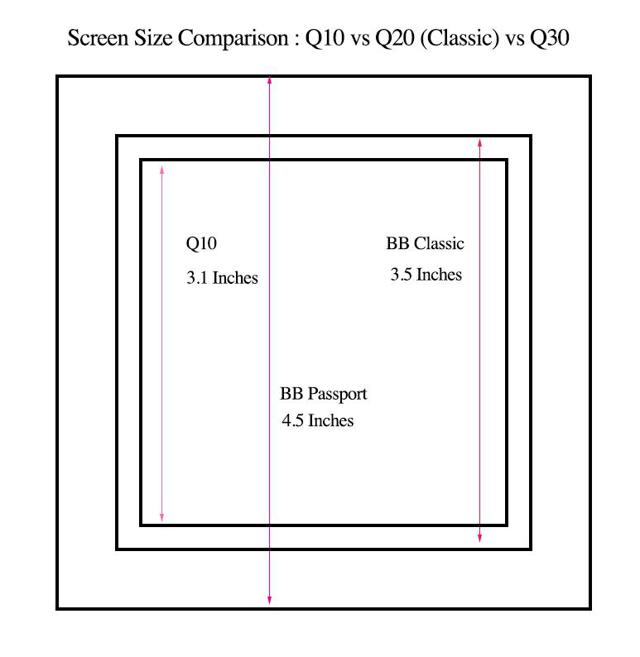 (Created in Photoshop)
One of the biggest qualms with QWERTY-based BB10-powered devices is that navigation has become entirely touch-based. The Classic addresses this concern, and re-introduces the track pad along with its accompanying physical keys. This should attract longstanding and fervent lovers of traditional-form BlackBerry devices. Shedding more light on this aspect, CEO John Chen noted,
"In my first 90 days on the job, I consistently heard from our ardent BlackBerry customers that the hard buttons and trackpad are an essential part of the BlackBerry QWERTY experience, that made their BlackBerry smartphone their go-to productivity tool. I want these customers to know that we heard them, and this new smartphone will be for them. Today, we're delighted to announce the new BlackBerry Classic (Q20) smartphone, which is designed to give you the distinct experience that every BlackBerry QWERTY loyalist and high-productivity business customer absolutely loves. With the BlackBerry Classic smartphone (Q20), you'll get the familiar hard buttons and trackpad that you want, along with the best email service, the best keyboard experience and the best battery life possible."
Weaknesses
Similar to the Passport, BlackBerry Classic sports an odd screen resolution of 1440x1440. This suggests that app availability will be fairly limited. Apps developed for BlackBerry's previous BB7-powered square-screen devices will require recoding and upscaling.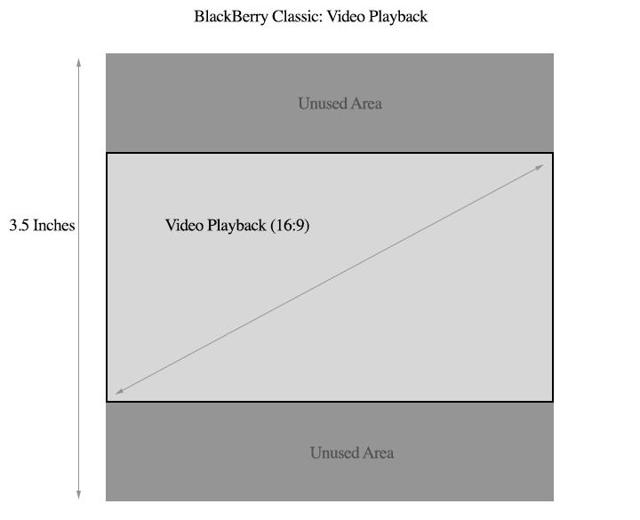 (Created in Photoshop)
Having a square screen means that video playback - especially with a 16:9 aspect ratio - will utilize only a fraction of the screen. For this reason, the Classic probably won't go onto become a popular work-cum-entertainment phone like the well-regarded Z10.
Opportunities
BlackBerry Classic is a businessperson's phone - for emailing, web browsing or viewing and editing documents. But it can also find its way into the healthcare industry like its larger sibling, the Passport. Both the devices have a 1440x1440 display, so healthcare-focused enterprise apps will be cross compatible.
The Classic can also cannibalize work-only tablet sales. Galaxy Note 3 - sporting a 1920x1080 screen - is 3.12 inches wide, slightly narrower than the Classic. This should, in theory, allow the latter to display more words-per-line. Power-users looking to avoid the hassle of carrying a phablet, tablet or a laptop for the mere purpose of reading mails would, therefore, be interested in carrying a BlackBerry Classic instead.
Threats
Unlike the Passport, BlackBerry Classic doesn't appear to be a revolutionary device. If BlackBerry prices the Classic at exorbitant levels, then it could be looking at low sales volume and high operating losses.
The track pad on the Classic appears to be relatively smaller. Track pad lovers might find it insufficient for full-fledged navigation. BlackBerry, therefore, will have to educate consumers about the functionality of its track pad via its advertising campaigns.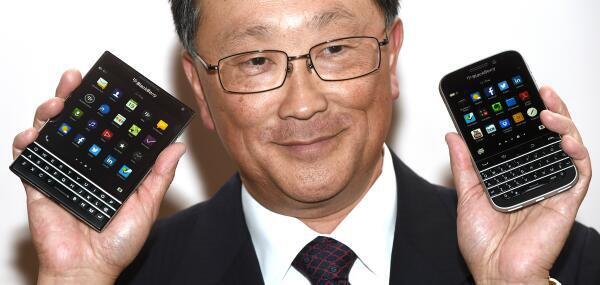 (Source)
Final thoughts
BlackBerry Classic (Q20) may not be a revolutionary product, but it certainly boosts the practicality factor. It's a hybrid of Q10 and Q30, and its user-friendly dimensions should attract a wide range of power-users. I believe that all the aforementioned factors will translate into blockbuster Classic sales.
Disclosure: The author has no positions in any stocks mentioned, and no plans to initiate any positions within the next 72 hours. The author wrote this article themselves, and it expresses their own opinions. The author is not receiving compensation for it (other than from Seeking Alpha). The author has no business relationship with any company whose stock is mentioned in this article.