Hawaiian Electric is Beaten and Battered, But Still Standing
The accusatory headlines about Hawaiian Electric Industries Inc. (NYSE:HE) have been blaring like sirens all year long: "Hawaiian Electric being unfair in major solar energy endeavor, sources claim"; "Solar panel installations push electric utilities to the brink"; "Why are Hawai'i's Electricity Prices So High?"; and "Hawaiian Electric Company Takes Strange Approach To Massive New Solar Project."
Hawaiian Electric has acquired an image problem in recent years. Because Hawaii is at the forefront of solar power adoption, HE has been forced to figure out solutions to problems the entire industry someday will face, and it has had undeniable difficulty communicating well with the public about them. Despite its troubles, though, the company is interesting for dividend investors at current levels.
Earnings Beat Expectations
Before we get to the issues facing HE, let's summarize where it stands financially. HE recently reported fairly good earnings. HE reported on 11 August 2014 that in the second quarter it earned .41 per share, beating estimates by .02. It had revenues of $798.6 million for the quarter, slightly beating both analyst estimates of $796 million and the year-over-year figures.
HE is composed of an electric utility segment and a banking segment. The electric utility segment of the company had revenues of $738.4 million, up 1.4% year over year, and net income of $34.2 million, up 19.2% over the previous year. The banking segment, on the other hand, reported revenues of $60.6 million, down 8.1%, with net income of $11.7 million, down 26.4% from last year.
The company's results, thus, were good but weighed down by the banking segment. This was due to lower interchange fees as mandated by Congress and lower income from mortgage banking and sales of securities. However, the utilities segment did so well that it overcame the banking issues, and the company advised that "both our utility and bank are on track to meet our 2014 earnings guidance."
Hawaiian Electric has estimated earnings per share for the next fiscal year of $1.72, with 5-year historic earnings per share growth of 5.9%. It pays a very healthy dividend of $1.24 for a yield of 5.20%.
Solar is Coming, Ready or Not
Hawaiian Electric has been beating estimates for the past year.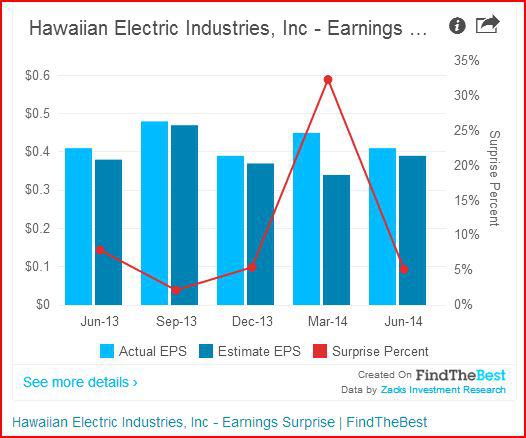 Source: Nasdaq.com
However, HE's stock price has underperformed badly. It has fallen 8.9% this year to its recent close of $23.75. Meanwhile, utilities as a group are up 8.8% this year despite recent stumbles, the third best sector in the market, with an average dividend rate of 3.9%.
What gives? Why has HE stumbled lower despite its solid earnings performance while other utilities have raced ahead?
The answer apparently lies in those pointed headlines about HE. So, let's take a look at the facts and see if there is any fire underneath all that smoke.
Hawaii, with lots of sunshine, clear skies and expensive imported oil, is ideal for solar power development. At 42 cents a kWh, electricity costs three times as much in Hawaii as the national average, and solar energy installations there are eligible for substantial tax credits. Hawaiian utility customers, therefore, are taking advantage of the increasing efficiency of solar panels in a big way.
According to the company on its earnings call, 11% of its customer base has adopted solar energy. This compares with a national average of 0.5%.
With so many Hawaiian utility customers adopting solar power, the narrative leading to the headlines quoted above is that Hawaiian Electric is in danger from solar energy and is trying to slow its adoption. At least, that is what a public opinion poll found earlier this year: 90% of poll respondents said that HE is slowing solar use to protect its profits.
The problem for Hawaiian Electric is that there is some truth behind that narrative. It has damaged its own reputation through its paternalistic attitude toward electrical generation. There are a number of communication factors playing into the public anger that HE needs to handle better in the future.
Hawaiian Electric is making a difficult transition to solar power, and this process has created an appearance that the company is a bully trying to get its way. It has embarked on huge new solar projects of its own, which is laudable. This includes nine solar farms on the island of Oahu with hundreds of thousands of solar panels. However, the company has been very slow to release details of this project, leading to the "Hawaiian Electric Company Takes Strange Approach To Massive New Solar Project" headline. Unanswered questions included where the massive new solar sites would be and who would construct them, with the answers withheld until after a cumbersome regulatory review.
Then, HE made a questionable decision while negotiating with solar power installers on its projects when it re-opened the waiver process with them, requiring them to submit lower bids. This made HE seem autocratic, leading to the "Hawaiian Electric being unfair in major solar energy endeavor, sources claim" headline. The company again refused to comment, citing confidentiality agreements.
This appearance of secretiveness -- unavoidable or not -- has fueled suspicion of the company and the motives that built upon long-lasting resentment about its high prices. Hawaiian Electric apparently never learned that transparency or at lease expressing empathy is a good corporate strategy when making decisions that impact peoples' lives.
The company also has been slow to publicize its own efforts in adopting renewable energy sources when there is no need to keep silent. The company stated during its conference call: "In cooperation with our regulators and our customers, we've already met the aggressive 15% renewable resource goal for 2015 using about 18% renewable resources to meet our customers' needs."
That's terrific news! But the public hasn't been impressed by HE's performance in this area, so the company obviously is doing a poor job of getting out the message that it is aggressively becoming greener.
Another self-inflicted wound resulted from delays imposed upon its customers when they seek to install their own solar panels. Hawaiian Electric appeared to have a prudent concern about the ability of its circuits to handle a new, unexpected condition that has never been faced by utilities before: neighborhood electrical circuits face danger of becoming overloaded when multiple private solar power installations feed power back into the system. With so many customers installing solar seemingly at random, a situation arose that HE decided was a danger to the community.
HE thus suddenly issued a requirement on its web page that customers obtain the company's approval prior to installing or expanding their own solar systems. This did not go over well with customers, who resented having to ask permission to install solar panels. It especially angered solar installers, who face growing competition within their own ranks, competition that is "beyond fierce" and which could cause some their livelihoods.
All of these missteps have fueled general public anger at the utility, leading to an inflammatory speech by a politician accusing the utility of simply using safety concerns to slow solar energy adoption because it hasn't been able to come up with a "new business model."
Is HE in Trouble?
HE perhaps needs a new attitude about how to communicate with the public. The situation has gotten so far out of hand that there even are calls to break up HE due to its high prices and high executive pay (Chairman Constance Lau is reported to have earned $3,770,226 in total compensation in 2013). While there is no indication that any break up is coming, critics now are finding fault with all of its decisions. When a company's very existence is called into question, conservative investors tend to shy away.
HE has shown, though, by beating analyst estimates for several quarters in a row and not having to ask for a rate increase, that so far it is managing the transition to solar power in a financially prudent manner, if not a particularly successful public relations one.
As noted during the conference call, HE didn't have to file for a rate increase despite the high and growing percentage of solar power users:
"In June, instead of filing for a rate increase, we filed no change in base rate filing with the PUC.... We were able to do this because our utilities are aggressively focused on managing costs by pursuing operational and financial efficiencies. For example, we're de-activating our older oil plant and have refinanced debt at lower rate and just last week, our PUC gave the green light to negotiate contracts with six additional renewable project totaling 210 megawatts which can produce power at about one-third lower cost than our average cost of generation."
There are limits to how much solar adoption is possible. Many customers live in multi-family units or rentals that would be unlikely to cut their ties to the utility. Nobody knows what those limits are yet. Hawaiian Electric also has large long-term service contracts in place with the many large U.S. military installations throughout the islands, so reports of its imminent demise are greatly exaggerated. Thus, how much of a threat solar power poses to its business model remains very much up in the air.
HE's profits are holding up well without having to plead for higher rates from its customers. However, the company also noted that customer bills for those who do not have solar are going to "increase about 2% -- around $2.60 per month." In other words, there will be a stealth rate increase for HE's remaining customers as others disappear. That may not seem like much money when the average island bill is over $200 per month, but with public anger toward the company boiling over, it appears that the company's public relations battle is far from over.
So, Why Bother with Hawaiian Electric Anyway?
Hawaiian Electric certainly is giving many people headaches these days. There are many other utilities to choose from that do not face the traumas that HE in large part unleashed upon itself.
However, where there is controversy, there may also be opportunity for the aggressive investor. As noted above, HE has been beating estimates and growing its profits while the stock price has lagged due to extraneous issues. During the conference call, it maintained its $1.57-$1.62 guidance for 2014. These factors alone warrant a look at the stock if you are considering purchasing a utility.
A comparison with other leading utilities shows that at 5.2%, HE pays a higher dividend than almost all of its peers -- as noted above, the average utility currently pays 3.9%.
| Utility | Yield % |
| --- | --- |
| HE | 5.20 |
| UIL | 4.87 |
| ED | 4.47 |
| DUK | 4.48 |
| PCG | 4.13 |
| XCEL | 3.91 |
| POR | 3.44 |
| EE | 3.17 |

Source: The Yield Hunter
In fact, Hawaiian Electric currently pays the highest quarterly dividend of any U.S. utility, and it has paid a dividend for 26 years. It currently pays a dividend of 31 cents per share, with the next one payable September 10, 2014, to shareholders of record at the close of business on August 22, 2014 (ex-dividend date is August 20, 2014). The dividend is equivalent to an annual rate of $1.24 per share.
HE is paying well over twice the 10-year Treasury yield, which has been hovering around the 2.5% mark recently. Of course, you take on price risk when purchasing any equity that is not present with Treasuries.
But dividends are only part of the story. The stock does not look expensive based on its current price. At a price of $23.75 and with a price-earnings ratio of 13.71, HE's multiple compares favorably with the sector average of 16.50 and the S&P 500 multiple of 19.30. Its Price/Sales TTM is 0.7, only half the sector average of 1.4. Its margins are weak, but it is working on cutting expenses, and its ROE TTM and debt/equity ratio are both better than the sector average.
Some question the sustainability of HE's dividend, pointing to the fact that HE's free cash flow has been negative in five out of the past seven years. Its strong debt/equity ratio, though, suggests that such concerns are premature at best, as are worries about its pension fund.
Hawaiian Electric currently trades at a 12.5% discount to its 52-week high and not far above its tangible book value of $21.30 a share. The company has grown earnings per share from $0.91 in 2009 to $1.62 in 2013, though its earnings do fluctuate.
There are many risks to owning utilities. Among them is the threat of rising interest rates, and nobody can say how utilities as a group will fare over the coming months. Sam Stovall, chief equity strategist at S&P Capital IQ, is one of many who is bearish on the utility sector, so now may not be the ideal time to buy any utility.
Utilities, though, are welcome additions to many investors' portfolios due to the consistent income they offer and as a means of portfolio diversification. Even though virtually everybody thought that interest rates would rise this year, they have remained stubbornly low and even fallen some more. Based solely upon its dividend and financial metrics, Hawaiian Electric on a comparative basis now offers value to the utility investor seeking consistent dividend income.
Conclusion
Hawaiian Energy is a utility that has significant public relations issues and the risk that it will stumble further on the road to its management of solar power. Those issues are priced into the stock and have rendered it cheaper than many of its peers. Those who are in need of dividend income might want to consider HE at current prices.
Disclosure: The author has no positions in any stocks mentioned, and no plans to initiate any positions within the next 72 hours. The author wrote this article themselves, and it expresses their own opinions. The author is not receiving compensation for it (other than from Seeking Alpha). The author has no business relationship with any company whose stock is mentioned in this article.