Shares in Six Flags Entertainment (NYSE:SIX) have made a significant drop from their 52-week high of $43.19 and are now trading at $36.66. The drop was caused by SIX's most recent quarterly report, which stated an 8% decrease in attendance. However, increased spending per capita meant the company's revenue was actually higher than in the same quarter last year.
Six Flags operates 18 entertainment parks across the United States, Mexico and Canada. In June, the company announced it had formed a partnership with Riverside Investment Group for the construction of multiple Six Flags theme parks over the next decade.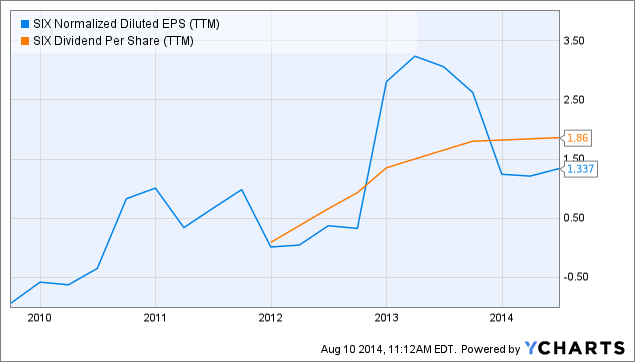 SIX Normalized Diluted EPS (TTM) data by YCharts
Investors might be tempted to buy SIX for its very high 5.10% dividend yield, but with EPS expected to reach $1.45 in the current fiscal year and $1.46 next year, a $1.88/year dividend puts the expected payout ratio at 130%. However, dividends are paid from free cash flows, and as we can see in the next graph, these are well above the $1.88 per year the company pays in dividends. If the company can continue to grow in terms in revenue, I would expect FCF to go up as well.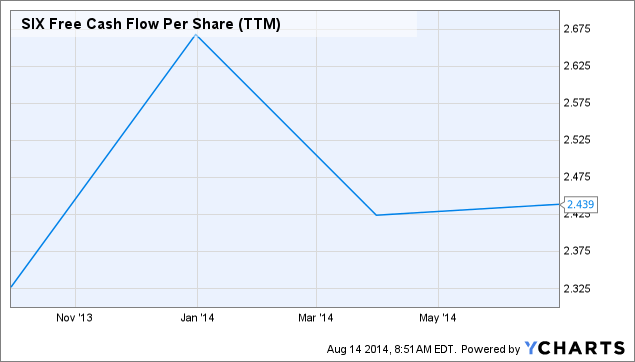 SIX Free Cash Flow Per Share (TTM) data by YCharts
The forward price to earnings ratio of 25.4 is quite high when compared to its competitors. For example, Cedar Fair (NYSE:FUN) is trading at a forward P/E of 18.8, while SeaWorld's (NYSE:SEAS) forward P/E stands at 19.4. However, Six Flags is a lot cheaper than these competitors when looking at the price to free cash flow ratio, as can be seen in the next graph.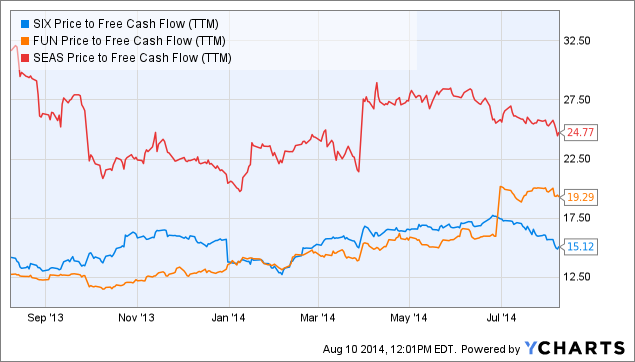 SIX Price to Free Cash Flow (TTM) data by YCharts
SIX's revenues reached $1.11 billion in the most recent fiscal year, a number that's expected to grow by 3.6% this year. For next year, analysts expect the revenue to grow a further 4.3% to $1.20 billion.
Looking at Six Flags' most recent balance sheet, we can see the company has $450 million in current assets compared to $321 million in current liabilities for a very decent current ratio of 1.40. The company has a long-term debt of just under $1.4 billion. Interest costs in the past 12 months were $73 million, which is 6.6% of SIX's revenue.
Conclusion:
Six Flags' dividend is very attractive at 5.10%. There might not be very much room to grow this dividend considering analyst expectations for this year's EPS stand at $1.45 on average, but long term, I would expect SIX's international expansion to produce growing revenues and earnings. Looking at the price to earnings ratio, the company appears expensive compared to its competitors, but the low price to FCF suggests it's actually quite cheap. Six Flag's short-term financial health is good, with the current ratio standing at 1.40. The long-term debt is $1.4 billion, which is not surprisingly high considering the fact SIX operates a business that requires significant investments.
I believe the recent pullback has made shares in SIX very interesting, especially considering the 5.1% yield. This is why I bought a small amount of shares last Monday. Even if the dividend doesn't get raised in the next couple of years, the high dividend will make it worth the wait.
Disclaimer: I am not a registered investment advisor and do not provide specific investment advice. The information contained herein is for informational purposes only. Nothing in this article should be taken as a solicitation to purchase or sell securities. Before buying or selling any stock you should do your own research and reach your own conclusion. It is up to investors to make the correct decision after necessary research. Investing includes risks, including loss of principal.
Disclosure: The author has no positions in any stocks mentioned, but may initiate a long position in SIX over the next 72 hours. The author wrote this article themselves, and it expresses their own opinions. The author is not receiving compensation for it (other than from Seeking Alpha). The author has no business relationship with any company whose stock is mentioned in this article.