In late January of 2014, I wrote about Occidental Petroleum's (OXY) push into the Permian Basin. At that time, they were strategizing about their re-invigorated Permian efforts on their 1.7 million net acres. Since then, they have added 200,000 more net acres. Given OXY's size and capital base, they can easily fund acquisitions or opportunities that arise, a number five of their top five cash flow investment priorities.
OXY's revenue sources are 61% domestic and 39% international, with a 63% oil weight to their portfolio. With regard to their Permian strategy, which was detailed in a previous article, they have now identified 4,500 wells equating to 1.2 billion net barrels of resource potential (as of the late-May Bernstein presentation). Their Permian production of the Permian Resources (unconventional focus) comes from ~9,500 gross wells, or 4,400 net (of which ~15% are non-operated). OXY has a dual-track Permian strategy between their enhanced recovery platform and the unconventional one, which they say is yet to be fully exploited.
Occidental Petroleum is a large independent that has some characteristics of owning an oil Major with their dividend-paying attributes but some growth prospects like the Apaches (NYSE:APA), EOGs (NYSE:EOG) and Pioneers (NYSE:PXD) of the independent world.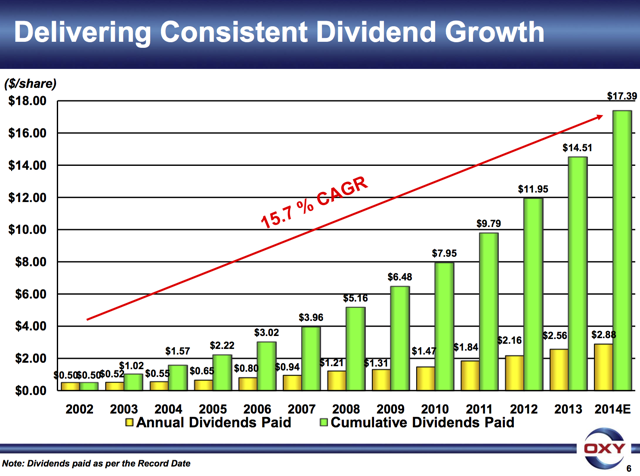 Click to enlarge
A big advantage for OXY is their Permian Basin portfolio. Also important in shale plays and in the ability of E&P firms to sustain profitability is reducing operating costs and deploying capital efficiently. OXY has executed on both of those fronts, as well as increasing production.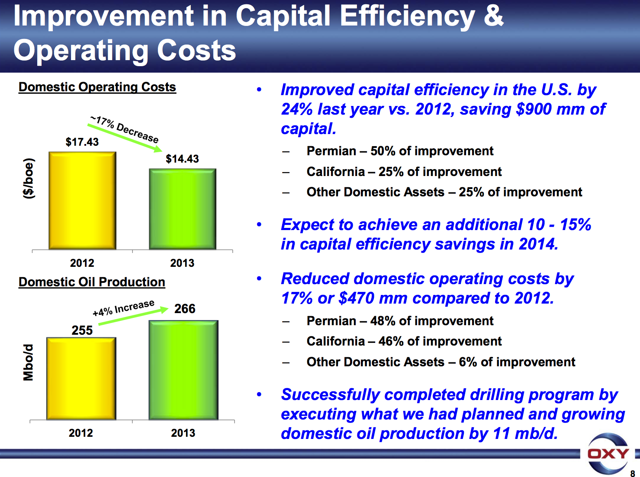 Click to enlarge
In the past, I noted that Apache has capacities as a conglomerate-like entity that are a source of value. The diversification of their activities and portfolio act like internal capital markets and labor markets. However, with OXY, this attribute of mini-conglomerate, in comparison to mega-conglomerates Exxon Mobil (NYSE:XOM), Shell (NYSE:RDS.A) (NYSE:RDS.B) and BP (NYSE:BP), is highly salient (see chart below). Recent finance and accounting research from the Cox School of Business, Southern Methodist University, has found that the conglomerate form outperforms pure-plays over time. The study's timeframe crossed three decades. This conglomerate attribute, unique to some independents, is a source of slow-moving alpha, or value investing. One could call OXY a "smooth operator" in this context.
A quote by CEO Chazen from the recent earnings call sums up some benefits of diversification:
In 2013, excluding the California assets, OXY generated operating cash flow $10.3 billion while spending $7.2 billion on capital expenditures. 2013 capital included $950 million spent for Al Hosn and $370 million for the combination of BridgeTex Pipeline, New Johnsonville chlor-alkali plant. We expect all three major projects to come online at various times in 2014, spurring up significant amounts of capital while starting to contribute to cash flow generation.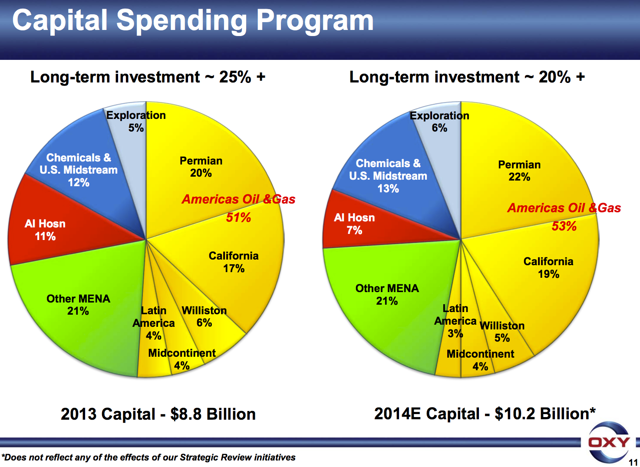 Click to enlarge
Those who hold or have held OXY stock for a while know this slow-moving alpha story well. If you held OXY over the last 25 years, you gained 973%.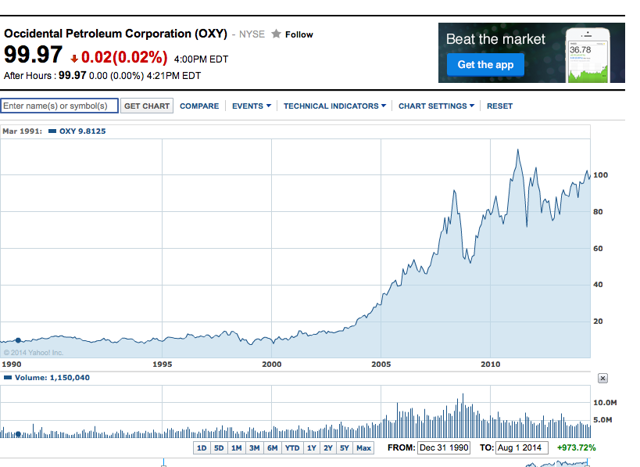 Click to enlarge
Getting at Growth
Important to those questioning the growth prospects, several factors are relevant:
OXY intends to focus on oil projects, a higher value proposition given oil prices in the $95-100 range;
Their diversified capital allocation plan offers longer term value, with the ability to move funds and management to the highest return uses of capital;
The Permian strategy offers growth opportunities that were previously dormant; production growth stems from the horizontal drilling push.
Though OXY holds more Delaware Basin acreage, the Midland Basin is their catalyst in the near term. Overall, approximately 345 wells, half of them horizontal, are estimated for 2014 in the Permian. In 2013, they had drilled 49 in total. Their production is expected to step up between 2014 and 2016.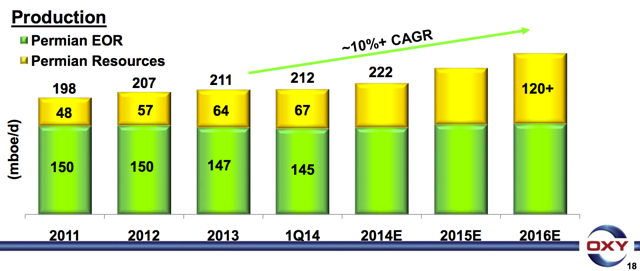 Click to enlarge
Noteworthy, OXY cites Midland Basin well costs of roughly $6.5 million, which is lower than a number of E&Ps operating there. A Midland focal area of the Curtis Ranch yielded 91% liquids, with Wolfcamp B wells. They are increasing laterals to 10,000 feet. In the Delaware, five Wolfcamp horizontal wells, benches A & B, averaged IPs of 1,150; 30-day of 760 boepd; and 88% liquids. Wells were costing $8.5 million because of depth. They cited a very good well near Reeves County with 24-hour IP of 1,622 and 30-day IP of 1,118. Delaware Basin leader Concho (NYSE:CXO) cited an average of 21 wells with 30-day IPs of 984 boepd (80% oil) and 24-hour IP of 1,303 with ~4,400' laterals.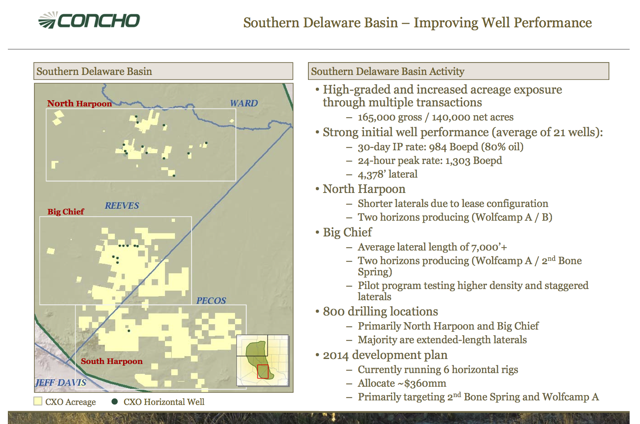 Click to enlarge
OXY's New Mexico Permian acreage has also seen some good results. They say they are on track to drill 340 wells for approximately $1.6 billion for 13%-16% production growth.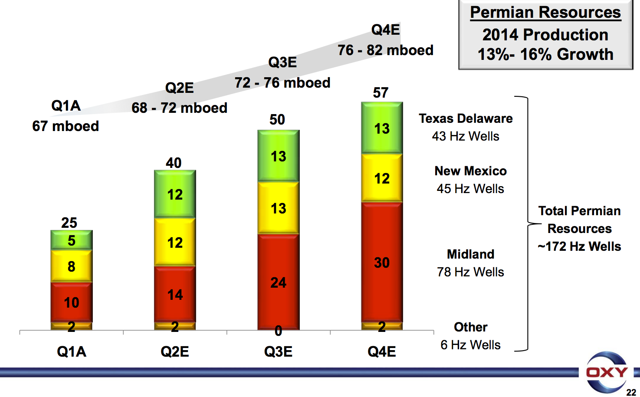 Click to enlarge
From year-end 2014, OXY expects to be running 21 horizontal rigs and 46 in 2016. On the infrastructure side, OXY notes that they are a large gatherer of both their own and other players' crude, again a source of efficiency. Also in the call, given the current wells expected to be drilled (though the number can rise), they concur with a 13-year inventory. They have drilled only 1% of their opportunity set to date, notes Vicki Hollub:
(The) horizontal wells we've drilled to date, we've really only drilled about 1% of our potential. So if you look at these kind of plays, normally that well count goes up significantly over time as you get to the other benches to appraise those.

So, I think our estimate right now is conservative based on what we have available to evaluate and expect that number to continue go up as we learn more.
OXY stock could well increase in the next two-year timeframe as long as economic tailwinds continue. As of the end of August 14th, a one-year target price of $110 is estimated, which is not unrealistic, and may be too conservative. Given OXY's catalysts of the Permian and their diversified portfolio offering cash flow and returns to investors, the firm is poised to deliver faster moving alpha in the next couple of years.
Disclosure: The author is long APA. The author wrote this article themselves, and it expresses their own opinions. The author is not receiving compensation for it (other than from Seeking Alpha). The author has no business relationship with any company whose stock is mentioned in this article.
Additional disclosure: This article is intended for research purposes only and offers a sampling of attributes germane to the stock. Please consult an investment advisor and/or perform your own due diligence before making any investment decisions.