We last visited Twitter (NYSE:TWTR) in the aftermath of an earnings report that was met skeptically by Wall Street, driving the stock down after the report. Today, the landscape is much different, as Twitter announced earnings that beat Wall Street expectations, lifted the stock 28% in after hours trading, and now the stock rests around 12% higher than on earnings day. Feria wants to check in on several stories surrounding the company that all played a role in its stronger earnings report, giving us the confidence to issue a Hold call at today's levels.
Ad Revenue Growth
We should begin by examining Twitter's advertising revenue numbers. CEO Dick Costolo, during the earnings call, explained that overall revenue grew 125% year-over-year, the "fourth consecutive quarter of accelerating revenue growth."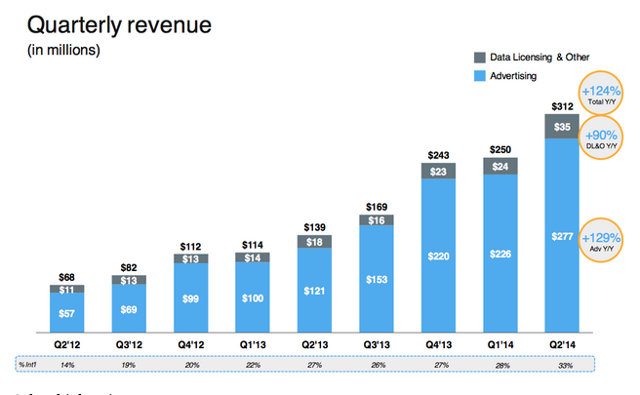 Source: Twitter Earnings Report
Besides attracting more ad dollars, Twitter has continued to roll our features and products that should be conducive to drawing even more advertisers to the platform. Its objective ad model with key performance indicators, something that Facebook (NASDAQ:FB) has offered for some time, now allows advertisers to pay for just the objectives that marketers want: clicks, app downloads, RTs, etc. This allows the advertisers to pay only for what works, only for what they want, and diversifies Twitter's portfolio of offerings.
The new model may also help Twitter gain ground among small businesses. As of now, the company currently has 4 million small business accounts, with a small proportion of these accounts actually advertising on Twitter. Facebook, on the other hand, boasts 30 million brand pages, almost 10x as many than Twitter, with around 10 million using Facebook to advertise. Twitter would do well to continue to attract these businesses to advertise, as there is much ground to pick up against its rival Facebook. Of course, this more discerning model could also cannibalize a portion of the ad revenues as well, as business more efficiently spend on certain objectives. Investors should keep the new model in focus as Twitter develops and implements it more broadly.
Internationally, given the World Cup, Twitter saw an enormous leap in revenue from other countries, as international revenue was up 168% year-over-year. In order for Twitter to make more inroads with MAUs, described below, international growth is key. Checking in on these numbers, Feria is confident that Twitter will continue to see adoption and revenue growth from overseas.
Ad revenue per timeline view also showed great progress for Twitter in the latest quarter. Timeline views increased to 173 billion views, a 15% year-over-year increase and a new all-time high for Twitter.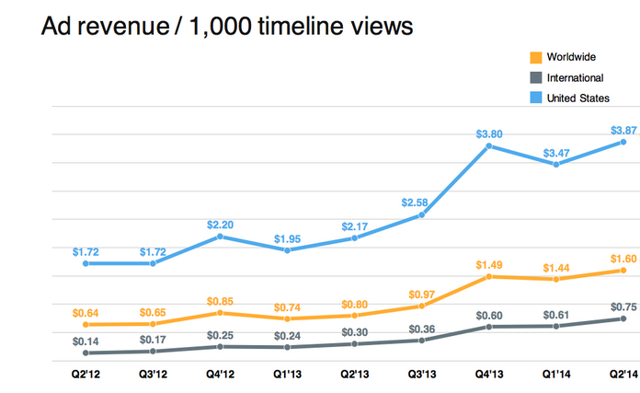 Source: Twitter Earnings Report
Mobile
Mobile advertising has always been a dominant part of Twitter's numbers, and this quarter was no different. Q2 saw 81% of ad revenue from mobile, which clearly makes up the core of Twitter's business. This comes in light of the fact that advertising spending on mobile is up big this year and is expected to continue to grow, surpassing print and radio, and soon television.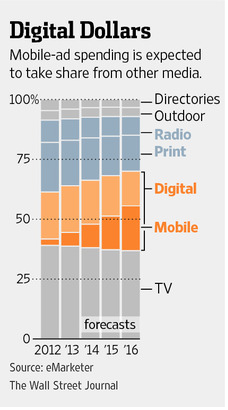 MAUs
Feria is of the firm belief that monthly active users (MAUs) are important, until they aren't. Instead, once a solid baseline of MAUs has been established, Feria believes the more important question is about engagement efficacy and timeline views, which really delves into how users will interact with ads once they see them on Twitter. CFO Gupta:
First on users, we saw improved growth in monthly active users in the second quarter with average MAUs reaching 271 million, reflecting 16 million net additions, up from 14 million Q1. We saw strong growth in both U.S. and international markets. U.S. MAUs reached 60 million, reflecting 3 million net additions in the second quarter, consistent with the 3 million net additions we saw in Q1. And international MAUs reached 211 million, reflecting 13 million net additions, up from 11 million net additions in Q1.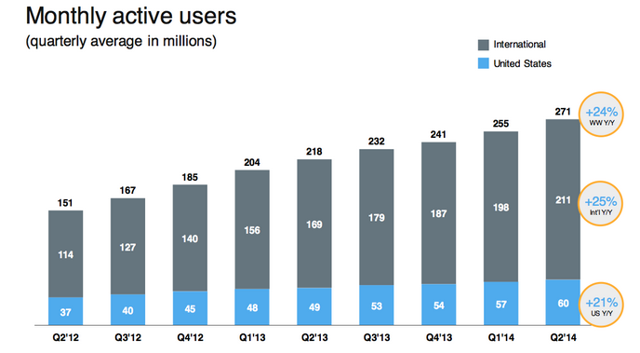 Source: Twitter Earnings Report
Engagement
Management explained that increased engagement is a major reason why a revenue growth accelerated over 120% year-over-year. The promoted products Twitter has continued to roll out have been offering advertisers higher ROI, which has led to the opening of wallets and higher ad spends. Gupta on the importance of engagement:
The increase was driven by total ad engagements which grew more than 250% year-over-year, reflecting higher quality ads, improved prediction and targeting and the increased use of rich media by advertiser. On a sequential basis cost per ad engagement increased 18%. This is our first increase in reported CP that was due impart to strong advertiser demand around the World Cup and a mix shift towards higher performing and higher priced ad units. Ad engagements also increased 4% quarter-over-quarter, significantly improving overall yield
We can see how Twitter's focus on delivering high quality ads that do not detract from the user experience, really a rare and incredibly important ideal for all social media platforms, has led to large increases in total ad engagements. CEO Costolo noted that the World Cup experience on Twitter drove higher engagement numbers; it is unquestioned that popular, live events like the Oscars, the Super Bowl, and the World Cup are watershed moments for Twitter, and it has appeared to monetize and take advantage of each very well.
Moving Averages
Since Twitter announced earnings recently, the stock began trading up. As followers of Feria know, we believe moving averages are lagging indicators of momentum. Both the 50 and 100 day moving averages are hovering around $39/share, and the stock has risen to levels above this price, around 10% higher. These averages have trended down over the last few months however, so we would like to see a more robust reversal of these trends. We believe the stock trading higher than these MAs is a positive indicator, and as the summer continues to unwind, if Twitter remains above these averages, we believe there is positive momentum behind the company and it should continue its upward trajectory.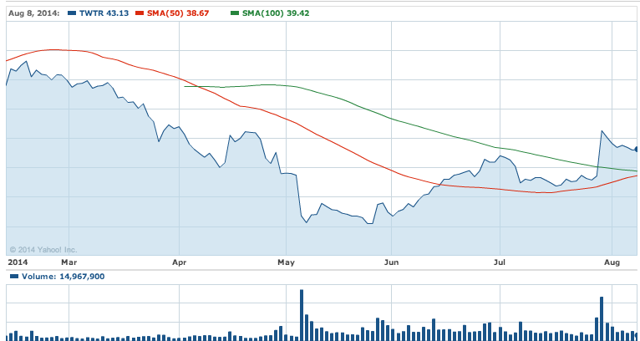 The growth metrics for Twitter remain in tact after this earnings call: MAUs are continuing to grow, ad revenue is growing very fast, Twitter's new products have helped engagement, and the company appears to be finding a right balance of ad load to not detract from the user experience. Although Twitter is still valued very high, we believe another pullback into the $38-39 dollar range would provide us another opportunity to re-up some shares.
Disclosure: The author is long TWTR. The author wrote this article themselves, and it expresses their own opinions. The author is not receiving compensation for it (other than from Seeking Alpha). The author has no business relationship with any company whose stock is mentioned in this article.