By Sheena Lee
Best Buy (NYSE:BBY) has suffered a slew of analyst downgrades after badly missing analyst earnings forecasts, and is seeing weaker demand for its electronics products next year as consumers opt for other channels to purchase their laptops, phones and tech gadgets.
[see earnings call transcript]
Of 17 sell-side and independent analysts who have changed or reiterated their price targets since Best Buy announced earnings earlier this week, 15 have lowered their targets and two have maintained them. Seven have a positive rating and 10 are neutral. The median price target has dropped to $41 from $48 and the mean from to $40.91 from $46.50. Best Buy closed Friday at $34.27.
Current 12-month price targets of selected sell-side and independent analysts. Click image to enlarge.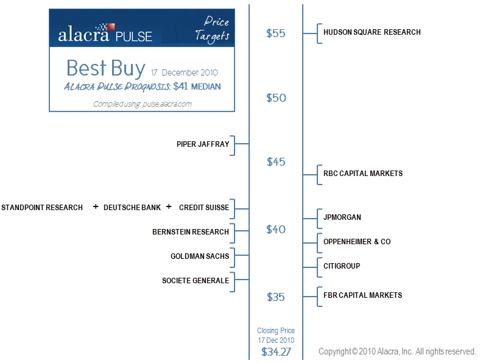 Click to enlarge
Wedbush Securities analyst Michael Pachter maintained his Neutral rating, but lowered his price target on Best Buy to $37.50 from $42 after the firm announced that it will be lowering its 2011 EPS guidance. Pachter said the age group of Best Buy customers is aging and not buying frequently enough. He suggested that the company should acquire video game retailer GameStop (NYSE:GME), which generates hundreds of million in cash every year.
Citigroup analyst Kate McShane cut Best Buy's price target to $37 from $45 to $37, and reiterated a Hold rating on the electronics retailer. Citi also lowered its 2011 EPS estimate for the firm from $3.56 to $3.20, and cut its 2012 EPS estimate from $4.04 to $3.75. Piper Jaffray's Mitchell Kaiser reduced the firm's price target to $46 from $52.
". . . it appears that BBY ended up pulling the short side of the wishbone with a large sales miss, " wrote JPMorgan analyst Chris Horvers, who cut his target to the new median of $41 from $45, while keeping his Neutral rating.
Oppenheimer analyst Brian Nagel pushed the company down a notch to Perform from Outperform, and lowered his price target to $39 from $53. Raymond James Financial analysts said it will be difficult for Best Buy to quickly turn around its market share loss and revised its rating down to Market Perform from Strong Buy.
"Best Buy isn't a must-visit for us, anymore. If we want specific items — a new phone, a tablet, ereader — we go directly to the source: an Apple (NASDAQ:AAPL) store for a MacBook, an AT&T (NYSE:T) store for most phones, or Amazon (NASDAQ:AMZN) for the Kindle. While Best Buy did say their sales of newer gadgets like smartphones and tablets were doing well, it was weak television and laptop sales that actually brought their figures down," said Fortune's tech reporter JP Mangalindan.
Sanford C. Bernstein analyst Colin McGranahan, who lowered his Best Buy price target to $40 from $48, attributes the loss to a shift towards online sales in consumer electronics.
FBR Capital Markets analyst Stephen Chick thinks slower sales may be a general weakness in the demand for some electronics. "We think that that the (consumer electronics) category in general will be soft this holiday, excluding Apple and excluding mobile (smartphones), and BBY results echo this view," said Chick, who cut his Best Buy target to a low $35 from $38, with a Market Perform rating.
However, Hudson Square Research, whose research is based on weekly surveys of retail channels, was more optimistic than other analysts. The company reiterated its high $55 target and Buy rating. "Ultimately, we believe the single most important question for investors is can Best Buy again demonstrate its resilience-we believe it can," wrote analyst Scott Tilghman.
(Source: StreetInsider, Proactive Investors, Smart Trend, The Street, Benzinga, Fortune, Barrons, Wall Street Journal, StreetInsider)