On Thursday, shares of networking giant Cisco Systems (NASDAQ:CSCO) pulled back a bit after the company's quarterly earnings report. While the company beat on both the top and bottom line, guidance was a bit mixed to some. The company also announced another round of job cuts, something I stated might come in my earnings preview article. Today, I'll detail why the post-earnings pullback could provide an opportunity for investors.
Fiscal Q4 results:
On Wednesday afternoon, Cisco reported fiscal fourth quarter earnings. Cisco came in just above $12.35 billion in revenues, down $60 million or about 0.5% from the prior year period. This was a good number, however, as analysts were looking for a 2.2% decline in revenues to $12.14 billion. As I detailed in my preview article, the company had guided to a 1% to 3% decline in quarterly revenues, so Cisco came in ahead of its own forecast. This quarter finished off a bad fiscal year in terms of revenues, down 3%, but trends are heading in the right direction currently.
On the bottom line, Cisco came in at $0.55 of non-GAAP earnings per share, which ended up two cents ahead of analyst estimates. As you can see in the table below, Cisco beat by an average of two cents per share per quarter in this fiscal year. Analyst estimates were at the top end of Cisco's $0.51 to $0.53 non-GAAP EPS guidance range for fiscal Q4.

(Source: Yahoo! Finance estimates page)
Overall, this was a solid quarter. Revenues and earnings came in ahead of analyst and company expectations. Additionally, gross margin dollars increased by $58 million despite the decline in revenues. During the quarter, Cisco repurchased approximately 61 million shares of common stock for a total of $1.5 billion dollars and paid a quarterly dividend of $0.19 per share. For the fiscal year, the company returned a record $13.3 billion to shareholders between the dividend and the buyback.
Fiscal Q1 guidance:
When looking at quarterly guidance, the headline items appear to be a bit mixed. Cisco guided revenues in fiscal Q1 to be flat to up 1% over the prior year period. Analysts were looking for revenues to be exactly flat, so this guidance is basically in line to ahead of estimates. In terms of non-GAAP EPS, the company guided to $0.51 to $0.53, versus expectations of $0.53. The company also announced it would be cutting 6,000 more jobs, about 8% of the workforce. This will result in a $0.14 to $0.18 GAAP EPS charge in Q1.
Overall, I think this guidance is more positive than it seems. It all starts at the top, and after a bad fiscal year where revenues declined by about 3%, Cisco seems to be getting back on track. The turnaround seems to be progressing a little faster than expected. As I said in my preview article, I thought Cisco needed to guide to positive revenue growth in Q1, and the company essentially did. On the earnings per share front, the company has been known for guiding conservatively, and has beaten by an average of two cents per quarter in the last four. It would not surprise me if the company beats again when it reports in November. Additionally, the job cuts should lead to some nice savings over the long run.
More yield:
When stock prices decline, as Cisco's did on Thursday, it means that the dividend yield rises. Recently, I discussed how Cisco had become the new dividend leader in terms of US large cap technology. In the chart below, I've compared Cisco's dividend yield against those of fellow giants Apple (NASDAQ:AAPL), Intel (NASDAQ:INTC), and Microsoft (NASDAQ:MSFT), as of Thursday's close.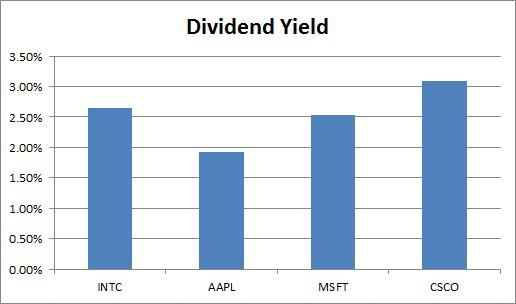 Cisco had an annual dividend yield of 3.10% as of Thursday's close. That yield was 45 basis points higher than second place Intel. Microsoft trails Cisco by about 57 basis points at this point, but Microsoft is expected to raise its dividend next month. For the moment, Apple is well behind, but Apple has the most powerful buyback of all these names.
The dividend angle is important here, and not just because Cisco has a rather large lead over its large cap tech peers. In recent times, the US bond market has been rallying. The 30-Year US Treasury yield is down to about 3.20%. That means that Cisco's dividend yield is only 10 basis points behind the 30-Year yield. When 2014 started, Cisco's dividend yield was more than 90 points behind. In the next couple of years, I think that a fair amount of investors would think Cisco will return more than a 30-Year would, especially if interest rates do rise like many think they will.
Where things stand now:
Looking at these four names, which would you rather own if you could only have one in your portfolio? That might depend on what kind of investor you are and what you are looking for. In the table below, I've provided some key comparisons in terms of growth expectations and valuations. For Cisco, the EPS growth and P/E numbers are non-GAAP, while the other three names are GAAP.

Even if you convert Cisco's forward looking P/E to GAAP, the valuation is still the lowest if you exclude items like one-time restructuring charges. Even at say 13 times its fiscal year earnings, Cisco seems like a decent value when you consider its leading dividend yield. Would I rather own Apple than Cisco if I could only own one? Sure. But for investors that can have more than one, there should be a spot for Cisco. At worst, you are getting the most income out of these four names. Cisco doesn't provide the most expected growth, but things are looking better than they were a few months ago and the valuation is not crazy.
Final thoughts:
Cisco reported a very solid fiscal fourth quarter, beating nicely on both the top and bottom line. While guidance was a bit mixed, I think the above estimate revenue number was key. I'm not worried about the light EPS guidance as the company is usually conservative and has been known to beat. With the pullback in shares, Cisco's dividend yield is up to 3.10%, a bit ahead of other large cap tech peers. While Cisco does not provide the most expected growth, its valuation is rather fair when you include this name's income potential. I do believe that the recent pullback may provide an opportunity for investors to get long this name.
Disclosure: The author has no positions in any stocks mentioned, and no plans to initiate any positions within the next 72 hours. The author wrote this article themselves, and it expresses their own opinions. The author is not receiving compensation for it (other than from Seeking Alpha). The author has no business relationship with any company whose stock is mentioned in this article.
Additional disclosure: Investors are always reminded that before making any investment, you should do your own proper due diligence on any name directly or indirectly mentioned in this article. Investors should also consider seeking advice from a broker or financial adviser before making any investment decisions. Any material in this article should be considered general information, and not relied on as a formal investment recommendation.