P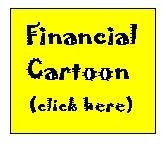 reface: This will be the last CEF Weekly Review of the 2010. Happy Holidays to all! See you next year!
Outlook: Peering into 2011, an investor has to ask one's self: Am I looking into a year that is riskier than last year? (See "financial cartoon".)
Probably Not: Putting exogenous economic events aside, I find myself in the uncomfortable position of being near-term optimistic about 2011's economic and financial markets prospects—sans bonds.
Wind in the Sails: The domestic economy appears to have avoided a double dip recession as the recent slew of economic numbers from the consumers to businesses is encouraging. The Fed has got the "pedal to the metal" with regards to supporting economic growth and the extension of the Bush Tax-Cuts has created a more stable environment for businesses—while providing additional fiscal stimulus to the economy. And, of course, there is this momentary Kumbaya environment vectoring our politicians to a more centralist position.
Price to Pay: Of course there will be a longer-term price to pay for a "throw money at it" economic recovery in terms of potential inflation and interest rates. But we've dodged the bullet for now. The near-term pick-up in economic growth will send stocks higher; particularly, as investors begin to abandon fixed-income after fits and starts.
What Me Worry? Of course the biggest worry for next year will be concentrated in both the speed and rise in interest rates and the Fed's ability to engineer a soft landing with regards to monetary policy. This will be coupled with the rise in government debt and the solutions offered to stem that flow. We're likely on the verge of a radically new tax system that will have to take on some very large and politically important interest: housing, banking, retailing, etc. Don't forget the Euro Zone.
Recommendations: If we're heading into the interim phase of an economic recovery you have to be "long" the market in general and in particular financials and technology. I will be early, but there is a case to make for this investment posture. I would be long SPDR S&P Dividend ETF (NYSEARCA:SDY) as a general market position—hedging my bet with the attractive yield—and XLF for the financial and XLK for technology.
Light Fixed Income: I would reduce exposure to fixed-income and those sectors that would be sensitive to rising rates with no participation in the yield curve spread. This would include a reduced position in fixed-income mutual funds, closed-end funds and ETFs. The long awaited bond market fizzle may finally be near.
Money Flow: Mutual Funds: Long-term mutual funds resumed their outflows for the week ending Wednesday, December 8th after a week's hiatus that was preceded by two weeks of monetary leakage.
Mutual funds recorded a $3.25 billion outflow with the only category experiencing inflow being foreign equity mutual funds with a $1.27 billion inflow. Most notable was the first net outflow of monies for taxable bond funds ($0.4 billion) as investors began to shed corporate and treasuries. This was in addition to investors continuing to bail out of municipal bond funds as net outflows surged to $1.26 billion from the previous week.
This nascent withdrawal of monies from bond funds is likely to develop into a significant shift of investors' funds out of fixed-income into either equities or commodities depending on the course of the economic recovery.
Money Market: Money market funds declined 1.2% by $33.3 billion to $2.8 trillion for the week ending Dec 15th. In the aggregate, taxable government, taxable non-government and tax-exempt funds declined respectively, $8.1 billion (-1.0%), $24.1 billion (-1.5%) and $1.1 billion (-0.3%).
DJIA Money Flow: Money flow was up 0.33% for the week as of Dec 17th and up 6.1% for the month. The Up/Down Ratio was 0.93% and 0.99%, respectively. The biggest money flow was into health care, 2.9%; financials saw an outflow of 0.9% for the week.
CEF Weekly Review: The 13 closed-end fund (CEF) types registered on average an increase of 0.2% for the week ending 12/17/10. The high-low spread was +3.7% versus +4.2% the previous week on an average price increase of 0.2% versus a decline of 2.2%, respectively. On an aggregate, unweighted basis, the weekly average price change for the 500 plus CEFs in the Eqcome database was up 0.7%.
The PowerShares CEF Income Composite (NYSEARCA:PCEF), an ETF that invests in taxable income CEFs, was down 1.7% for the week. The S&P 500 was up 0.3% for the week and up 11.6% YTD. The S&P 500's average daily share volume for the week was 4.5 billion, down 7.9% from the previous week of 4.8 billion shares—despite the fact it was options expirations on Friday.
(Click here for YTD CEF Performance. The table is based on a smaller CEF sample size as all the data fields are not available for the CEF universe.)
The Eqcome CEF Fear Index for the week eased. The average price increase was up 0.7% while NAV was down 1.0%. Most of the 13 fund types experienced a decline in their NAVs.
The CBOE Volatility Index (VIX), which typically moves inversely with the stock market—but is mostly a measurement of volatility based on stock options' premiums—continued its slide dropping an additional 7.8% on equity markets that at best could be at best characterized as a "push". The VIX has been on a long slide since late May of this year where it peaked at 45.79. It is now at 16.11 and within striking distance of its yearly low of 15.59 achieved in early April. Much of the VIX lethargy can be attributable to a lack of "put" buying possibly a result of year-end considerations.
CEF Weekly Fund Type Performance: The fund types essentially reversed fields from last week with the debt-oriented funds registering price gains. NatlMuniBndFnds rebounded from last week's 4.2% price decline and advanced 2.3% this week to take the number one slot.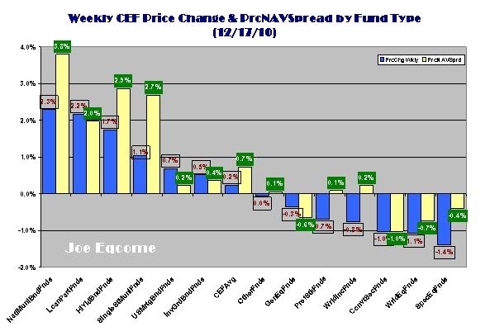 Despite the share price advances of the fixed-income fund types, their NAVs remained flat to down.
Weekly CEF Winners and Losers: One of the CEFs with the greatest positive spreads was PIMCO Municipal Income III (NYSE:PMX). PMX's price advanced 10.0% versus its NAV which declined 0.8%; this generated a positive PrcNAVSprd* of 10.7%. Bill Gross, the co-founder of PIMCO, the manager of PMX, recently purchased $1.6 million of stock in the CEF lending others encouragement. PMX trades at an annualized monthly yield of 7.9% pre-tax and at a 20.5% premium to NAV. (See, "Insider Trading" section below.)
One of the CEFs that experienced the greatest negative PrcNAVSprd was Cornerstone Strategic Value Fund (NYSEMKT:CLM). CLM's price declined 6.8% while its NAV dropped 0.3% generating a negative PrcNAVSprd of 7.0%. CLM just completed a rights offering. (See, "Significant CEF Corporate Events" section below.)
Eqcome CEF Portfolio™: Joe maintains three separate CEF portfolios that have different investment objectives: CEFBig10™, CEFMuni10™ and CEFDisc10™ (see website).
The first is a balanced equity-income portfolio (CEFBig10™), the second a tax-exempt income portfolio (CEFMuni10™) and the third a portfolio whose objective is capital gains with a secondary objective of current income (CEFDisc10™).
Changes: There have been two meaningful changes to the Eqcome CEF Portfolio™ performance chart posted at the website. The first is the employment of adjusted prices to capture the return generated from distributions. The second is the comparison of the CEFBig10 and CEFDisc10 with the adjusted price of the SDPR S&P 500 ETF (NYSEARCA:SPY) and the comparison of the CEFMuni10 with the adjusted price of the iShares S&P National AMT-Free Muni Bonds ETF (NYSEARCA:MUB).
It is believed that these two modifications will provide more comparable return analyses. (See: Performance Chart.)
These portfolios will soon be available to retail investors at a nominal fee to maximize equity-income for retirees and retail investors.
Economic & Earnings Outlook: (Click here for next week's economic calendar; click here for earnings' announcements and estimates.)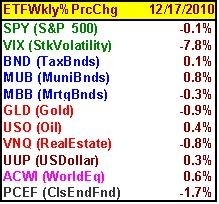 ETFs: For a more detailed EFT performance by sectors, click here.
Insider Trading: There was a burst of insider trading in December fueled by William H. Gross, co-founder of PIMCO, the largest global fixed-income manager. Mr. Gross waded into several of the fixed-income CEFs that are managed by his company. His monthly capital expenditure was approximately $18.6 million in both direct and indirect purchases of shares in ten of these funds. (Click here for the Joe Eqcome's CEF Weekly Insider Report.)
Approximately a third of Mr. Gross's investments were in two of the PIMCO corporate fixed-income funds: PIMCO Corporate Opportunity (NYSE:PTY) and PIMCO Corporate Income (NYSE:PCN), $4 million and $3 million, respectively. Another $3 million in stocks purchased by Mr. Gross was in three of Pimco's California municipal CEFs—a state where he resides.
While a lot of investors are taking some comfort in Mr. Gross's investment in these fixed- income CEFs that his firm manages, one needs to place some perspective on it. Mr. Gross is estimated to possess a net worth of between $1.0 billion to $1.3 billion by Forbes. He is considered around the 400th richest man in America.
The median net worth of all Americans is approximately $120,300 according the Board of Governors of the Federal Reserve System. Now, Mr. Gross's capital expenditure of $18 million for his recent direct and indirect purchases of CEF shares represents approximately 1.4% of his net worth. This would be the equivalent of an average investor purchasing approximately $16,842 in such securities. While in each case the investment is meaningful, neither is a "bet the ranch" investment. (Click here for a hyperlink to the Joe Eqcome's CEF Weekly Insider Report.)
CEF Distribution Announcements This Week: The following is a link to a table of CEF distribution announcements this week as well as the previous week's with yet expired ex-dividend dates. The list is not intended to be inclusive. Investors should pay attention to a number of CEFs making special year-end distributions. (Click here for Joe Eqcome's Weekly CEF Distribution Announcements)
Significant CEF Corporate Events: Cornerstone Strategic Value Fund (CLM) and Cornerstone Total Return Fund (NYSEMKT:CRF) each announced completion of their respective one-for-three rights offering last Friday, December the 10th.
CLM will issue approximately 1.4 million shares out of a potential of 2.4 million (7.1 million outstanding shares divided by 3 rights per one share subscription). The subscription price was $8.24 per share which was 90% of the closing price at the end of last week and at a 10% premium to NAV. (Subscription price was 20% less than CLM had estimated.)
Follow the Pea: On October 25th when CLM announced the record date for its rights offering, CLM's stock was selling at $11.62 per share. If you owned 3 shares your investment holdings would be valued at $34.86.
Let's say you decided to participate in the rights offering and subscribe to one new share. You would now own 4 shares that would have a net investment value of $25.88 (4 x 8.53 (current stock price) = $34.12 – 8.24 (subscription cost on 1 share) = 25.88). Therefore, by participating in the rights offering the net value of your holdings is now down 25.7%. This is in comparison to the 4.8% decline during the same period for the benchmark PowerShares CEF Income Composite (PCEF).
However, the good news is that the advisor will be generating an additional $200,000 in fees as a result of the rights offering. Since none of the board or management owned any material amounts of stock, this is a net plus for them. Unfortunately, it's not good for you.
Don't say you weren't warned, (see, "Why Cornerstone Strategic (CLM) Rights Offering Makes Little Sense for Shareholders" (8/20/10)).
CEF Focus Stock(s) for the Week: Early in the week I published an article entitled "Pressure on Fixed-Income CEFs Opportunities for Equity-Oriented CEFs" (12/15/10). One of its presumptions was that fixed-income CEFs historically have experienced downward pressure in an environment of higher interest rates. This was graphically depicted by a chart of the inverted 10 Year Treasury 3 month moving average versus two of Eqcome's fixed income CEF categories: taxable and tax-exempt.
While we've seen a "pop" in some of the fixed income CEFs this week—particularly in the municipal bond sector from their recent drubbing, it is still a hard case to make for the next 6 to 12 months for this group if in fact interest rates continue to drift upwards next year—which I suspect is their likely course. I caution longer-term investors not to be caught in the "falling knife" syndrome; whereby, you grab the knife too soon and catch the blade as oppose to the handle.
Speaking of being early, as I outlined last week in this section, I continue to favor financials despite this week's poor sector performance. I continue to favor the prospects of John Hancock Bank & Thrift Opportunity Fund (NYSE:BTO) over the next 6 to 12 months. The recently announced acquisition of Marshall & Ilsley, a Milwaukee-based regional bank, by Bank of Montreal may trigger other regional bank acquisitions by larger banks. BTO owns many of the regional banking names and may benefit from the cyclical trend in financial stocks recovery and a secular movement to consolidation of smaller regional banks into larger ones. (So much for the too big to fail thesis)
Caveats: The "CEF Focus Stock(s) for the Week" section includes CEF stocks of interest to me—and possibly other retail investors—and are subject to further analyses. Their inclusion in this section should not be viewed as recommendations based on the analysis provided here alone. Such stocks are basically a "heads-up" of something that might be of interest—or, not.
Joe Eqcome (Owns a diversified portfolio of CEFs and ETFs and is long stocks in the CEFBig10™, CEFMuni10™ and CEFDisc10™ as well as SDY, XLF, XLD and BTO.)
---
[*] All things being equal, price and NAV should move in tandem. A price movement greater than the NAV generates a positive PrcNAVSprd and may be interpreted as negative on a near-term basis and indicate that the stock is overvalued relative to its NAV which in theory is the stock's intrinsic value. The opposite would be true for a negative PrcNAVSprd.
---
Disclosure: I am long SDY, XLF, XLK. I own a diversified portfolio of CEFs and ETFs and am long stocks in the CEFBig10™, CEFMuni10™ and CEFDisc10™ and BTO