Weibo's (NASDAQ:WB) 2Q14 came in within my expectations in that the company reported robust revenue growth but also showed sequential erosion in operating metrics. While revenue of $77.3m beat consensus by $1.4m and non-GAAP EPS of -$0.03 was in-line, the -180bps sequential erosion in engagement level reflected the uphill battle WB faces under an increasing competitive landscape. The in-line revenue guidance could give some comfort that market expectation is achievable, but the deterioration of operating metrics remains a key concern of the stock. Without the much-needed stabilization of operating metrics, long-term revenue growth could be at risk. Reiterate my bearish view on the stock.
No end in sight
WB once again masked its deteriorating operating metrics with robust financial growth profile. The headline net revenue growth of +105%m y/y to $77.3m was mainly due to lower base from the prior period. Moreover, advertising revenue of $59.6m (+99% y/y) lagged that of the VAS in growth metrics (+131% y/y), which suggests that advertising may not drive the WB's future revenue growth. This is in particularly concerning in that the market heavily expects WB to be a strong social media and mobile ad platform.
As the readers of my research would know, advertising budget moves in tandem with user engagement, we could see WB's decelerating growth profile as long as the user engagement metric remains weak. In this quarter, WB once again disappointed with daily active users growing only at +32% y/y while monthly active users growing at +30% y/y.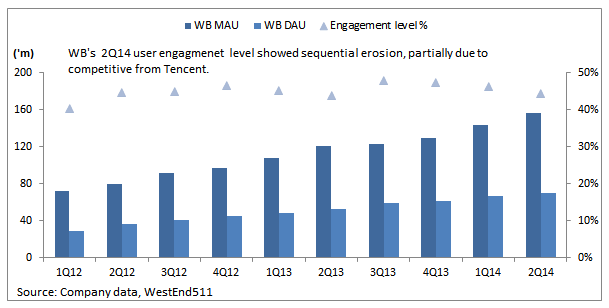 User engagement declined 180bps q/q to 44.5%, which is unusual and concerning in that it indicates that WB has not benefited from the impact of World Cup. My sense is that the market expected Q2 engagement to see a rebound from Q1 as users increase their activities on the platform by broadcasting their tweets when watching the games, but the weakness in engagement suggests that such activities have shifted to a competing platform (most likely Tencent's Wechat).
In conclusion, WB's Q2 result reflected the increased competitive pressure from WeChat as seen in the ongoing trend of disappointing user metrics. While revenue continues to indicate near-term momentum, it is worth noting that the y/y growth may not be meaningful due to lower comp. Future revenue growth, in particular advertising, is likely to continue to see sharp deceleration y/y, in tandem with its diminishing user engagement level. At 17x forward P/S, WB is rich by any metric and I remain the seller of the stock. For those who wants to invest in the social networking space, my preferred picks are Tencent, Facebook (NASDAQ:FB), LinkedIn (NYSE:LNKD) and NAVER.
Disclosure: The author has no positions in any stocks mentioned, and no plans to initiate any positions within the next 72 hours. The author wrote this article themselves, and it expresses their own opinions. The author is not receiving compensation for it (other than from Seeking Alpha). The author has no business relationship with any company whose stock is mentioned in this article.