Since 2010 every two years summer audiences have been treated to one last action blast of the summer in the form of The Expendables. It's a simple formula…throw together a ton of big name stars, lots of explosions and a thin plot of some sort and you get a franchise that makes hundreds of million dollars worldwide. For Lionsgate (LGF) that winning combination is coming back this weekend for a third round and it couldn't come at a better time for the company.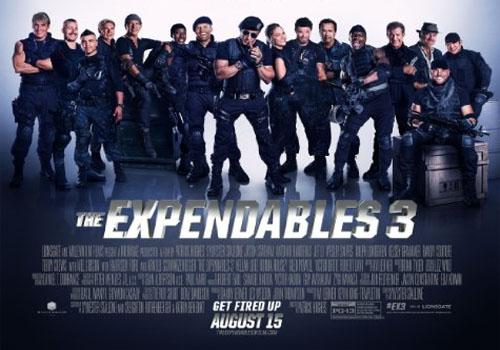 (Credit: Lionsgate)
Lionsgate has always been a micro-studio but one that releases major films and currently has two of the world's biggest franchises on its roster including The Hunger Games and Divergent. Yet it also has a third franchise that may not get the same massive attention of the other two or climb as high at the box office, but it gets the job done.
The Expendables franchise sprung from an idea by Sylvester Stallone. The Rambo star assembled his own dream team of action stars including Arnold Schwarzenegger, Jason Statham (and at the time Bruce Willis) for a project that was the definition of a summer popcorn film. With $103 million domestically and $268 million globally the film made for $82 million was a hit and of course spawned a sequel.
While Expendables 2 made less money domestically, it earned more overseas and that brings us to today. The concept of the franchise lends itself well to today's market. Adding everyone from Chuck Norris to Harrison Ford to the mix is a good way to tap a variety of fan bases and through international stars like Jet Li and female athletes like Rhonda Rousey, Stallone keeps adding more demographics to the pool of potential customers.
Investor's Analysis
The Expendables franchise was a genius idea and even if the movie follows the previous path and opens lower than the original film (as some are expecting), it's still a win for Lionsgate. Right now the project is coming at a beneficial time as the drawing power of new hit franchise Divergent has just about wrapped for the time being and aside from the Shailene Woodley starrer, the studio has not released a single hit all year.
I, Frankenstein, Tyler Perry's The Single Mom's Club, Draft Day, The Quiet Ones and last week's Step Up: All In all bombed, though honestly with the exception of Frankenstein, none of the movies really cost that much to begin with so it wasn't that hard to re-coup production costs. Still, executives don't make movies with the intention of them just breaking even.
One solution to that is following the big rage in Hollywood right now which is launching and nurturing franchises. While Expendables has been a valuable franchise in and of itself, it is currently showing signs of declining and a new franchise is preparing to rise. Expected to debut in 2015, The Expendabelles would be the all-female equivalent of the series and an interesting twist to the genre that could make its studio and its investors a lot more money. While even Stallone admits he's not entirely sure how the project will ultimately come together, it's clear he believes in it and is ready to have fun assembling a new team.
For now though Expendables 3 not only reunites the majority of the gang Stallone originally constructed years ago but it also adds in newcomers Wesley Snipes, Mel Gibson and Ford. For Snipes and Gibson it marks their return to the genre that made them names in the first place. Many analysts are watching this movie solely to see how moviegoers respond to the pair's big screen returns. Snipes just finished a jail term for tax evasion and Gibson's struggles are now legendary, but Hollywood loves a good comeback story and this one has some major players involved.
While investors would like to see a hit here, stockholders have remained calm because they've seen the stock continually rise this year in part due to Lionsgate's overall cross-industry success. Remember that in addition to movies, the company has a thriving TV division that is responsible for a number of hit series you may not realize.
Lionsgate has ties to over 30 shows on 20 networks including Mad Men, Orange is the New Black and Nashville which helps offset under-performing projects on the film side and at the same time gives the company a broader overall portfolio. This is in addition to a home entertainment division that has distribution partnerships with Miramax and A&E.
Regardless, films are still what Lionsgate is known for and the studio also has one of the fall's most anticipated flicks on its roster with The Hunger Games: Mockingjay - Part 1, the first of the final two Hunger Games movies based on the last book in the series. Paired with Divergent and Expendables 3 that gives the studio a powerful tri-fecta that should help it end the year on a high note and keep its stock price headed in the right direction well into 2015.
Disclosure: The author has no positions in any stocks mentioned, and no plans to initiate any positions within the next 72 hours. The author wrote this article themselves, and it expresses their own opinions. The author is not receiving compensation for it (other than from Seeking Alpha). The author has no business relationship with any company whose stock is mentioned in this article.