Why I'm Bullish
Terex Corp. (TEX) operates as a lifting and material handling solutions company. It has several business segments: aerial work platforms, construction, cranes, materials processing, and financing solutions.
Terex provided mid-point of 2014E EPS guidance of $2.65/share in its most recent investor presentation. Using 2014 as a base, we believe that there could be additional cost savings of about $0.40/share in 2015 as operational synergies kick in and the company matures. Terex is still very small (market cap of $4 billion) relative to larger competitors like Caterpillar (NYSE:CAT) (market cap of $66 billion).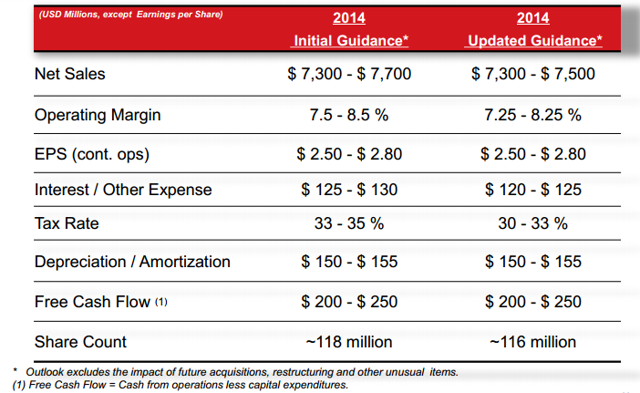 Source: Terex company presentation.
If we assume a base case with no revenue growth, but including the cost savings, we arrive at 2015E EPS of $3.05/share. By applying a 13x P/E multiple on the EPS target of $3.05, we arrive at a value of $40/share.
Consensus case EPS, however, is $3.47/share which implies a target price of $45/share.
Morgan Stanley recently issued a report with a base case target price of $51/share, which assumes the company is able to achieve more than just cost savings, or even the consensus $3.47/share. In this case, upside will be driven by management's ability to deliver growth in the "self-help" end of their business.
Barron's has a target price of $46/share based on increasing crane demand, port automation, and operating efficiencies.
Meeting with CEO
Last week Morgan Stanley met with Terex CEO Ron DeFeo at the company's headquarters. According to a report issued by Morgan Stanley, key takeaways from the meeting and most important points for investors include:
A belief that TEX will likely hit the mid-point of its 2014E guidance ($2.50-$2.80).
2015E consensus EPS estimates are likely achievable as well ($3.47).
In order to see the price move above $50/share, there will have to be market growth and superior execution of initiatives.
There could be an opportunity for share buybacks to boost EPS by $0.10 in 2015.
Port Business Ramping Up
A big driver behind our growth expectations for the next twelve months is Terex's port business. According to a recent article published by Barron's, TEX has positioned itself well with automated equipment that will be in high demand in the Panama Canal, which is building a major capacity increase over the next two years. Once the upgrade is complete the port will accommodate much larger ships which require automated machinery to unload them. Terex estimates there will be 50 automated ports in ten years versus 10 automated ports currently in existence.
Conclusion & Risks
Based on our analysis we have a target price of $45/share which is based on 13x 2015E EPS of $3.45/share. This assumes cost savings of $0.40/share and growth across the business of $0.40/share.
Our confidence is further strengthened by Morgan Stanley rating Terex a "best idea" stock. Its base case target price is $51/share (2016E EPS of $4.50) and bull case is $61/share. Barron's target is $46/share and sees significant growth to the port business.
Key risks to these target prices include management's ability to deliver on their forecast and negative surprises on construction data.
We see a price of between $45-$60/share as a reasonable range for our 12 month target and believe TEX should continue to take market share from CAT... so why not serve yourself some Terex!
Disclosure: The author has no positions in any stocks mentioned, and no plans to initiate any positions within the next 72 hours. The author wrote this article themselves, and it expresses their own opinions. The author is not receiving compensation for it (other than from Seeking Alpha). The author has no business relationship with any company whose stock is mentioned in this article.