Coach, Inc. (NYSE:COH), a company who used to be one of the leading fashion accessories brands in the world, has been going through hard times since 2012. During the last couple of years this American manufacturer of leather goods has been constantly losing market share to its biggest rivals Michael Kors Holdings Ltd (NYSE:KORS) and Kate Spade (NYSE:KATE). The start of 2014 was no less than a bad omen for Coach. Since the very beginning of the year to present day the stock has witnessed a drop of about 40% in its price and is continuously hitting 52- week lows since early May 2014.
With declining revenues, shrinking profit margins, and falling earnings the company has failed to satisfy its investors for many years. Its deteriorating financial performance over time has been reflected in the share price as well.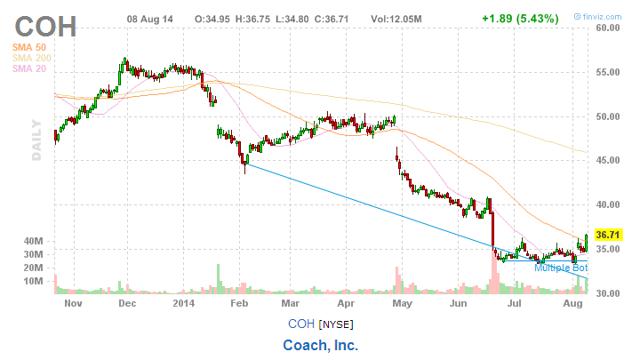 Source: Finviz
Coach has been a hot topic among investors as they have had absolutely no clue where the company is going. Investors were quite disappointed with the company's performance but some events and steps recently taken by Coach finally seem to be going in the right direction. Let's have a look at some of the factors which calmed down the investors and satisfied them to some extent.
Recent Performance: Unimpressive But Not too Bad
On Tuesday, August 5th 2014 Coach announced its fourth quarter results. The company's total net sales fell from $1.22 billion in the fourth quarter of 2013 to $1.14 billion this quarter. This reflects a decrease of nearly 7%. This translated into earnings of $0.59 per share compared to $0.89 in the fourth quarter of the previous year. In fact, the total earnings for the full fiscal year ending in June 2014 dropped from $1.03 billion a year ago to $781 million reflecting a fall of approximately 24%.
Cash flow from operations (CFO) decreased from $375 million to $316 million and the free cash flow (FCF) dropped from $293 million to $254 million when compared to the figures reported in the fourth quarter of last year.
The results don't sound very appealing but immediately following this announcement Coach's share prices actually increased by more than 4%. What made the price appreciate? Well, the company was successful in beating analysts' expectations. It's EPS of $0.59 and net sales of $1.14 billion surpassed the experts' estimates of $0.53 and $1.09 billion respectively. This was great news to the disappointed investors and caused the stock price to boost. In fact this quarter's results showed an improvement when compared to the previous quarters of 2014.
Performance In North America: The drop of 7% in total sales in the recent quarter was mainly driven by the weak performance in North America. This poor performance caused the sales to drop from $825 million last year to $691 million this year reflecting a decrease of 16%. This poor performance was explained by the company's management as the result of their failure to continuously innovate compared to their strongest competitors Michael Kors Holdings Ltd and Kate Spade. The company has been losing its share in the market. According to CEO Victor Luis, Coach has a combined share of about 23% in the $12 billion North American premium market. Moreover, the market had been experiencing weak consumer sentiments too.
Furthermore, in order to increase its sales volumes in North America the company opened special discount outlets so that it could revive its lost position. But this discounting scheme has in fact damaged Coach's brand image and resulted in significant losses.
International Performance: The poor performance in North America was partially offset by some improvement in the international markets. The international division represents about one third of Coach's business. The overall international sales flew from $388 million to $414 million when compared to last year's fourth quarter figures reflecting an increase of 7%. This increase was primarily because of weaker yen on a year to year basis.
Chinese consumers represent about 25% of the total luxury purchases around the globe. Sales in China reached $545 million this quarter and witnessed an increase of nearly 20% when compared to last year's fourth quarter. The company is expecting the sales in China to rise by 10% in the year ending June 2015 as it opens more outlets in the country.
Sales Performance In Men's Business Segment: Coach's biggest rival, Micheal Kors, has been gobbling up market share in the women's business which was core to Coach's operations and tried to attack the men's market as well. However, Coach proved that this segment is firmly in its grasp. The company's sales increased to about $700 million globally which is a tremendous achievement!
Coach On the Road To Repairing It's Brand:
The company is taking many steps towards restoring its lost image. These steps will eventually result in improved performance. Victor Lius, Chief Executive Officer of Coach said:
"As a company, this team has an amazing track record of transformation, business success and driving shareholder value, and our management team has clearly understood and embraced the need for change, the need to innovate, and to evolve in what is a rapidly changing market. Our plan is bold, and I certainly could not be prouder of the steps we have already taken in bringing Coach, the creative talent to innovate and to bring excitement and resonance to our brand across all the consumer touch points we have been sharing with you."
The steps being taken by the management are helping the stock price to rise as investors are becoming more relaxed. The company's reset plan includes:
The Closure Of Underperforming Stores: Coach intends to close at least 70 underperforming stores in North America as they are only increasing the total costs rather than contributing towards revenues. Moreover, the company is also planning to open new outlets in North America with some variety and innovation.
Advertisement Campaigns: Coach will be starting new advertisement campaigns in September 2014. The company has hired Steven Meisel who is one of the most well-known and successful photographers in the world as its new photographer. The company has also replaced its previous models with upcoming new models. This campaign is expected to produce positive results.
New Collections: Coach has recently introduced new fall/winter collection for 2014 which has been praised by many fashion critics in the industry. Perhaps this will help the company to regain its lost position.
Management's Commitment:
Coach's Chief Financial Officer, Jane Hemilton Nielson said:
"We feel strongly about our ability to continue to support our dividend. We are committed to our dividend, and as we said, as our transformation takes hold, we would expect to grow our dividend with our net income growth, and that's our long-term outlook."
This shows the company's commitment to its shareholders which in turn gave confidence to the investors and helped the stock to appreciate.
Takeover Rumors:
Rumors have started swirling that a French luxury brand company named Kering is considering taking over corporation Coach with a bid of $48 for each of its shares. Though the news is not confirmed this definitely means that somebody in the market is hinting that Coach is a good investment! This rumor has caused the prices to rise by 5% immediately.
Coach's Valuation:
Based on a forward P/E of 18.6251 and the current EPS of 2.7911, Coach's fair value seems to be $51.98 which is quite high compared to the current price of $36.36. This shows that the stock is currently undervalued and presents itself as a good opportunity for investors to buy right now. The stock will move towards its fair price as the company starts restoring its position in the market.
Disclosure: The author has no positions in any stocks mentioned, and no plans to initiate any positions within the next 72 hours.
Business relationship disclosure: The article has been written by a Gemstone Equity Research research analyst. Gemstone Equity Research is not receiving compensation for it (other than from Seeking Alpha). Gemstone Equity Research has no business relationship with any company whose stock is mentioned in this article.