Sprouts Farmers Market, Inc. (NASDAQ:SFM) first started trading on August 1st, 2013 with shares initially priced at $18. The company ended up closing the day at $40.11, making for a stellar 123% pop (or, more accurately, explosion). Fast forward a year and two weeks, and where are we? Well, for those who got in around the $40 mark, in the red by about 25%. The company, along with its health-oriented grocery store peer Whole Foods Market, Inc. (NASDAQ:WFM), have had a rough year. Sprouts and Whole Foods are down 20% and 33% year to date, respectively, while the SPDR S&P Retail ETF (NYSEARCA:XRT) is down about 3% YTD.
Valuation
First off we want to take a look at Sprouts' valuation. The company is down about 39% from its 52 week high, making it appear much more attractive from a value perspective, though compared to its peers (Whole Foods and The Kroger Co. (NYSE:KR)), Sprouts still trades at a significant premium.
| | | | |
| --- | --- | --- | --- |
|   | SFM | WFM | KR |
| Market Cap. ($) | 4.5 billion | 13.7 billion | 24.35 billion |
| P/E (trailing) | 64.94 | 25.27 | 17.18 |
| P/E (forward) | 34.53 | 22.19 | 13.74 |
| PEG | 1.76 | 1.98 | 1.49 |
| P/S | 1.68 | 1.00 | 0.24 |
| P/B | 7.42 | 3.65 | 5.10 |
| EV/EBITDA | 20.98 | 10.10 | 7.73 |
| Operating Margin (%) | 6.55 | 6.71 | 2.78 |
| Profit Margin (%) | 3.13 | 4.11 | 1.52 |
| ROE (%) | 22.87 | 15.06 | 33.23 |
Trading at 34.53 times forward earnings, there are certainly high expectations priced into the stock. Investors want to see strong growth; but Sprouts' recent financial performance has shown that, while the company is still growing, the rate may be much too low to justify its current valuation.
Financial Performance
Though Sprouts hasn't been a public company for very long, we can still review the company's financial performance over the five quarters that Sprouts has reported to see if we can establish any patterns.
Firstly we'll take a look at year over year same-store sales growth.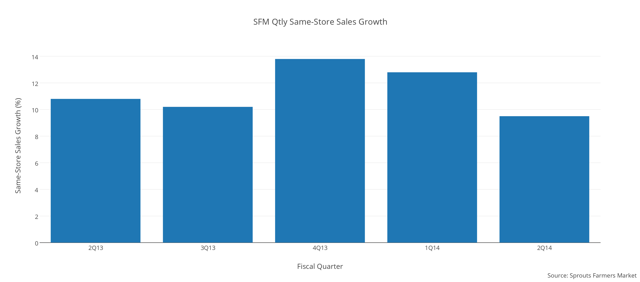 Same-store sales have been pretty strong, with management guiding third quarter SSS between 8.5 and 9.5%. This compares favorably to Whole Foods, which announced 3.9% same-store sales growth in the latest quarter, and has guided to 2.5 to 3.5% for the current quarter. While Sprouts has demonstrated stronger growth than Whole Foods, you must still keep in mind that Whole Foods trades at much more grounded valuation metrics than does Sprouts.
Next we'll take a look at the company's top and bottom line.
(click to enlarge)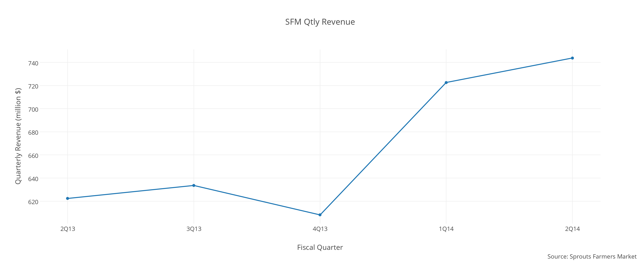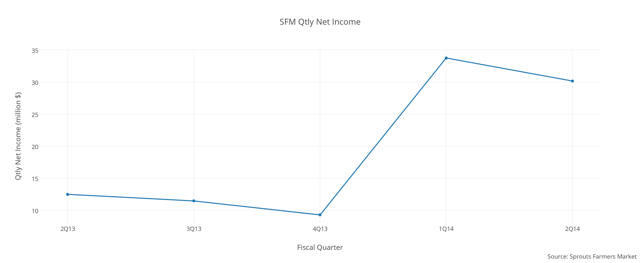 Sprouts has shown strong revenue and net income growth since going public, with the company's second quarter revenue and net income coming in 20% and 142% higher, respectively, compared to the second quarter 2013.
As far as gross margins go, they've largely remained flat over the past five quarters, hovering around 30%. For reference, Whole Foods is around 35-36%, and Kroger is at ~21%.
Take the above information for what it's worth, but in my opinion Sprouts' valuation is still difficult to justify at current levels. But that's where expansion comes in, to fill in the gaps between a steep valuation and relatively tepid financial results.
(click to enlarge)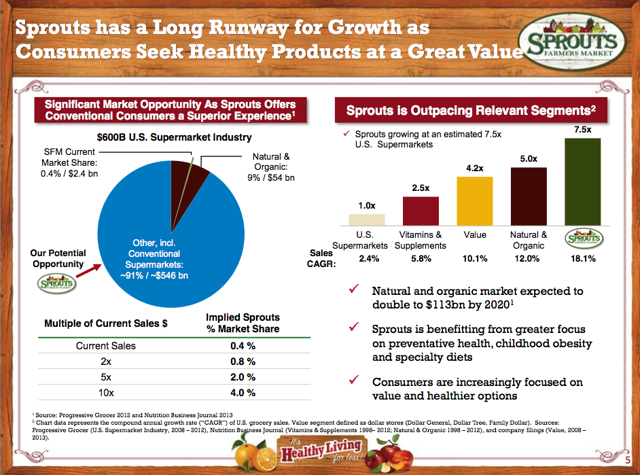 (Sprouts Farmers Market)
As of May 2014, Sprouts held 0.4% market share of the total U.S. supermarket industry. Of the natural and organic segment of the supermarket industry, Sprouts holds 4.4% market share. There is obviously much room for Sprouts to grab more market share, which should be helped by the company's expansion plans. Currently the company has 182 stores in 10 states, with 15 of those stores being opened this year; another 9 stores are planned to be opened by year end.
(click to enlarge)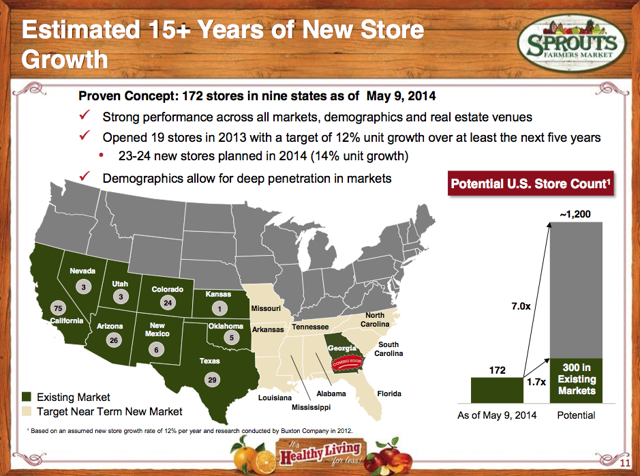 (Sprouts Farmers Market)
Compared to some of its competitors, Sprouts has hardly scratched the surface of the enormous supermarket industry. In the above slide, the company states that the potential U.S. store count could eventually reach 1200 stores, which might seem a bit optimistic to many; but even if the company only reaches half of that target, that would make for a three-fold increase in U.S. stores.
Overall
While Sprouts' valuation is considerably higher than its peers, namely Whole Foods, the company still is growing at a solid rate. Is that rate high enough to justify such high sales and earnings multiples? To some of you it may, especially when considering the vast potential of the natural and organic foods market, which the company expects to increase from $54 to $114 billion by 2020, making for a 13% compound average growth rate. The potential market growth coupled with the stock's poor performance may present an excellent entry point for those who want to gain exposure to the increasingly competitive supermarket space.
Disclosure: The author has no positions in any stocks mentioned, and no plans to initiate any positions within the next 72 hours. The author wrote this article themselves, and it expresses their own opinions. The author is not receiving compensation for it (other than from Seeking Alpha). The author has no business relationship with any company whose stock is mentioned in this article.