As tens of millions of newly insured individuals enter the U.S. healthcare system under the Affordable Care Act, or ACA, primary care providers will be on the front lines facing a rapidly aging demographic of baby boomers at risk for cancer, cardiovascular diseases and other chronic conditions. Between 2010 and 2020, the proportion of the total U.S. population aged 60 years and older is expected to increase from 40 to 55 million.
Furthermore, a burgeoning cohort of overweight youths and adults, mired in poor nutritional practices and unhealthy lifestyles, present a ticking time bomb for chronic disease. According to the Centers for Disease Control and Prevention and the American Medical Association, 39% of the U.S. adult population and 17% of American youths are obese. The outlook is for steadily climbing incidence of obesity-related conditions including heart disease, stroke, type 2 diabetes and certain types of cancer--some of the leading causes of potentially preventable death.
The confluence of these macro public health trends and the goal of making the U.S. healthcare system more cost-effective can create opportunities for companies offering innovative, easy-to-deploy, and affordable healthcare solutions--and potentially reward investors who correctly identify the emerging winners.
Healthcare Spending
According to Centers for Medicare and Medicaid Services, or CMS, U.S. healthcare spending reached $2.8 trillion, or $8,915 per capita, in 2012. The United States spends twice as much on healthcare per capita than other advanced nations, representing 17% of U.S. GDP. If costs continue to rise at current rates, this spending is projected to reach 20% of GDP by 2020.
Who spends the money? The biggest contributors are the private health insurance industry at 33%, followed by households at 28%, and Medicare and Medicaid, accounting for 20% and 15%, respectively.
When healthcare costs go up, it doesn't just mean that households and government spend more money on healthcare. It means they have less money to spend on everything else.
The health insurance companies are keenly concerned about cost management for a different reason--because they have shareholders to answer to. The investor community most closely measures them on their "net cost ratio"--the difference between premiums and benefits paid out as a share of premiums--which industrywide was 12% in 2012. Five of the top six insurers are publicly traded, including: UnitedHealth Group (NYSE:UNH), Wellpoint (WLP), Aetna (NYSE:AET), Cigna (NYSE:CI), and Humana (NYSE:HUM). These firms insured nearly 110 million American enrolled in individual and corporate plans in 2012, a number that has been eclipsed since the ACA went into effect in 2014. Member-owned Health Care Service Company, better known as BlueCross/BlueShield, rounds out the top five.
Company

Million Subscribers 2012

UnitedHealth

WellPoint, Inc.

36.5

31.3

Aetna, Inc.

18.2

Health Care Service Corp.

13.0

Cigna Corporation

Humana

12.5

8.9
Preventive Medicine Initiative
The Centers for Disease Control and Prevention estimates more than 75% of healthcare costs are due to chronic conditions. Building a state-of-the-art primary care system is critical to achieving better healthcare; better value for the dollars spent, and expanded access for the tens of millions of Americans who will gain insurance coverage over the next few years.
With this in mind, a key initiative under the ACA is to re-focus the U.S. healthcare system away from a historical treatment focus to a preventive focus through promotion of healthy lifestyles and the early detection and treatment of chronic diseases. For example, the American Cancer Society advocates preventive screening as the best way to detect cancer, early on, before symptoms appear, usually resulting in less extensive treatment and better outcomes, and, ultimately, improving long-term healthcare costs.
To this end, the ACA mandates the widespread introduction of early, preventive tests for early disease detection. To stimulate adoption, a wide range of these tests will no longer be subject to a patient's deductible or co-pay; others may be available at little or no cost. This change provides important incentive for patients to have tests performed and illnesses, ultimately, detected.
Everyone benefits, but insurance companies serving the Medicare community - the more elderly segment of the population most at risk for chronic disease and which spends the most on healthcare - have perhaps the most to gain by a sustained long-term push on preventive health. Centene, for example, a health plan with 2.5 million members in 18 states, recently started paying enrollees when they seek preventive services. More than 400,000 people have enrolled in its "CentAccount" program, which paid $7.8 million last year. The goal is to avoid expensive ER visits and catch problems early before complications set in - and by doing so, reduce costs.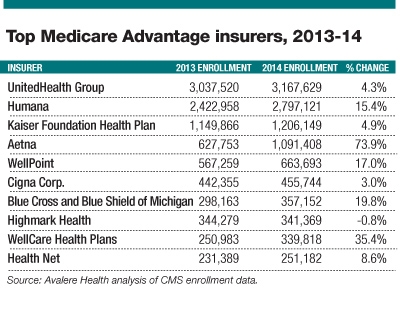 Enrollment in private Medicare, or Medicare Advantage plans, is booming - and benefiting the nation's large insurers most. Currently, there are nearly 15.9 million seniors enrolled in Advantage plans, compared with 11.4 million in 2010, an increase of almost 40%. UnitedHealth and Humana are the largest players in this segment, roughly 6 million customers combined at the close of open enrollment for 2014. More than 80% of Medicare beneficiaries around the country had access to a Humana Medicare plan, while nearly 70% had access to a UnitedHealth plan, according to the Kaiser Family Foundation. Aetna, Cigna and WellPoint combined have more than 2 million additional Advantage enrollees.
Millennium Healthcare, Building A New Business and Channel for Preventive Diagnostic Testing
One company poised to capitalize on the new opportunities in preventive healthcare is micro-cap Millennium Healthcare, Inc. (OTCPK:MHCC).
In its initial six years of existence, MHCC provided advanced healthcare billing and coding services, and helped physicians and healthcare organizations process complicated billings to Medicare and private insurance companies. Over the last 15 months, however, leveraging its expertise in coding and billing and recognizing changes toward preventive medicine under ACA, Millennium has been executing a strategic shift to 1) becoming a provider of affordable, cutting-edge medical devices focused primarily on preventive care through early detection while 2) building in parallel a new distribution channel for preventive testing with primary care physician practices.
Specifically, MHCC has acquired the exclusive distribution rights to affordable, state-of-the-art diagnostic devices and testing solutions for the early and cost-effective detection of cardiovascular disease and certain forms of cancer. These diagnostic tests are fast, non-invasive, and FDA cleared. In addition, they are particularly suited for primary care physicians insofar as they can be administered in the window of time when patients are waiting for their physician and typically have their temperature and blood pressure taken. To date, Millennium has partnered with device developers and signed exclusive distribution agreements for four preventive test devices:
In February 2013, Millennium entered into an exclusive nationwide distribution agreement with CDx Diagnostics Inc. for OralCDx, an oral cancer biopsy test. The patented and proprietary oral swab diagnostic platform consists of a unique tissue sampling method combined with computer-assisted laboratory tissue analysis, which can identify precancerous cells. Millennium has an exclusive agreement with CDx Diagnostics, Inc., to distribute this fast, non-invasive test that has previously been available only to dentists nationwide. Primary care physicians will now be able to administer this test to their patients.
In May 2013, the company entered into an exclusive distribution agreement with Heart Smart, Inc., for VasoScan, an FDA-cleared device for early detection of cardiovascular disease. In three minutes, this technology, using a non-invasive LED fingertip sensor with sophisticated algorithmic software, can analyze the Autonomic Nervous System function, stress, and peripheral blood circulation and diagnose patients for cardiovascular disease. VasoScan appeals to Medicare and other insurers, because it can provide evidence to support a patient's referral to a specialist, where much higher diagnostic costs are typically incurred.
In February 2014, Millennium signed a second exclusive agreement with CDx Diagnostics for distribution of DermCDx, a brush biopsy test kit used to confirm suspected basal cell carcinoma, the most common cancer in the U.S. DermCDx is a minimally invasive test and is designed to allow primary care physicians to easily confirm suspected BCC, resulting in expedited referral to a dermatologist for treatment.
Millennium also entered into a distribution agreement in May, 2013, with Atossa Genetics, Inc., for a preventive test kit for breast cancer. This test is awaiting FDA clearance and is anticipated to join other tests in Millennium's portfolio by year-end 2014.
MHCC is thus building a sizable portfolio of affordable, easy-to-use preventive diagnostic tests targeted for the changing healthcare landscape under ACA. At a time when physicians are being challenged by rising patient needs and falling revenues, Millennium is also providing healthcare providers ways to tap into new revenue streams as it constructs a new distribution channel with primary care physician networks. Front line primary care physicians, by incorporating these diagnostic procedures as part of their routine examinations, can increase their revenue while advancing the benefits of preventive medicine.
Furthermore, it is currently difficult to recruit physicians to primary care, due in large part to the considerable pay gap between specialists and primary care physicians, a disparity that significantly influences the career choices of medical students. Financial incentives will be instrumental in helping recruit medical school graduates as primary care physicians as they race to service millions of individuals coming into the system.
Under the new ACA rules, these diagnostics are reimbursable by Medicare and insurance carriers, making them potentially available to patients for little or no cost. Mutually beneficial - these tests have also piqued physician interest, as they could potentially substantially increase their practice income, under the terms of Millennium agreements, without up-front capital investment. In essence, Millennium's state-of-the-art diagnostics have a very real potential to save lives and contribute enormous savings for the healthcare system.
Investor Outlook
Millennium's business model is very appealing to doctors because potentially it could greatly increase their revenue and help patients by potentially diagnosing life-threatening heart disease and cancer before it becomes advanced or fatal. It's no surprise that physicians are eager to collaborate and sign with Millennium. Chris Amandola, President of Millennium, announced in a May 5 press release that MHCC had reached "Network Distribution" agreements with 1,000 primary care practices. Mr. Amandola went on to say, "There are now over 400,000 primary care physicians in the United States who could utilize these tests in their everyday practices. We continue to anticipate that a majority of the now approximately 1,000 locations under contract will be operational within the next 18 months, as we continue to introduce VasoScan and OralCDx as quickly as we can into the network, utilizing the contracted model." He added, "Based on minimum contracted amounts within these agreements, once fully operational, Millennium can now be in a position to potentially exceed $300,000,000 in revenues annually."
To get a macro sense of MHCC's potential as a long-term investment, I constructed a profile of "Diagnostic Substance " companies from Yahoo's Diagnostic Industry list by plotting market cap and stock price against revenues for companies under $500M in annual revenue.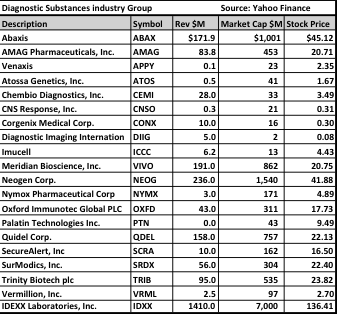 I added trend lines calculated using linear regression techniques, as shown in Figures 1 and 2 below. Not surprisingly, there is a strong correlation between growing revenues and market capitalization and share price.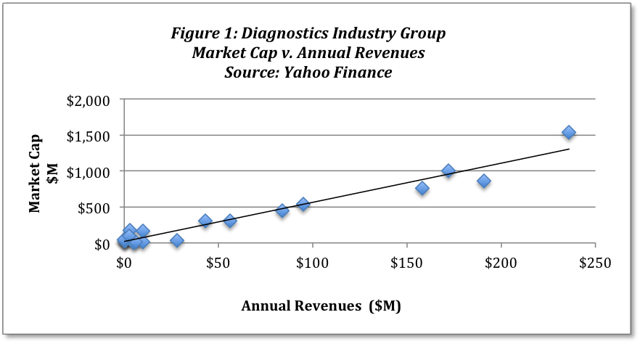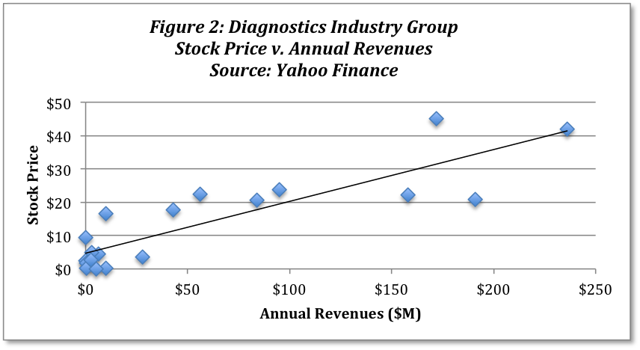 Although it is difficult to draw conclusions about the smaller, micro-cap stage companies in this cohort, there seems to be a "breakout" point in the revenue range of ~$50-$100 million when stock and market cap gain "traction" in response to growth. This implies that, if a company in the industry group is successful in executing its strategy, then once reaching $50+ million in revenue it can establish and hold a stock price in the $15-$20 range price and $250M+ in market cap.
For potential investors in MHCC, this begs the question: What is the probability that the company's strategy will be successful in achieving growth to this breakout point, and over what timeframe?
On May 21, a mere 16 days after the May 5 press announcement, Mr. Amandola announced that Millennium had added an additional 300 contracted practices to its network, bringing the number under contract to 1,300. He commented, "We are thrilled by the enthusiastic response of the primary care community to our innovative products. We continue to introduce VasoScan, OralCDx and DermCDx utilizing a contracted use model, which provides us with a unique opportunity to accelerate market penetration."
This development is encouraging. Continued early uptake by primary care providers portends strong growth prospects into 2015 and beyond.
In Table 1 below, I outline "what if" scenarios of business outcomes, based on the assumption that Millennium will 1) be able to convert half of their network agreements, over time, to active partnerships 2) absorb 5% annual price declines driven by Medicare reimbursement rates, and 3) achieve the minimum 350 procedures/practice per month, per its signed network agreements. Under these assumptions, the company would approach the $300M run-rate number by 2016, as Mr. Amandola projects.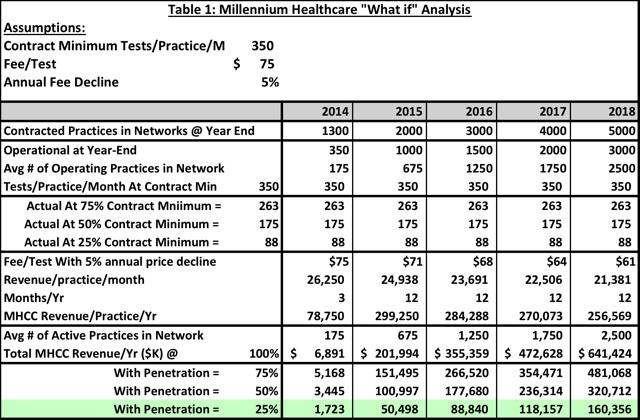 What is perhaps even more interesting, given the industry group discussion above, is if the company achieves only 25% of their revenue projections, they would achieve the industry revenue breakout range of $50-100M in the 2015/2016 timeframe and $150M by 2018. This would put Millennium in a subset of industry players consisting of:
Oxford ($43M revenues, $311M market cap, $17.73 share price)
Surmodics ($56M revenues, $304M market cap, $22.40 share price)
AMAG ($83M revenue, $453M market cap, $20.71 share price)
Trinity ($93M revenue, $535M market cap, $23.82 share price)
Quidel ($158M revenues, $757M market cap, $22.13 share price)
Using these "comps" from the industry regression model, and assuming the company can 1) convert 50% of the practices it already has under agreement to active operational status and 2) realize 25% of the projected revenues from these practices to reach $50-$100M/year in revenue by 2017, I then project the firm's valuation would grow to somewhere in the range of $250-$500M market cap and a share price of $12-20/share over the next 18 months to three years. At these levels, Millennium would carry a market cap/sales ratio of approximately 5-7/1, very reasonable compared to the five companies noted above, whose ratios range from 10-20:1.
Financial Profile and Investment Risks
As Millennium shifts its business focus to being a preventive diagnostic device company, it faces the risks and challenges faced by many emerging, small-cap companies. In MHCC's case, this includes maintaining adequate working capital and cash reserves, the risk inherent to operating in a regulatory-driven environment, and the challenges of delivering a disruptive product into a new channel comprised of primary care physicians.
From a financial perspective, MHCC recorded a loss of $12.5M against revenues of $2M in 2013. The company ended the year with negative cash flow from operations of $3.1 million, financed by $1.1M in long-term debt and $2.1M in proceeds from stock sales. Cash on hand at year-end 2013 was $115K. Thus far in 2014, the company has raised additional proceeds of $1.7M through further private placements and $0.35M through debt financing in order to fund the development and growth of operations. With these funds, MHCC has built $1.4M in diagnostic device inventory, established a product distribution center, and hired key sales personnel to launch this new diagnostics business. Looking forward:
MHCC will continue to incur operating losses in the short term and management will need to secure additional sources of funds for the back half of 2014 and beyond until cash flow from operations is sufficient to fund growth. If the company is unable to continue to raise adequate funds in its current manner, it could be forced to curtail or cease operations or otherwise turn to funding options with unfavorable conditions.
Millennium's business model is dependent on Medicare reimbursement rates for diagnostic test procedures. Should Medicare reduce reimbursement rates as anticipated, with private health insurers following suit, physicians will have lower incentives to offer MHCC diagnostic tests to their patients and the demand for its products could be negatively impacted.
Although primary care physician networks have expressed strong initial interest in Millennium's device portfolio, they may as a whole not prove to be a viable channel for preventive diagnostic testing. Furthermore, the costs of building the channel may exceed MHCC's capabilities.
From a market perspective, Medicare and insurance providers should favor MHCC's preventive diagnostic solutions because they offer lower cost alternatives to existing, more expensive test procedures and thus provide a means to reduce overall health care costs. In this regard, MHCC will be disruptive to established players in the diagnostics industry. MHCC has a short to medium term advantage insofar as it has arranged exclusive distribution agreements with its test suppliers partners, but larger, brand established competitors could respond with time.
To take these risk factors into account, my analysis in Table 1 above assumes regular, 5% annual reductions in Medicare reimbursement rates, conversion of only 50% of MHCC's currently contracted primary care physicians to successful operational partners, and actual sales penetration rates at only 25% of projected volumes with these operational physician partners. Under these assumptions, MHCC projects to generate $100 M+ in sales by 2017.
Conclusions
MHCC's stock closed at $0.47 per share on Friday, August 8, and carries a market cap of approximately $35M. Its year-to-date high is $1.33/share.
Based on a statistical model of comparable companies in its Yahoo industry group, Millennium could potentially reach $250 - $500M in market cap with a stock price in the range of $12 - $20 per share by 2017 if its primary care channel for preventive testing develops to $100M in annual revenues.
My Takeaway: The risk reward looks promising. Interested investors should monitor revenue growth closely. Risk tolerant investors may want to take positions now.
Disclosure: The author has no positions in any stocks mentioned, and no plans to initiate any positions within the next 72 hours. The author wrote this article themselves, and it expresses their own opinions. The author is not receiving compensation for it. The author has no business relationship with any company whose stock is mentioned in this article.
Editor's Note: This article covers one or more stocks trading at less than $1 per share and/or with less than a $100 million market cap. Please be aware of the risks associated with these stocks.