Gap (GPS) is priced low, but that is not enough to justify a position in the company. The company has a variety of strengths but there are several factors working against it - and it's only going to get worse. The company is losing stores each year in its core labels.
UNDERSTANDING RETAIL
Clothing is a commodity. No matter how well or how popular a company becomes, it still can't charge over a certain amount for its products. There is more flexibility in upscale clothing. Couture clothing is hand stitched so spending hundreds if not thousands makes sense. It is clear that the hands that stitch the garment need paid. Fabrics and cuts help too. Just think of the last time you bought a suit. Wool suits cost more than polyester, tailored cuts more than boxy numbers.
The market is much more difficult in casual clothes. You wouldn't expect to find a $100 pair of jeans at Gap, just like you wouldn't expect to find a wool suit for less than a few hundred dollars. These things have a "commodity-like value". Sure there are outliers - a $200 pair of designers jeans or a cheap starter suit for under $100 - but the concept holds true for middle market retailers, and it is an important aspect of the business to understand if you are going to invest in the industry.
Amongst retail stocks, Gap personifies this struggle more than most. Brands like Michael Kors (NYSE:KORS) have retail stores, wholesale sales, and licensing deals. If its retail stores aren't bringing in much, the company can fall back on its wholesale outlets and licensing. In addition, because its goods are sold at so many different retailers, budget conscious Michael Kors can always find what they want at a discount.
Companies like TJX Companies (NYSE:TJX) carry a range of brands at a variety of stores geared towards different price points. These aspects give such a company a chance to hedge their offerings. Their price points can shift and play against one another. If a pair of jeans moves from a cost of $30 to $40, consumers are more likely to accept the change because they can see that a range of brands are all charging approximately the same. In addition, TJX Companies doesn't make its own clothing. It can leverage economies of scale to buy goods at a discount - buying goods from clothing brands that are out of season or last season. Consumers are willing to buy such pieces because they are at a discount.
GAP AS A COMPANY
Gap does not have this luxury. While the company does offer items at stores geared towards specific price points and lifestyles - Old Navy for low cost casual items, namesake Gap for better quality basics, Athleta for exercise and active clothing, and Banana Republic for more upscale, stylish, and professional consumers - it only has two multi-brand offerings. Gap owns Piperlime, a multi-brand shoe store, and Intermix, a multi-brand designer store. As such, its opportunity to hedge its offerings is limited.
Pricings have to be consistent within its individual stores and those price points have to appeal to each store's specific demographic. In addition, Gap has to make sure that its goods fit into trends and it has to find ways to off load out-dated merchandise. The company has several outlets - Gap Outlet and Banana Republic Outlet - but consumers access to such discount locations is limited - there are fewer outlet locations and no ecommerce.
VALUATION
The $18.64 billion market cap company is priced low relative to its earnings with a forward price to earnings ratio of just 12.62 but that's because growth just isn't there. Gap is trading at roughly $42 per share and carries a one year target estimate of $44.21.
Gap's revenue growth has slightly outpaced the industry looking at the most recent quarter over the same one last year. Its industry's average revenue growth went up while 0.5% but Gap saw increases of 1.2% in sales, but the trend doesn't hold when expanding the view on Gap's sales.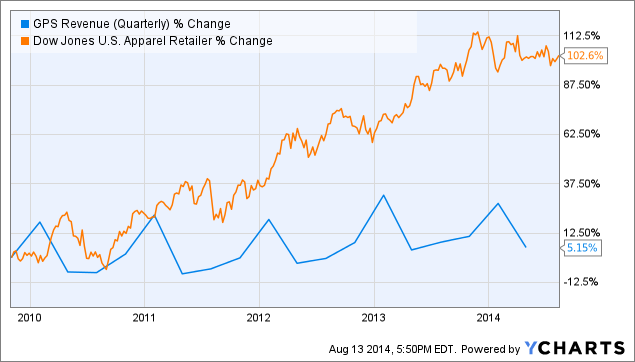 GPS Revenue (Quarterly) data by YCharts
Moreover, while Gap's revenues did increase quarter over quarter, that boost was not seen in its earnings. The company's earnings per share actually declined - by 18.3% compared to same quarter last year.
Gap's return on equity has been stronger. On a TTM basis, the company has increased its ROE in a manner more consistent with Dow Jones US Apparel Retailers, but even that has fallen off in the last year.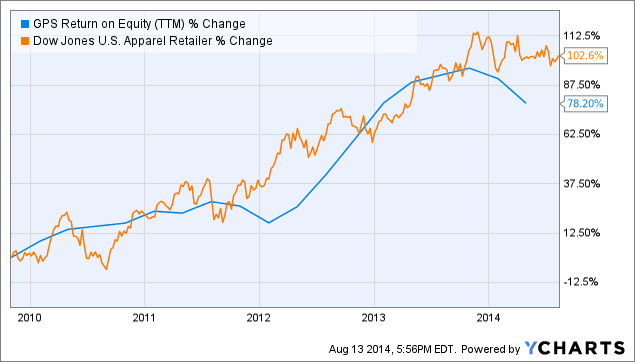 GPS Return on Equity (NYSE:TTM) data by YCharts
The news isn't all bad. Gap's debt is low - its current debt to equity ratio is lower than its industry average at just 0.46 - and its net operating cash flow went up by 44.1% compared to the same quarter last year while its industry saw an average decline of 3.2% for the same period. In addition, Gap's earnings per share did increase from 2012 to 2013, bringing in $2.75 compared to $2.32 in the previous year and analysts are forecasting an EPS of $2.93 for 2014.
Gap also boosted its dividend in the last year and spent $1 billion in share repurchases during fiscal 2013.
GOING FORWARD
The bulk of Gap's business is from Gap and Old Navy - and it is losing stores. Gap and Old Navy brands had fewer stores in 2013 than 2012, and fewer in 2012 than 2011. In addition, net sales per square foot was relatively flat from 2012 to 2013 and the company is not keeping pace with its industry. The change suggests that Gap is not effectively harnessing its customers.
Gap is pushing towards international expansion, particularly in Asian market. According to its 2013 annual report, "Two years and nearly 20 stores after Old Navy's successful launch in Japan, the brand is ready to debut in China, the world's second largest market, and the Philippines." Gap also entered the markets in Hungary, Peru, Brazil, Costa Rica and Paraguay during 2013. It sounds exciting but, international operations carry additional risks - from currency conversion to different shopping preferences - and Gap will need to manage those differences. Moreover, international expansion may help Gap but if it isn't effectively addressing its domestic customers - which account for some 78% of its business - it stands to reason that the company may not effectively address the needs of its international customers.
Looking ahead, Gap is focused on ecommerce. It's online retail business grew by over 20% in fiscal 2013. The company recently launched a feature which allows customers to locate items in store, supplementing its ecommerce business. This focus may help in helping the company develop its omni-channel presence, but there is still room to grow. J Crew has a similar structure to Gap, but the company has a much stronger ecommerce business, offering its core J. Crew brand in addition to its outlet business which has retail locations in addition to an ecommerce site.
TAKEAWAY
Gap is strong enough to justify a hold position but the company has to face some serious hurdles going forward - and there are other companies delivering better value to shareholders. Gap be priced low, but its growth is lacking. Without a push towards more effectively meeting its consumer's needs, Gap will face some serious issues.
Disclosure: The author has no positions in any stocks mentioned, and no plans to initiate any positions within the next 72 hours. The author wrote this article themselves, and it expresses their own opinions. The author is not receiving compensation for it (other than from Seeking Alpha). The author has no business relationship with any company whose stock is mentioned in this article.