Opening:
International Commercial Television (OTCQB:ICTL), soon to be known as ICTV Brands effective August 20, has reached a substantial overall milestone. The company's initiatives across the board are in-play and major goals have already been obtained. With numerous growth factors in play for the company and for its products, ICTV's 2Q earnings call has given investors a powerful reason to invest. Following our original thesis on ICTV, we will delve into the company's fruitful call to update investors on one of our conviction picks.
Recent Progress:
ICTV has made meaningful progress with both the company's products and financially. First and foremost, the company announced a name change to ICTV brands that will become effective on August 20, 2014. On the financial level, the company returned to operating and net profitability and increased balance sheet cash balance to $1.9M from $1.7M at the end of 1Q.
Further, ICTV announced an expansion of DermaWand's distribution, updates on the new DermaWand models' clinical trials and marketing, updates on DermaWand's double blind study that would unlock new markets including the U.K., Japan and Germany, a push to retail including Rite Aid, set a Coral Actives launch slated for September along with DermaBrilliance's launch at the same time, announced social media marketing through celebrities, new product endorsements and new product launches.
Analyzing ICTV's both substantial and fruitful conference call offers pure validation that not only is the company a compelling growth story from here, but that they are delivering across the board to reach $100M in revenue.
Financials:
2Q Overview:
ICTV's success is fully demonstrated by the company's return to profitability and earnings metrics. For the 3 months ended June 30, 2014, ICTL returned to profitability with an operating income of $160K and an adjusted EBITDA of $552K. Further, ICTV increased their cash balance to $1.9M from $1.7M at the end of the first quarter and had a positive cash flow from operating activities of $477K.
Drop In Revenue Was A Calculated Decision By Management - Revenue Set To Rebound Strongly:
One concern investors could have is linked to revenues of $7.8M for this quarter compared to $10.5M for the year-ago quarter. Although a closer look reveals that the drop in revenues was a smart and calculated decision by management which demonstrates management's effectiveness.
On the call Richard Ransom, President of ICTV, stated the reasons behind the drop in revenues Y/Y. During the quarter, management made a calculated decision to slow marketing due to the quarter comprising a lower response period. Management knew that during the 2Q total television viewership dropped off, cost to reach viewers increased, and broadcasters gave larger branded advertisers more remnant space for free to achieve minimum viewership guarantees. Management stated that this caused less remnant ad space, a higher price to reach viewers, and a weaker return on AD dollars. As such management pulled back on advertising, a calculated and logical decision. Not only does this speak to management's effectiveness, but it protects the company from throwing AD money away during a weak environment. As such they can simply spend the marketing money in the quarters to come.
Another reason behind the decrease in revenue is the ICTV's pull of their Spanish language channel infomercial, a key revenue stream for the company. Further, the company did not recognize any income from live televised home shopping during the quarter.
Revenue Analysis:
Management made a calculated decision to pull back on marketing during a bad advertising environment. This calculated decision not only speaks to management's effectiveness, but maintains the company's marketing dollars that can be now spent in the quarters to come. When advertising is fully reinstated, revenues will return or best this quarter by a larger margin. This is due to if ICTV returns to the level they were previously marketing at, or spend more this coming quarter, it will best 2Q's revenue by a large margin since the company pulled back on spending this past quarter. Although this doesn't include the additional various growth drivers that will be discussed later.
Revenue also pulled back due to the company pulling their infomercial for the Spanish language channel. This is as ICTV is planning a new infomercial aimed to air in the 4Q of 2014. After it is created, ICTV can again gain from the over ~2M in revenue from this segment seen last quarter.
This will mark a return to having a 100% Spanish language channel advertisement back on the marketing deck. ICTV will have a well known Mexican soap opera star on the infomercial as well. The reboot is shooting for this Fall and will further help their distribution partner in Mexico, Inova.
ICTV did not recognize any revenue from live televised home shopping from this quarter either. This is set to change as well, as the company is set to resume live televised home shopping advertising with DermaWand in December on Shop HQ. DermaWand will launch on the program with a "Today's Top Value Product" branding.
Additional Growth Drivers:
ICTV's management offered compelling insights into the company's product line and what the current state of each initiative is in their conference call. Management stated that both DermaBrilliance, the company's resurfacing treatment that includes diamond and garnet, and Coral Actives, an acne line, are both undergoing their clinical trials. Moreover, the much anticipated double blind study of DermaWand has begun in Europe. This study is needed to unlock the U.K., Japan and Germany for the sale of the company's flagship product in these markets.
DermaWand:
Unlocking new international markets is key for ICTV, especially for their flagship product. DermaWand has already been a huge success in Mexico with 100K units sold between October 2013 and May 2013 and in Canada with $670K in revenue during the same time period. Management stated that DermaWand continues to enjoy success domestically along with Mexico and Canada. The company is working on a new, sleeker version of DermaWand in addition to unlocking new markets for the product and creating a new 30 minute long infomercial.
Management also stated that the new version of DermaWand is in its final approval stages. The company expects to place an order for the design unit in 4Q and begin offering the new unit to its existing customers before the end of the year. Management stated that DermaWand's much anticipated double blind study has received its preliminary report back on the 50 people tested. The report stated that DermaWand had a significant effect on fine lines and wrinkles, hydration and reduced pore size. Management stated that this will help them reach the level to get approved and are hoping for a final approval before the end of 2014.
This double blind study, if approved, will open DermaWand up to the U.K., Japan and Germany. Management has stated that they think the preliminary results are enough for their distribution partner in Japan to being marketing DermaWand. In addition, ICTV is using the largest direct response distributor in Japan.
Lastly, the DermaWand brand team has completed French-Canadian infomercial aimed to air in Quebec this September. Management has stated that this is a lucrative market to tap into and after DermaWand's success in English speaking Canada they should see success here as well.
Elastin-RP:
Management had exciting things to say about the company's Elastin-RP product line. This system was launched in January, 2014, and aims to improve the elasticity of the skin and to reduce fine lines. During the 2Q, the company's new commercials demonstrated a 36% improvement over the prior period. ICTV also amended their agreement with BioActive Technologies to extend term of first license to December, 2015. ICTV's intention is to re-start marketing for Elastin-RP in late fall, and tie the system to ICTV's new Jidue system. This setup would be similar to DermaVital being linked to DermaWand. Further, Elastin-RP's media campaign had all of its production expenses already taken into account this quarter and will not impact next quarter's earnings.
Coral Actives:
Coral Actives is ICTV's new acne product line. The line is ready for a consumer launch within the next few weeks. The system packs 2x the acne fighting ingredients seen in current acne brands, while having the anti-inflammatory properties of sea whip coral extract. The line's website will be enhanced with a continuity auto ship model. To market the product line, ICTV is in the process adding radio advertising this fall and will include a celebrity endorsement. Further, ICTV is planning a new social media marketing plan that will target 10-12 large universities on the East Coast. Within these universities, students who have prominent positions on campus will promote the brand and act as an influencer. The students will have micro-sites to direct traffic to, and have to reach certain engagement levels. Coral Actives' infomercial is in the post-production phase, and before and after pictures for the infomercial have already been shot. This is a new and exciting marketing method not previously utilized by the company.
DermaVital:
ICTV is contenting to expand DermaVital to work with, and as an up-sell, with DermaWand. The system is aimed to have a consistent and reoccurring revenue stream. Management stated that they are looking to expand DermaVital as several distributors are looking to include it in their programs.
DermaBrilliance:
ICTV is continuing to expand DermaBrilliance as well. This patented system is an anti-aging and resurfacing skin polishing system that has fragments of diamond and garnet included to resurface the skin. The company is already in post production its long form infomercial with Cindy Taylor who was on Burn Notice in addition to other roles. The product is being aimed at women of all ages and men and features a continuity model. The system comes with a handheld rechargeable device, optimized by a skin resurfacing cream which are all patented. The company is shooting for a launch this September along with Coral Actives.
Exciting Company Additions and International Expansion:
ICTV also announced that they have brought on Kelly Willett as Director of Sales. Mr. Willet comes with over 25 years of experience in television and film production. Mr. Willet will insure that all new brands have the proper certifications and testing to be distributed globally. This will allow for an easier integration into the marketplace for the company's new products. The company also brought on Doug Crouthers in June of 2014 who is pursuing leads in Ecuador, Portugal and Vietnam to bring on additional distributors.
On a global level, ICTV's international sales team recently returned from visiting the Electronic Retailing Association's European Home Shopping Conference in Vienna Austria. The team expanded the company's relationship with Shop Television who distributes DermaWand in Italy to now include Hungary and Croatia. Moreover, the company signed a distribution agreement in France with Novella, just last week.
Further Product Initiatives and Growth Opportunities
Additional International Exposure:
ICTV is also expanding international distribution with Inova in Mexico. Inova has had great success marketing DermaWand in Mexico as orders have topped 178K since October, 2013. Inova is the leader in direct response marketing in Mexico and multiple re-orders of 10k-20k units have been seen in Mexico.
Management also stated their desire to promote and grow DermaWand through celebrity endorsements. They stated that earlier this month the company signed a celebrity endorsement deal with Aviva Drescher to market DermaWand to her over 250K social media followers. This will in turn help promote and produce additional sales exposure for DermaWand.
New Licensing Agreements, Rite-Aid Deal and CVS:
New Skin Care Devices:
During the quarter, ICTV signed new licensing agreements for two skin care devices. These devices feature polarity ions, micro-currents, electro-muscle stimulation, galvanic wave energy, and micro vibration massage methods to result in improved blood circulation and increased composition of collagen and elastin. There are two models, one for home use and one for mobile use. Both devices are set to be used with polarized ionic serum, so the company can build a continuity model around these devices. ICTV has placed their first order for the devices and plan to begin clinical trials later this fall. Pre-production for both devices has already begun, and the company is shooting for a release in the second half of 2015.
Jidue:
At the end of second quarter, ICTV entered into an exclusive marketing agreement with Audi Global Enterprises Inc, for an exclusive global license to market and sell Jidue. Jidue is a facial massage mask, that is wearable. Management stated that Audi Global already spent $100K to market the product and returned $150K in revenue. Through adding a continuity model, management believes they can enhance Audi's results. ICTV is shooting for a September launch of Jidue with an updated website. ICTV also wants to add an up-sell to the mask to create an enduring brand.
Rite Aid Deal And CVS Meeting Are Huge Developments
In March, ICTV appointed Richard King as head of retail sales. Since this time, Mr. King has been working to get ICTV's products into retail. Management stated that they have approved for a chain wide test with Rite-aid for DermaWand in a 4Q 2014 test at all of Rite Aid's 4600 stores. Management also stated that CVS invited the company for a meeting in September to discuss DermaWand and Coral Actives at their corporate head quarters.
Further, Mr. King and Mr. Ransom will be attending the National Association Of Chain Drug Store Companies in Boston, where ICTV will showcase DermaWand and Coral actives. Many major retailers will attend this conference such as Walgreens, Ulta, and Cosco to name a few. With $22M spent to market DermaWand, management is hopeful DermaWand will be noticed and be picked up by one of these companies' representatives.
If ICTV is able to make the move into retail, it will make for a significant sales opportunity never before seen by the company. Outside of a global reach through the acceptance of the double blind study for DermaWand, the push to retail is the second largest potential opportunity for the company.
Valuations and Projections:
Valuation:
In our original thesis, we projected for $75M in revenue in 2015 with operating margins at 9%. We are sticking to our original thesis for 2015, and have expanded 2016 to $100M in revenue. As per the company's conference call, $100M in revenue is the company's goal moving forward.
We believe operating margins of 9% can still be achieved as the company does not have to pay for the cost of running infomercials in most overseas markets. For example, in Mexico the company currently nets $10 per DermaWand sold through its distribution partner. Therefore, each 30,000 units sold would essential bring in $0.01 per share in earnings to the company.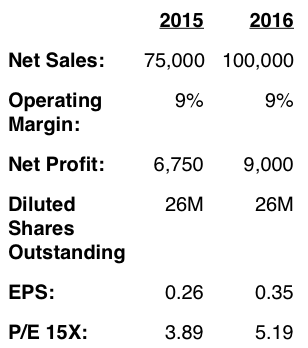 ICTL is a very compelling and attractive opportunity as the key growth drivers the company is aiming for are on the verge of coming into fruition. It should not be forgotten that management has grown the business from $2 million to nearly $40 million in revenue over the past two years.
A re-cap of the growth drivers at play at ICTL for easy viewing on why we have a bullish stance for the company are as follows:
DermaWand: New version launching by the end of this year, Mexico and Canada unlocked, new 30 minute infomercial for the U.S. launching, double blind study can open up the U.K., Germany and Japan.

Coral Actives: Clinical study underway, line launching this September with radio advertising and the company's new marketing method aimed at universities with micro-sites.

DermaVital: Several distributors looking to take the product on, as per management's call.

DermaBrilliance: Compelling skin resurfacing product with Diamonds and Garnet. Clinical study completed, launching in September

Elastin-RP: All associated production expenses have been taken into account for its launch and Ads have seen a 36% improvement.

Jidue: A new line for the company, with a current 1.5x return on marketing metric ($100k spent, $150k in revenue). Management believes they can turn this into a compelling brand with an up-sell.

New Products: During the quarter, ICTV signed a deal to license two products that aim to improve blood circulation and increased composition of collagen and elastin in the skin. It will be interesting to see how these products fare in the coming year.

Rite Aid and CVS: ICTV's promotion test deal with Rite Aid to promote in their 4600 stores is a substantial event. The push to retail for ICTV is an enormous opportunity as the company has never been in retail and can unlock a huge growth opportunity. The company also has a meeting with CVS and a conference with many major retailers in hope for at least one to pick up the company's products.
Projections:
With last quarter's $9.8M in revenue, coupled with this quarter's $7.8M in revenue a total of $17.6M is achieved. When looking ahead, it is logical to assume a few basic key factors with regard to ICTV's revenue. When ICTV returns to marketing on the Spanish channel, they will re-gain the $2M in revenue not seen this quarter. With a new infomercial and the celebrity endorsement, this number should rise to at least $3M per quarter.
Further, as ICTV returns to an equal or greater level of direct marketing, which was pulled in part due to the bad advertising environment for television this past quarter, revenues should or best this quarter. As such revenues should rise past last quarter's $9.8M on the back of not only a return to marketing DermaWand, but the new initiatives that will impact 2015. These initiatives include a possibly extremely lucrative push to retail, unlocking Germany, the U.K., and Japan, and the marketing of the new version of DermaWand coupled with a new infomercial. Further, ICTV is making the move back to advertising on televised home shopping as well that will bolster revenue.
DermaWand's initiatives alone will bolster revenue in 2015 when all of these programs come into fruition. If a return to the Spanish language channel can produce only a 33% gain on prior income through the new infomercial and celebrity endorsement that would create $10.8M in revenue ($7.8M current Q + $3M from Spanish advertising and televised home shopping). The addition of retail or unlocking Japan, the U.K., and Germany through approval of the double blind study has the potential to add an enormous revenue stream to DermaWand. If the company only gets one of these goals, it could add $5M in revenue each quarter for only one of these initiatives. We can also account for an additional $2M in DermaWand revenue through the new model in 2015, along with a new infomercial being marketed to current and new owners. With only one goal (double blind study or retail), at the low end of $3M per quarter, this would create a $15.8M quarter ($10.8M plus $5M , plus $2M from DermaWand enhancements) amounts to $17.8M in revenue per quarter. Add an extremely conservative $1M additional new revenue from all other products, and you reach $18.8M in revenue for each quarter in 2015, or $75M for the year. In our valuations section we have $75M marked for 2015 and $100M for 2016 as these growth drivers push further.
This projection is extremely conservative in our opinion. It takes into account only minimal growth in DermaWand domestically when there are significant growth drivers at play. Further, it doesn't take into account any growth in Canada or Mexico, especially as the company expands in both. Moreover, it does not take into account having both an international market open through the double blind study and a push to retail, when in reality both are a possibility. Lastly, our projection only accounts for $1M in additional new revenue from the company's other products when in actuality the company has a line-up of very compelling products that are moving forward on all fronts. These products have the potential to be successful and if even one is, it can push the needle past our projections.
Risks:
Investors should be aware of the risks associated with micro cap stocks before deciding to invest. Key risks to ICTL include any problems or delays with its double blind study that would apply to international markets and any problems or delays with regard to the company's push to retail with Rite Aid and other major retailers. We do believe the downside is mitigated as we have provided for a very conservative P/E ratio that generally expands as growth does, and we have only included minimal income from the company's other products which show promise.
If these catalysts described earlier do not play out as planned, the company's earnings will be impacted. There are no current reasons to be hesitant when viewing the company's growth opportunities, but investors should be aware that our projections will be impacted if any of the growth drivers described earlier are negatively impacted.
Conclusion:
ICTV Brands is a company that has gone from a simple one product company to a high growth multi-product company. Not only is the company moving to introduce a new version of DermaWand, but they are expanding to new markets with new infomercials. As ICTV's President Richard Ransom stated during the Q/A session following the company's CC, it will only take one or two more products to hit in addition to DermaWand's success to obtain the company's goal of being a $100M company. Further, that the company currently has the products they need to reach this goal. Looking ahead at our projections, we would be extremely satisfied if ICTL only returns 50% of what is planned, or $2 per share by 2015. This would be half our PPS projection for 2015, and still pack over 100% upside potential.
With multiple products demonstrating promise, ICTV is expanding the company's horizons to be a multi-product company packing enduring brands. With a push to retail for DermaWand, a double blind study on the potential verge to open up the U.K., Germany and Japan, Coral Actives and DermaBrilliance set to launch this September, the re-launch or the pulled advertising on the Spanish language channel and televised home shopping channels and other products in the pipeline, ICTV will be able to reach $100M in revenue in the years to come.
This article was released first to SecretCaps Subscribers on July 14.
Disclosure: The author is long ICTL. The author wrote this article themselves, and it expresses their own opinions. The author is not receiving compensation for it. The author has no business relationship with any company whose stock is mentioned in this article.
Additional disclosure: This article is informational and is in my own personal opinion. Always contact a financial professional before executing any trades. See disclosure on SecretCaps.com
Editor's Note: This article covers one or more stocks trading at less than $1 per share and/or with less than a $100 million market cap. Please be aware of the risks associated with these stocks.