By Lauren Migliore
The lure of biotech has attracted droves of investors with stomachs for risk ever since the industry's inception in the 1970s. Biotech investors continue to funnel money into fledgling enterprises--all the while enduring shareholder dilution, enormous uncertainty, and years of net losses--hoping to catch the next Amgen (NASDAQ:AMGN) or Genentech.
The meteoric rise in the overnight share prices of modern-day Lazuruses like Vanda Pharmaceuticals (NASDAQ:VNDA) and, most recently, Orexigen Therapeutics (NASDAQ:OREX) have become the stuff of biotech legends. However, it is important to remember that many more biotechs crash and burn than make it big.
More often than not, biotech shareholders are left empty-handed. Below we highlight three development-stage biotechs with highly anticipated new therapies that are about to face judgment days of their own.
Click to enlarge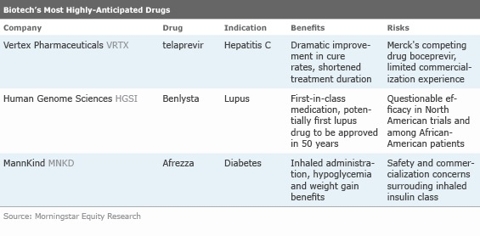 Click to enlarge
Vertex's Telaprevir Aims to Revolutionize HCV Treatment
Vertex (NASDAQ:VRTX) is close to commercializing its hepatitis C drug telaprevir, part of a new class of therapies that have the potential to revolutionize the way the disease is treated. HCV's current standard of care requires 48 weeks of treatment, causes terrible side effects, and is still only able to cure patients 50% of the time. In contrast, telaprevir has the potential to cut treatment time in half and double cure rates. The drug is widely regarded as a major advancement, and we think telaprevir could hit the market in the first half of next year.
Vertex's chief rival, Merck (NYSE:MRK), is developing a protease inhibitor of its own. We think telaprevir's slightly superior efficacy and convenience profile should give it an advantage with prescribers. However, Vertex has no commercialization experience, and Merck's established salesforce and ability to package the drug with the current standard of care should help even the commercialization playing field. Vertex ranked number 1 on our 2010 biotech takeout list, and we continue to believe the firm would benefit from the sales know-how of a larger pharma player like current partner Johnson & Johnson (NYSE:JNJ). The stock currently trades at a 25% discount to our fair value estimate, providing an attractive entry point for investors with a stomach for risk.
While Vertex also has a late-stage cystic fibrosis candidate and compounds in earlier-stage development, telaprevir remains the focus of investor excitement and the primary value driver of the firm. We give the drug a 70% chance of approval, 10% higher than our average Phase III drug. If telaprevir succeeds in clinching approval, our fair value estimate would rise to at least $50 (not including a takeout premium). With a drug on the market, we think Vertex could see profitability by 2013. However, a great deal is still unknown about telaprevir's remaining late-stage data and commercialization plans. If telaprevir takes longer than expected or requires more resources to get to market, our fair value estimate would fall to under $30.
Human Genome's Benlysta Could Break 50-Year Dearth of New Lupus Drugs
Human Genome Sciences' (HGSI) lupus drug Benlysta could become the first lupus medication to gain approval in over five decades. The first-in-class drug has demonstrated promising Phase III data in seropositive patients--those with an autoantibody present in their bloodstream. While the drug has had issues demonstrating significant long-term efficacy, we think Benlysta could be a unique candidate to use in combination with the standard of care. With no direct treatment for lupus, any improvement to the current steroid-based treatment could make the drug very attractive, and we think Benlysta could turn into a blockbuster drug for the firm. Human Genome received a favorable advisory panel vote for Benlysta last month, with members voting 13 to 2 in favor of recommending approval and 14 to 1 that the drug's safety profile was sufficient for approval. While the FDA has recently delayed its target decision date to March 10, 2011, we think the drug could still launch by mid-2011.
Human Genome has a robust pipeline and many drugs in clinical trials. If one product fails, the firm has other development options. However, much of the firm's long-term value remains tied to Benlysta. If the firm's share of Benlysta sales could surpass $1.5 billion by 2019, we would raise our fair value estimate to $27 per share. If Benlysta does not gain approval, Human Genome would be left to rely on earlier-stage pipeline candidates and two Phase III candidates that we believe have only modest commercial potential. Our fair value estimate in this case would fall to $5 per share. While we think the firm is fairly valued at current trading levels, Human Genome represents another key takeout opportunity, in our opinion. The company ranked number 3 on our 2010 list of biotech takeout targets, and we think an acquisitor like current partner GlaxoSmithKline (NYSE:GSK) would make strategic sense.
MannKind's Inhaled Insulin Faces High Hurdles
MannKind (NASDAQ:MNKD) is developing Afrezza as an ultra-rapid-acting inhaled insulin therapy for patients with diabetes. In addition to allowing patients to forego the needle, Afrezza's molecular structure may allow for superior disease management to injectable insulin. In trials, Afrezza achieved comparable levels of overall glucose control while also demonstrating a lower risk of hypoglycemia and weight gain than currently available products. Despite these advantages, MannKind received a complete response letter from the FDA asking for more data earlier this year. The good news for MannKind was that the FDA did not require additional Phase III trials, which likely would have been prohibitive for the unprofitable biotech.
MannKind expects to hear back from the FDA by Dec. 29, and we think there is a good chance Afrezza will be approved (we assign Afrezza an 85% chance of approval based on strong efficacy data and a clean safety record thus far). However, MannKind will face an uphill battle in its attempt to turn the product into a commercial hit. Afrezza's predecessor in the inhaled insulin class, Pfizer (NYSE:PFE) and Nektar's (NASDAQ:NKTR) Exubera, was removed from the market in 2007 after generating disappointing sales and being linked to a potential risk of lung cancer in former smokers. Although Afrezza's clinical trials have yet to produce any red flags, we think Exubera's failings will haunt MannKind's efforts to win favor among prescribers. MannKind also trades at a discount to our fair value estimate, but we think Afrezza's fate represents more of a binary outcome for the firm, unlike Vertex's telaprevir or Human Genome's Benlysta. The firm carries a very high uncertainty rating and should be regarded as a speculative investment.
Disclosure: Morningstar licenses its indexes to certain ETF and ETN providers, including Barclays Global Investors (BGI), First Trust, and ELEMENTS, for use in exchange-traded funds and notes. These ETFs and ETNs are not sponsored, issued, or sold by Morningstar. Morningstar does not make any representation regarding the advisability of investing in ETFs or ETNs that are based on Morningstar indexes.