Tell me if I'm naive - I recall buying shares in Apple a few years ago but then thinking "what am I doing? Apple has more cash than some countries, and doesn't need mine. Why should I be rewarded for 'investing' in Apple? Why not invest in a small company that actually needs the capital to grow its business?" That thought has recently begun to influence my investment decisions. So here are examples of what I have been doing, and I would appreciate readers' comments. I realize one argument will be "if you buy shares in a good business - like Apple - you're a part owner and entitled to a share in the profits."
Novavax (NASDAQ:NVAX) was the first unprofitable company in which I invested. This $1B biotech genetically engineers and specially formulates vaccines against infections of great importance to the public health like respiratory syncytial virus, pandemic and avian flu, SARS virus, and rabies. None of these have gone commercial yet, and NVAX has operated at a loss every year since its IPO in 1995. I'm okay with that because its R&D expenses have consistently exceeded its revenue.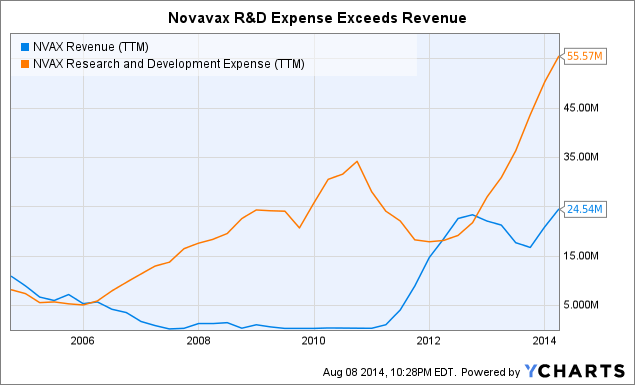 NVAX Revenue (TTM) data by YCharts
And I'm more than okay with that when I look at the negative but steeply rising NVAX R&D-adjusted ROIC.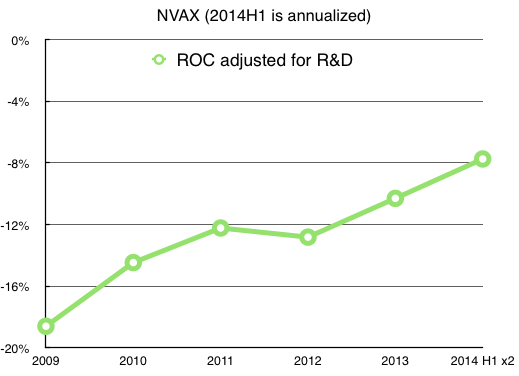 David Trainer doesn't advocate Damodaran's method of capitalizing R&D to adjust ROIC (correspondence on SA), but I think it's rational. Biotech companies must spend on R&D in the same way an industrial spends - and capitalizes on its balance sheet - on manufacturing equipment, the unamortized portion of which becomes an asset, right?
Nokia (NYSE:NOK) was the 2nd unprofitable company in which I invested. Even prior to the sale of its handset business to Microsoft, some SA contributors saw this as a turnaround story and influenced my decision. NOK has maintained a fairly healthy R&D budget in relation to its declining revenues over the past 5 years, and I like that.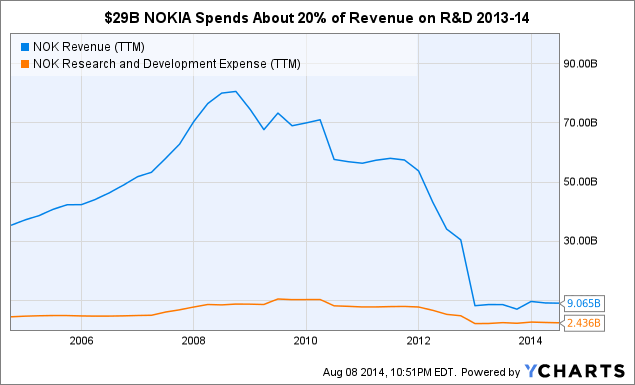 NOK Revenue (TTM) data by YCharts
I also like what I see in the graph of NOK R&D-adjusted ROIC which bottomed in 2012 and has turned sharply upward and positive in 2014.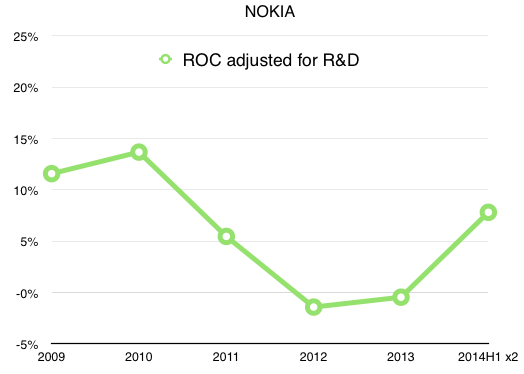 NOK has plenty of cash and doesn't need your capital, but I included this company because it is relevant to the discussion about unprofitability, R&D expenses and the adjustment of ROIC.
Sequans (NYSE:SQNS) is an unprofitable $57M microcap tech that needed to raise capital for its turnaround. SQNS turnaround story hinges on its transition to low cost, single mode LTE chips. I would have never heard of it had I not read this SA Contributor's article. Even as SQNS revenue was declining, its R&D budget increased, and has exceeded revenue for the last 2.5 years (no Y-chart available for this obscure French microcap). A graph of its 5-year R&D-adjusted ROIC bears witness to the turnaround thesis.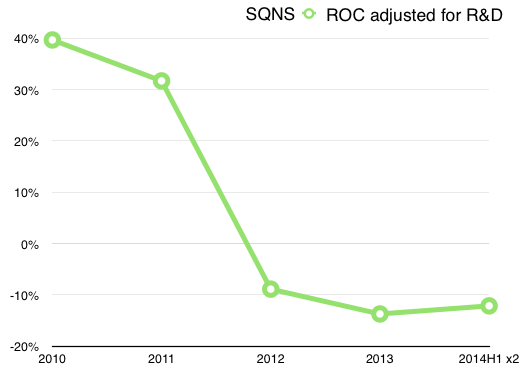 I liked the SQNS article, the turnaround story, the smallness of the market cap (microcaps are on sale in 2014H1, right?), and made a relatively large allocation to SQNS.
Kratos Defense & Security (NASDAQ:KTOS) is an unprofitable $430M small cap. When I first read its 10K a couple years ago, I felt like I was reading a description of the future of warfare - very high tech. KTOS has a relatively small R&D budget, but it has grown 10-fold over the past 3 years. KTOS operated at a loss for 3 consecutive years, but in 2013 ROIC turned upward and should be positive again in 2014.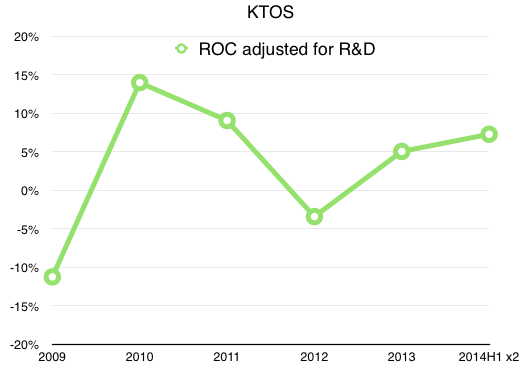 Summary.
The purpose of this article is not to pump any of my stocks, nor do I claim to have a single original idea. My purpose is to propose and discuss with other readers the following:
The greatest returns on investment can be in companies that were once unprofitable, and that is the best time to invest. As just one example look at Pharmacyclics over the past 5 years.
Robust R&D delays profitability for companies (e.g. tech, biotech, and aerospace) that require R&D to grow their young business or turn a faltering business around.
Looking at revenue growth and capitalizing R&D expenses to compute and trend ROIC is better than focusing on current or historical profits, but only if you consider yourself a risk-tolerant growth investor.
Adopting such a perspective has encouraged this investor to begin avoiding large cap cash cows that don't need my capital. Until the day I decide I want dividend income more than future capital gains, I will not deposit my money this way, even if it makes me a part owner of a great business.
If you believe in what a company is trying to accomplish, if you think it is being well managed, if its losses are justified by robust R&D, and its finances are trending in the right direction, then even if it sometimes dilutes your shares to raise essential capital, you can be satisfied that your money is invested, not just on deposit for a quarterly dividend. That's investing, not speculating. Do I hear an "amen?"
Disclosure: The author is long KTOS, NOK, NVAX, SQNS. The author wrote this article themselves, and it expresses their own opinions. The author is not receiving compensation for it (other than from Seeking Alpha). The author has no business relationship with any company whose stock is mentioned in this article.
Additional disclosure: correctios made to SQNS ROC graph