In my first essay in this series on Amazon (NASDAQ:AMZN), I set out a valuation thesis that its shares are 60% overvalued. I described seven numbers on which I rest my case. In the second and third essays, I discussed the first two of these seven numbers - the growth rate in net sales, and EBITDA margin. In this essay, I will discuss the next four numbers. I will analyse how depreciation and taxes will affect Amazon's net profits in the future, and how its working capital and capital expenditure programme will constrain free cash flow. My analysis in this respect is somewhat different from a recent article by Paulo Santos, who argues that Amazon's cash-flow situation will deteriorate over time. The difference in our views stems from assumptions about Amazon's capital intensity: I expect it to decline slowly, whereas I think Paulo expects it to continue rising. Nevertheless, while I will show that Amazon's free cash flow will probably improve, I will also demonstrate that this improvement will occur much too slowly to justify its current valuation.
Let me start by revisiting a chart from my previous article.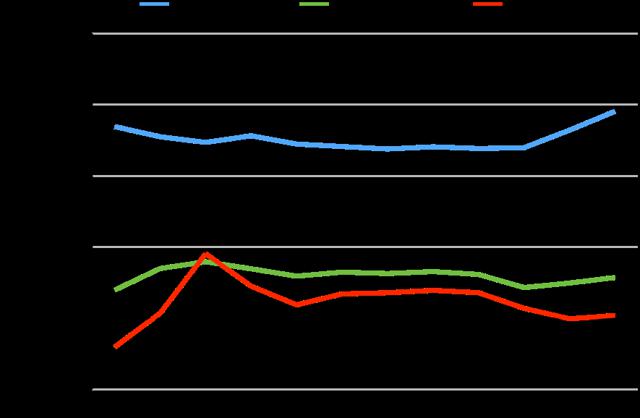 I explained in that article why Amazon's gross margin and EBITDA margin have behaved as they have in the recent past. In Amazon's case, the two major elements that stand between operating profits (EBITDA) and net profits are depreciation and taxes.
It is clear from Amazon's audited financial statements that the primary reason Amazon's net profit margin (the red line in the chart) has collapsed from 3.68% in 2009 to almost nothing by 2013 is that depreciation & amortisation charges have increased from 1.5% of sales to 4.4% over the same period. This situation has been worsened by the fact that its effective tax rate has increased in the same period from the low twenties to the low thirties, and looks like it is likely to stay there.
Why has depreciation spiked so sharply relative to sales? It is the accounting consequence of Amazon's capital expenditure program, which has risen from about 1.5% as a proportion of net sales to a peak of more than 6% by 2012, before moderating a bit to 4.6% in 2013. In addition, Amazon has been busily expanding its warehouse network on long-term capital or build-to-suit leases - these do not show up as capital expenditure in its accounts, but they do show up in the depreciation charge as the capital lease is amortised each year, and as interest expenses, and both reduce Amazon's net profits.
It is striking that the depreciation charge (including amortisations) in any year since 2009 has been relatively stable (at about 45-50%) as a proportion of the previous year's property, plant and equipment (PPE) on the balance sheet. This suggests a very high proportion of capital expenditure is on software and servers, which Amazon depreciates over two and three years respectively. In my view, the depreciation to fixed asset ratio will either remain at this level at best; or, more realistically, rise as the ratio of rapidly-depreciating assets (such as software and servers) to slowly depreciating assets (such as property and buildings) rises over time.
What this means is that investors who are looking for Amazon's net profits to rise rapidly as its "investment cycle" comes to an end are likely to be disappointed. Such investors usually have in mind Amazon's network of fulfilment centres, and the thesis is typically that once this warehouse network is substantially complete (as it increasingly appears to be in the US), the capital expenditure program (and the related depreciation charge) will both fall rapidly, and Amazon will stand revealed in full profitable glory.
Its accounts show that only a third of Amazon's depreciation charge in the last five years has been due to the amortisation of its warehouse and data centre assets; the rest reflects its investments in software and servers (likely driven by the expansion of its cloud computing business), which will need to be continually upgraded every two to three years. Cloud computing is not a mature market for Amazon - it is a new market in which Amazon, as the current market leader, will have to increase capital investments in order to maintain its market share. So both capital expenditure and depreciation charges on software and servers will remain high relative to sales, and at least persist at current (2013) levels.
Let's be generous and assume that the "investment cycle" relating to warehouse and office build-out comes to a halt from 2014 onwards, but the capital expenditure on software development and server acquisition continues at 2013 levels. The ratio of capital expenditure to net sales in 2013 was 4.6%, and since this mainly represents investments in cloud computing (warehouse assets are recorded off balance sheet), I believe it is reasonable to assume that this ratio in future years will remain at least at that level. Note that this actually implies a gradual reduction in Amazon's overall capital intensity, since off-balance sheet capital and financing lease commitments should be counted properly as capital expenditure.
I should stress here how optimistic a projection this is. For instance, even if you believe that Amazon's warehouse network in the US is largely complete, it is far from the case in international markets - for instance, expansion in China and India is likely to burn a lot of capital. Similarly, I consider it plausible but optimistic to assume that the capital intensity of the cloud computing business will remain stable; as competition heats up, it is not hard to imagine capital intensity increasing over time.
Even with these relatively optimistic assumptions on capital intensity however, depreciation charges and the interest costs associated with existing capital and financing leases will continue to drag down Amazon's net profit margin. Take 2014 as an example. Even if Amazon generates $91bn in net sales, and even if it improves its EBITDA margins to c.5.7%, its depreciation charges (at say 47.5% of 2013 fixed assets) are already baked in at c. $5.2bn, and so - after accounting for interest expenses on existing capital lease commitments - I expect Amazon to post a loss of around 8p per share in 2014. The situation should improve in 2015, as depreciation charges begin to decline in line with the overall reduction in capital intensity assumed above. But even so, net profit margins are likely to rise only to about 0.9%, producing just over £2 in earnings per share.
Thereafter, if I combine the assumption on capital intensity, depreciation and taxes above with my previous assumptions on net sales growth rate and EBITDA margin, I obtain the following projection for net profit margins and earnings per share: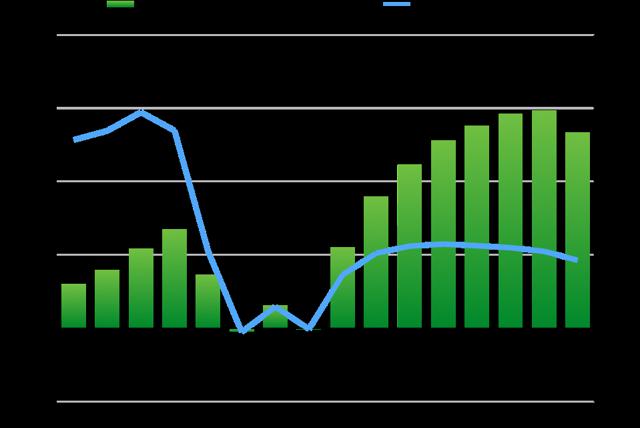 Let's turn next to what all this means for Amazon's free cashflow. Let's take a look first at how Amazon's free cashflow has behaved in the past - (in the chart below, I have counted assets acquired on capital or finance leases as part of Amazon's capital expenditure, and deducted accordingly from operating cash flows to calculate free cash flow):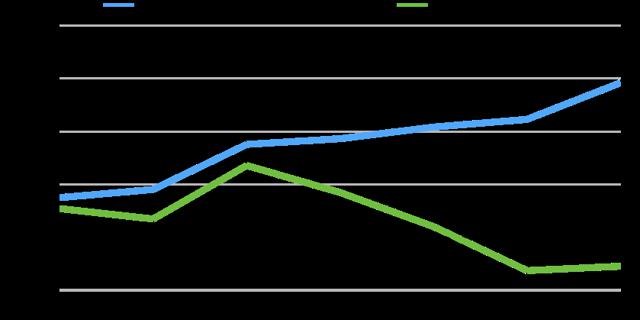 The chart shows clearly that even as more and more cash has flowed out from Amazon's operations in the last seven years, its capital expenditure program since 2009 has drained it all away.
Let's first understand how it is that Amazon's operating cashflow has grown so impressively even as its net profits have collapsed. Apart from depreciation (which is a non-cash expense), Amazon pays a significant proportion of its wages in the form of stock compensation. This keeps cash costs down, although it also dilutes the share base over time. In 2013 for instance, Amazon paid out nearly £1.4bn as stock compensation. Much more significantly, Amazon benefits from a very favourable working capital cycle. Essentially, it collects money from its customers much earlier than it pays its suppliers. The result is that Amazon has consistently generated $1-2bn per annum as pure float from operations. However, its working capital cycle appears to be spinning more slowly as the years go by - operating cashflows additional to cash profits peaked in 2009 at 8% of net sales, and have since fallen to a level of about 3%, where they appear to have stabilised.
If we assume that stock compensation and working capital arrangements will continue to generate cash at about 3% of net sales, we can forecast Amazon's free cash-flow by combining this with the assumptions above on sales growth, profit margins, depreciation, taxes and capital expenditure: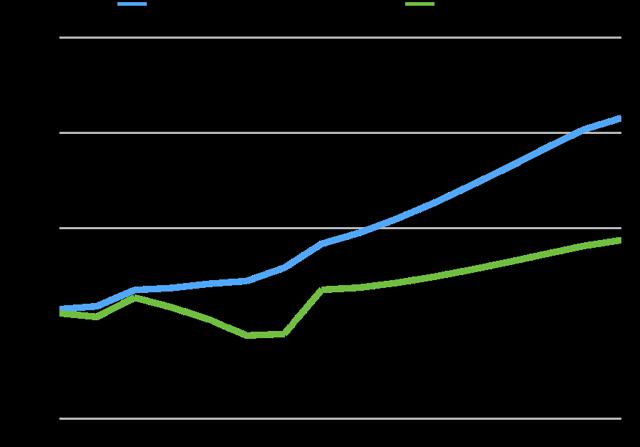 You can see in the green line above a graphical depiction of the ending of Amazon's "investment cycle" in warehouses and offices. Note however that free cash flow will improve much more slowly than cash from operations, because Amazon's cloud computing business (not to mention new adventures that its CEO may dream up in the meantime) will continue to dehydrate the company.
I have now discussed in detail six out of what I called Amazon's "sacred seven" numbers, and explained the reasoning behind my assumptions. In my next article (the last in this series on Amazon), I will end with a discussion of Amazon's cost of capital, and revisit my original valuation thesis that, even after making what I consider optimistic assumptions about Amazon's future, I find that its shares are about 60% overvalued.
Disclosure: The author is short AMZN. The author wrote this article themselves, and it expresses their own opinions. The author is not receiving compensation for it (other than from Seeking Alpha). The author has no business relationship with any company whose stock is mentioned in this article.