I dialed into the StemCells, Inc's (STEM) quarterly conference call expecting to hear from a company on its heels from recent allegations of covering up shoddy manufacturing practices by a former employee who is suing the company and a conflict of interest scandal involving the election of a new board member, Alan Trounson, who was President of California Institute For Regenerative Medicine (or CIRM for short) when CIRM awarded STEM substantial funds for their Alzheimer's research. Instead, management came out swinging.
Front and center was an update of STEM's patent infringement lawsuit against Neuralstem (NYSEMKT:CUR); comments usually relegated to a footnote at the tail end of a Q&A session. As an investor in both companies who has followed the protracted litigation for years, they had my attention. The judge in the case recently denied CUR's motion for summary judgment. After years of legal jostling back and forth, it looks like STEM will finally have its day in court.
The settlement of this case could be a watershed moment for both companies. The patents in question are key to both companies' long term survival and success. I would go as far as to say heading into 2015, an investor in one of the companies should consider a position in the other as a hedge against the worse case outcome. Stem cell research is an incestuous field with numerous overlaps and conflicts between company's intellectual properties. The settlement of the STEM vs. CUR litigation may be the first shoe to drop.
Before I leave the subject, it's worth noting patent litigation overhang can have an impact on partnering opportunities as well. As an example, InVivo Therapeutics (OTCQB:NVIV), a developmental stage biotech pursuing therapies for spinal cord injury using a neuro-spinal scaffold indicated in their latest presentation they have identified several sources of Neural Stem Cells that FDA will allow for clinical trials. The company's strategy is to start with a safety trial using only the scaffold (which is underway and waiting to treat their first patient) and follow up with a second concurrent trial using neural cells in conjunction with the scaffold. The first two companies that come to mind as partnering candidates with NVIV are STEM and CUR. However, with the potential of CUR losing the patent lawsuit, STEM seems the safer choice. In any case, collaboration between biotech stem cell companies or complementary therapies for the same indication, present exciting possibilities for the future.
During the Q&A, the company appeared to take a swing at another competitor. Though never mentioned by name, the comments seemed to be directed toward Advanced Cell Technology (OTCQB:ACTC), a stem cell company that has been touting its efficacy results of its Phase I AMD "safety" trial ever since publishing results of the first two patients in the Lancet. Since the Lancet paper, the company hasn't been shy about publicly acknowledging improvements in visual acuity with a number of patients. STEM has taken a more methodical approach as reflected in the exchange between an analyst and management during the Q&A.
Analyst Comment:
Okay, well can you talk with me just a little bit about something that I always struggled with on the existing dataset. I understand the importance of geographic atrophy and I also understand the importance of lie detection, but visual -- how do you deal with visual acuity in the control group and the fact that these patients kind of train themselves and so it ends up with a higher placebo response than you might otherwise gathered.
CFO's Response:
So, I will have Steven address that Jason, but you know you touched on a very, very important point there because others who have been engaged in studies in this field have walked right into that trap, the learning effect and perhaps have gone out prematurely with the data but I will let Steven answer your question directly.
VP of Research response:
Yeah, so you touched on a subject as Martin indicated that is very central to how you develop a clinical translation program that's trying to target dry AMD and we are not the only researchers, the only company to have this challenge and when we looked at this through a number of different lenses, if you will excuse the metaphor, the most incremental step that gives us the most objective proof-of-concept data that we have an impact on the underlying pathology of the disease is to first establish a change in geographic atrophy.

And to try to marry that to a functional change that reflects quality of life for a patient and this is very much an area that the FDA and other regulatory bodies are understanding as complex, that BCVA is really not perhaps best metric in which to measure a therapeutic for something like dry AMD. So, it is very much evolving field but our strategy is one that we have based on first establishing that we can impact a feature of the underlying disease and then to move on to the complex question of how you associate that with a meaningful visual metric.
While ACTC appears to have catered to the market, STEM is focused on the FDA and the most meaningful measurements for determining efficacy. ACTC appears to be paying the price for falling into that "trap". While ACTC shareholders stew and wait impatiently for results, STEM is moving into Phase II. It's a long race, but since I wrote my article, StemCells, Inc. And Advanced Cell Technology: The Race To Treat AMD, STEM continues to nudge further ahead.
It's been an interesting three months for STEM shareholders. On May 15th, when I wrote my article, StemCells, inc: Expect Positive Trial Results To Drive The Stock Price Higher, which predicted immediate and substantial stock appreciation as the result of the company presenting interim data from their two lead programs, spinal cord injury and dry age related macular degeneration (or AMD for short), the stock price was $1.36. The stock reached a high of $2.43, a 78% increase, within the next 60 days. However, since July 3rd, the stock has been on a steady decline as the chart below illustrates.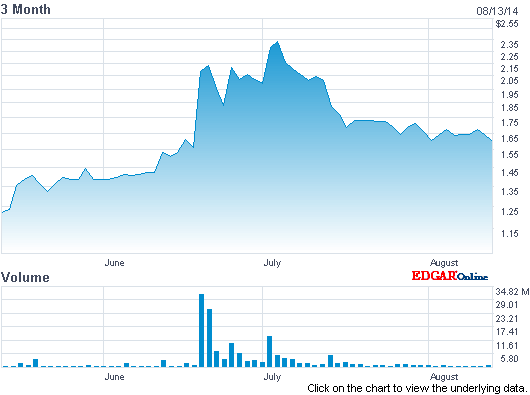 As a biotech investor, I've seen more round trips than I care to remember. However, STEM does not fit the profile. Management remains confident and are on the offensive. The accusations from the prior employee are serious and, as the saying goes, where there is smoke there's usually fire. At a minimum, I expect there are deficiencies in the manufacturing process that need attention. During the conference call, the CEO made a point of mentioning the hiring of Naymisha Patel, Vice President of Quality Systems. As stated on the call,
Naymisha brings strong leadership skills and very relevant experience to the company in quality control, clinical QA, product QA and compliance as we scale up clinical trials and production of cells for use in those trials in our own cGMP facility.
There may be short term repercussions. The FDA may require a thorough inspection and there may be further requests for improvements. But, STEM has conducted two safety trials with its stem cells which have just concluded and, to date, there have been no safety issues. That, in itself, speaks to the quality of the stem cells being used.
Addressing the election of Alan Trounson to the board is an easier proposition. It's a black eye for CIRM. Obviously, the organization had weak policies for management regarding potential conflicts of interest, particularly as it relates to executive appointments shortly after they leave the organization. But, it's not that unusual. Legislators become wealthy as lobbyists and corporate board members after they leave office. No one penalizes or criticizes the companies they associate with. I'm not advocating the practice, but as a shareholder, I don't consider it having a long term impact on the share price.
Conclusion
On the trial front, STEM has everything going right. The company is working on therapies for two indications, spinal cord injury and age related macular degeneration, which represent substantial unmet medical needs with huge commercial potential in the multi-billion dollar range. Phase I trials have been overwhelmingly successful in meeting safety criteria with strong hints of efficacy with both trials. Planning for Phase II trials are underway and the company has a sufficient cash runway to take them through 2015. After years of costly and distractive litigation, the lawsuit with CUR is finally coming to a head.
All very positive for the company until it hit a couple of speed bumps, the most serious being accusations for shoddy manufacturing practices. Word of the accusations have shaved over 30% off the share price. I would argue the accusations, even if proven somewhat valid, will have little affect on the long term success of the company and offers a buying opportunity. At the end of the day, the science will drive value and on that front STEM's future looks highly promising.
Disclosure: Nothing in this article constitutes investment advice or any recommendation with respect to a particular security. Investing in developmental-stage biotechs is highly speculative and risky. The road to commercialization is long, and full of peaks and valleys. Take profits when offered, and most importantly, diversify.
Disclosure: The author is long STEM, ACTC, NVIV, CUR. The author wrote this article themselves, and it expresses their own opinions. The author is not receiving compensation for it (other than from Seeking Alpha). The author has no business relationship with any company whose stock is mentioned in this article.
Editor's Note: This article covers one or more stocks trading at less than $1 per share and/or with less than a $100 million market cap. Please be aware of the risks associated with these stocks.