IPG Photonics Corporation (NASDAQ:IPGP) manufactures high-performance fiber lasers, fiber amplifiers, and diode lasers. These products are sold to original equipment manufacturers (OEMs) mostly for materials processing (drilling, cutting, welding, etc.), which accounted for 96% of net sales for the first half of 2014. Materials processing sales increased 18% in Q2 2014, with cutting being the largest application. Sales growth was also strong for welding in the second quarter. IPG is also experiencing growth in new applications such as 3D printing, ablation, polymer welding, glass cutting, cleaning of materials, and more. The company looks good as an investment going forward as its lasers replace aging technology.
The company achieved the strong second quarter results mostly because of the yttrbium fiber laser product lines. Sales were strong for high-power lasers with over 500 watts. Unit sales for these high-power lasers were 1,200. Over 2.4 megawatts of optical power were shipped in Q2. IPG's fiber lasers should act as a growth catalyst where strong demand continues for metal cutting, cladding, welding, hardening, and cleaning. Metal cutting is growing at an annual rate of 5% to 7%, while the other applications are growing at a faster rate.
IPG's high-power lasers are approaching an electrical efficiency of 40% to 45%. This is 2X the efficiency of the other fiber and disk lasers that are currently on the market. IPG's efficiency is also better than the direct diode lasers being used by the company's competitors. Therefore, IPG has a competitive advantage over the competition.
Looking forward, IPG is investing in infrastructure and technology to capitalize on the newest market trends/demands. The company has the advantage of having large scale manufacturing with a depth of technology. IPG is developing products at new wavelengths, pulse durations, and power levels. It is also developing a variety of laser products that are expected to open up new markets and applications, which will catalyze growth for the future. At the same time, IPG is working on reducing the costs for its existing products. All of these efforts should lead to strong earnings growth over the next few years.
Double-Digit Revenue and Earnings Growth
IPG is expected to grow revenue and earnings at strong double-digit rates for at least this year and next year. I expect the stock price to outperform the market as a result of this above average growth. Analysts are expecting a revenue increase of 16.6% to $755.8 million in 2014 and a 13.5% increase to $857.7 million in 2015. Analysts are also expecting earnings to grow by 20% in 2014 and 16.6% in 2015. The strong demand that IPG is seeing for its lasers is likely to allow this growth to materialize.
The company achieves a strong return on equity of 18.24%. This makes it likely for IPG to meet its earnings expectations as the company makes good use of its capital. The company estimates that it will spend about $70 million on CapEx in 2014. I expect IPG to use this money effectively to catalyze its growth. IPG has already spent a portion of this on two buildings in Massachusetts that will be used for research & development and for manufacturing.
IPG has 10 earnings upgrades for 2014 and three earnings upgrades for 2015. This will help catalyze the stock price if the company meets expectations. The stock is already seeing a boost after the Q2 earnings beat as it is trading about 8% higher than it was just before the Q2 report. I expect further stock increases going forward if IPG can meet/exceed its earnings in future quarters.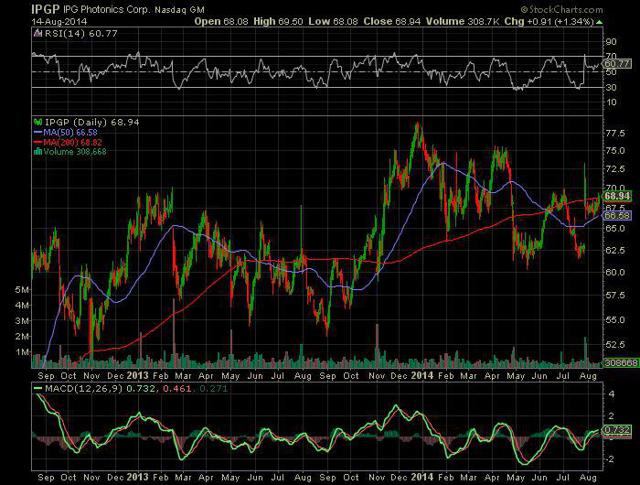 Still Attractively Valued
Since IPG is a growth stock, I like the PEG ratio as an important comparison metric. The PEG takes the future earnings growth for multiple years into account. Currently, IPG is trading with a PEG of 0.72, showing that the long-term growth exceeds its forward PE. This suggests that the stock has plenty of room for growth. IPG's PEG is lower than the semiconductor equipment and materials industry PEG of 1.14 according to finviz.com. This suggests that IPG may outperform the industry due to its comparative undervaluation.
Conclusion
The company's undervaluation and strong double-digit revenue and earnings growth make it likely that IPG's stock will outperform the market over the next few years. This is likely due to the demand for IPG's high-quality laser technology which is replacing aging technology. I estimate that the stock will increase approximately in line with its earnings growth over the next 12 - 18 months.
Disclosure: The author has no positions in any stocks mentioned, and no plans to initiate any positions within the next 72 hours. The author wrote this article themselves, and it expresses their own opinions. The author is not receiving compensation for it (other than from Seeking Alpha). The author has no business relationship with any company whose stock is mentioned in this article.