As we have discussed many times recently, we expect a renewed rally in silver to coincide with Managed Money reestablishing long positions. In the week ending December 14, Managed Money net long positions were down to 24,623 contracts from 26,799 on December 7. The five-year high for Managed Money net longs was 48,532 contracts, set on September 28. We expect that as Managed Money starts to reimpose the 24,000 contracts it would take to get back to the high, silver will begin a new rally that will take it significantly higher than its current level.
To illustrate why we are so confident in this outlook, we have prepared the following chart: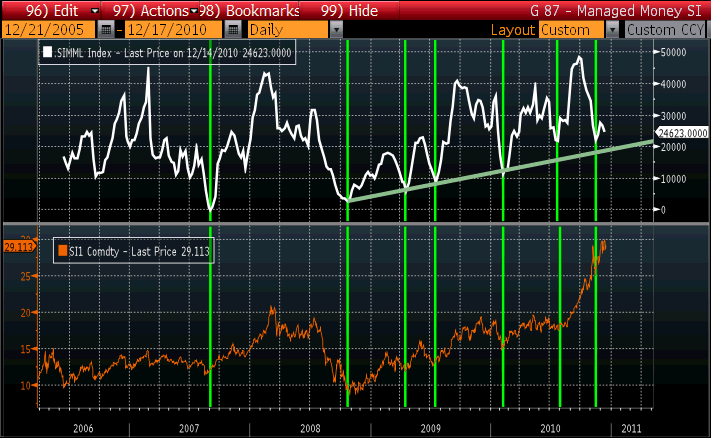 click to enlarge
The top panel of the chart shows Managed Money net long positions. The bottom panel shows the price of silver.
Each time the Managed Money net long position appears to bottom out, silver starts a new bull run. It appears that silver's rally is being powered by the Managed Money position. The line starting in October 2008 shows the upward trend in Managed Money net longs coinciding with the bull market in silver prices.
Each time the Managed Money net longs pull back and start to rally again, silver prices rally as well.
Even with silver at such a high level, around 29 $/oz currently, the Managed Money net long position appears to have bottomed out for the near term. This would seem to indicate that silver has much further to rally as Managed Money longs return to the market. The longer silver spends at this elevated level, the more confidence Managed Money will have in reimplementing the long positions they previously held.
The Producer short position decreased to 46,155 contracts from 47,945. The concentration of the short position decreased to 42.2% from 43.8%. It appears that Producers are covering their short silver exposure slowly, but they still have plenty left to buy. Look for the Producer short position to continue to decrease as silver prices increase.
As the fundamentals of the precious metals markets remain strong, we remain long silver and gold in the expectation that the bull market will continue for the foreseeable future.
For the original article, see here.
Disclosure: I am long SLV, GLD, GDX, GDXJ, SLW. Long silver and gold futures and futures calls.